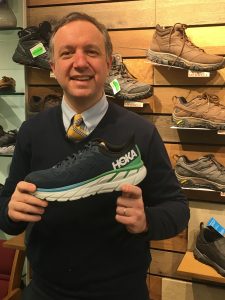 By Claudie Benjamin
"Even old ladies don't want to wear old lady shoes" quips
Lester
Wasserman a co-owner with his father and sister of
Tip Top Shoes at 155 West 72nd Street
. The store was purchased from the original owners over 50 years ago, and has been in business since 1940.
Evolving with the times and the ever advancing trends in footwear, is a challenge Tip Top Shoes consistently meets with pride. This is particularly true regarding sneakers – which are a fashion world unto themselves. "The psyche has changed," says Wasserman. "People are living longer, staying healthier and working on being in shape. They care about looking active and fit." This is certainly reflected in the colors and styles of what they wear.
Over time sneakers, shoes and boots sold at Tip Top have been trendier and pricier. The Wasserman's have never lost sight of the importance of comfort. And, they've taken the idea of comfortable shoes to new heights. Certain standbys like Danko, Birkenstock, Timberland and UGG, change only very slightly, but other brands made throughout the globe may offer new styles every 6 or 12 months.
Shopping local at Tip Top means having access close to home to top footwear brands with such features as the softest leathers, the lightest sweat wicking fabrics and a wide variety of style. Wasserman says that years ago shoes had a longer shelf life, meaning you might wear the same style boot for a few years, not so much now when a particular heel quickly looks vintage.
In the days when Lester's grandfather managed the store, sneakers were made in red, white and blue. High tops came in blue, black or white. Most people wore only for tennis or when whey went row boating, hiking or gardening in the country. There were no waterproof shoes, or cross trainers. That all changed in the 1980's and 90s with the interest taken in sports footwear revolutionized by sports heroes like Michael Jordan and John McEnroe; Wasserman became a leader in bringing these styles to the public via Tip Top Shoes. Every element of sneaker design with elements addressing specific sports, involving color, texture of shoe laces, Velcro, weight and eco-elements related to sustainability literally came into play in terms of the customers allegiance to specific brands, marketing and sales.
Tip Top has advanced its role as pacesetter by participating as a sponsor of NYC sports events. Over the past decade, Tip Top ads became familiar in print, and on social media. Online business has increased during the Covid period, but people still value coming into a retail store like Tip Top and interacting with a knowledgeable salesperson. Wasserman is in the store managing the operations of the sales team and interacting with customers every day. Asked what makes a good sales person he says, "You have to listen…have to learn what the customer needs….we love our customers and they love us."
The Wasserman's own the building that houses Tip Top Shoes on its first floor, in addition
West NYC
(147 West 72nd Street) and
Tip Top Kids
(149 West 72nd Street) are family businesses also on West 72nd Street. Never far from the store, Wasserman grew up in a doorman building on West 72nd Street and he still lives in the building.