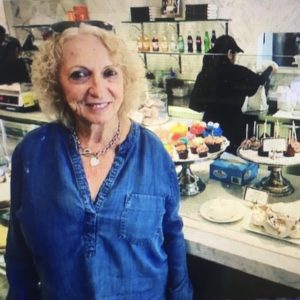 By Claudie Benjamin
Marjolaine is a particularly popular cake at My Most Favorite Food, a Kosher bakery, restaurant, and catering business. This multi-layered meringue showstopper has a number of features that distinguish it from the typical creations at other bakeries. "It's a delicious suitable-for-Passover choice. People stop me on the street and ask, 'Is this cake really OK for Passover?'" says Doris Schechter, owner of this business located 247 West 72nd Street. The Marjolaine also passes scrutiny among dessert lovers who are lactose intolerant or have gluten-free diets. Inclusiveness, making food that all can enjoy is an overall theme Doris emphasizes.
Doris Schechter owned similar businesses in Long Island, the Upper East Side and mid-town before bringing the bakery/restaurant to West 72nd Street 12 years ago. The sweetness of her bakery creations like plain, marble and chocolate chip cheesecakes and a luscious chocolate mousse ribbon cakes may hint at European origins. But, these confections give no clue about the formative traumas she experienced as a child fleeing Vienna with her family and then sheltered by residents of Guardiagrele, a beautiful small, Italian town in the Abruzzo region.
The family was then among the nearly 1,000 mostly Jewish refugees who came to the US aboard USNS Henry Gibbins. At the time, they believed they would have to return after the war was over. The group sequestered for almost two years at Fort Ontario used as a camp for displaced people in Oswego NY. During this period Doris' father died. Her mother brought Doris and her younger sister to New York City where they had relatives.
Doris completed school, attended FIT and at 18, married fellow student Marvin Schechter. Within the next few years, the couple had five children. They lived in Kings Point, Nassau County. "I had the American Dream," says Doris, but she wanted more – a profession. Having experienced enormous turmoil as a young child, personal stability mattered deeply. "I was worried about what I would do if I ever got divorced or my husband died." Her love for baking provided the answer. She opened a small bakery in Great Neck that gained a great reputation for baking from scratch. That success led to moving the business to the Upper East Side's Madison Avenue near 86th street. Expanding the Viennese-style café into a restaurant, Doris moved to a mid-town location after 15 years. She stayed there for 12 years and the moved again to West 72nd Street.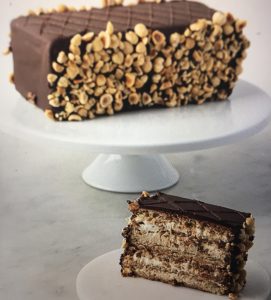 During the years the business was on the Upper East Side, Doris met Ruth Gruber, the famous journalist, photographer, and Jewish activist. A long-time Upper West Sider who lived at the Eldorado on Central Park West, Ms. Gruber passed away in 2016 at the age of 105. Coincidently Ms. Gruber had been the chaperone arranged by the Franklin D. Roosevelt administration for the ship transport that including Doris' family when they came to the US during WWII. Gruber was also influential in convincing President Truman to allow the refugees to become citizens and remain permanently in the US. Over the following years, Doris and Ms. Gruber became very close friends. Inspired by her mentor, Doris was Executive Producer for "Ahead of Time," a documentary made from one of Ms. Gruber's many books.
Doris has published two cookbooks relating to her life and culinary experience. In the first, "My Most Favorite Dessert Company Cookbook," she shares recipes for many signature desserts. Her second cookbook "At Oma's Table: More than 100 Recipes and Remembrances from a Jewish Family's Kitchen," is based on her Viennese grandmother's wonderfully flavorful Hungarian and Austrian cooking. In her second book, she brings readers the recipes from her Viennese grandmother's kitchen. "Now, ever upbeat and enterprising, Doris says, "I want to write a book with vegetarian recipes."
"The pandemic period has been a nightmare period of uncertainty," says Doris. Her team, including one of her daughters, Dena and her husband, Scott Magram, have been working tirelessly with other staff to keep the business alive.
My Most Favorite Food's menu is available on its website: