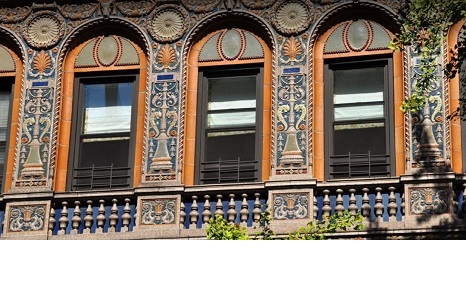 Terra Cotta Dreamin'
Tuesday, April 17th, 9:30am-11:00am
Terra-Cotta is one of the Upper West Side's most beloved materials: think the Aztec-inspired terra cotta on the Cliff Dwelling at 96th Street or the richly designed terra cotta panels of Chester Court on W. 89th Street.
Susan Tunick, artist, author, researcher, and head of New York's "Friends of Terra Cotta," led an enthusiastic group on an UWS journey bursting with the beauty and artistry of terra cotta.
In this gloriously illustrated talk, Tunick, author of Terra-Cotta Skyline: New York's Architectural Ornament shared the history, manufacture, and art of architectural terra cotta. She focused on its early use on Upper West Side buildings such as Chester Court and the Pythian Temple, with its polychrome terra-cotta decorations, and highlighted the changes in building technology which helped lead to the great popularity of terra cotta during the early part of the 20th century–especially on many of the UWS's most striking buildings.
Remarkable examples of terra cotta abound on the Upper West Side, including the distinctive apartment houses at 838 West End Avenue designed by the firm of George & Edward Blum.  It was a fantastic morning learning how these and many other terra cotta and tile buildings have contributed to the richness and beauty of the neighborhood's architecture.
Susan Tunick is a national spokesperson for the preservation of architectural terra cotta and an established artist living and working in New York. She is the president of the Friends of Terra Cotta and has written extensively on terra cotta and tile, contributing to a renewed interest in the use and preservation of architectural ceramics. Her book, Terra-Cotta Skyline, published by Princeton Architectural Press, received several awards including the New York Library Society Award.