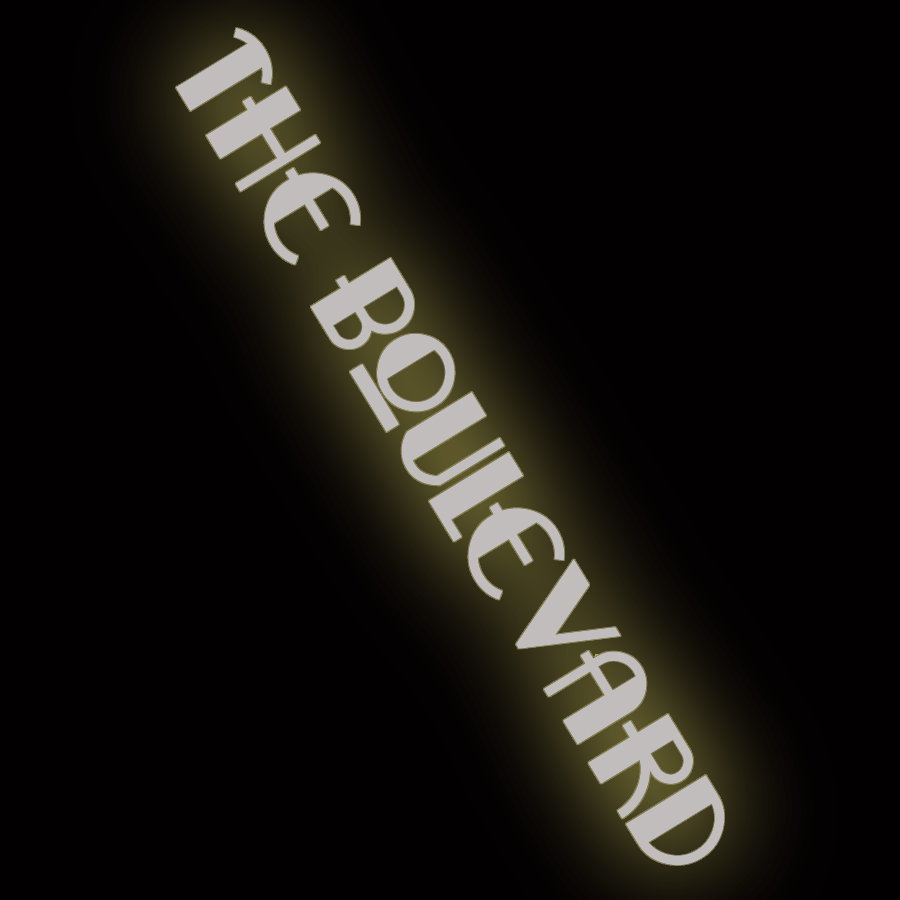 The Grafton
by Tom Miller
Martha A. Lawson held her own within the male-dominated real estate development industry. She was responsible for houses and apartments on the Upper West Side in the 1880's. In August 1885, she began an ambitious project of two five-story apartment houses on the Boulevard between 103rd and 104th Streets, and five rowhouses around the corner on West 104th Street.
Well-to-do attorney William O. Campbell purchased the apartment houses even before construction was completed. He paid $31,500 for the southern building, 890 the Boulevard (renumbered 2708 Broadway around 1900), or about $875,000 in today's money.
Campbell named it The Grafton. Architect M. Louis Ungrich had designed the building in the increasingly popular neo-Grec style. Above the ground floor store, four stories of brick were highlighted by white stone. A continuous bandcourse at each floor rose and fell around the tops of each window.
The commodious, seven-room apartments became home to white-collar tenants, including William O. Campbell. Other early tenants were the well-known organist M. W. Conger, and William M. Dodge, treasurer of the Riverside Building and Loan Association.
Wealth and respectability were not always a buffer against humiliation. On March 18, 1901, for instance, The Morning Telegraph began an article saying:
Arthur Collins, of 2708 Broadway, has troubles of his own. At present he occupies a bed in Roosevelt Hospital nursing a broken leg, the result of seeking the quietude of a church to sleep off the effects of many libations of red liquor and fizzy fluid, after which came a visit to the 100th street police station and a disastrous exhibition of ground and lofty tumbling from the starboard gangway of a cab. He is a prisoner as well as a hospital patient.
Wealth and respectability were not always a buffer against humiliation.
Collins had engaged a cab which had taken him from nightclub to nightclub. "Finally, Collins stopped the cab in front of a church at 104th street and Amsterdam Avenue. He then curled himself up and sought slumber." The cabbie, unable to get his fare, drove him to the West 100th Street police station. When police went to the cab to arrest him, "they found him lying on the sidewalk with his right leg broken."
Howard Littel was involved in an embarrassing incident two years later. His uncle, Malcolm B. Baxter, Jr., had offered him the use of his yacht, the Tilbreth, for the entire summer of 1903. He, his cousin Agnes Baxter, and a friend, Emma Hendrickson, had spent a few days at the summer home of friends near Nyack, New York. Then, on Friday, July 10, Littel proposed that they have dinner on the yacht and sail upriver the following day. The New York Press reported that they rowed out to the Tilbreth, and the girls entertained themselves while Littel went below to prepare dinner.
He lit the gasoline stove, put a kettle of water on, then returned to the deck to join the young women. "They chatted merrily for a few minutes, when they were startled by a loud report. Smoke pouring out of a hatchway near by showed them something had exploded in the galley." The fire was already out of control below decks. Littel cut the ropes of a dinghy, and when it hit the water instructed the women to jump. Littel, slightly burned about the face and hands, rowed the boat away from the yacht, which he knew had a large tank of gasoline.
The 40-foot yacht sank in the Hudson River. The three traveled to Asbury Park, New Jersey to tell Baxter what had happened. Littel "was promptly forgiven for his carelessness."
Henry Lowenthal purchased The Grafton in 1904 for the equivalent of $1.4 million today. He immediately made updates, and advertised on August 26 that year, "Building remodeled throughout, apartments of seven large, light rooms and bath; steam heat hot water &c. Rents $46 to $55. Underground station at door."
The Grafton was home to several highly educated women. Author Emma Howells Burchenal and her daughter Ruth Merriam Burchenal lived here in 1905 and would remain for years. Ruth was an 1896 graduate of Earlham College. She taught at the Charlton School.
Dr. Katharine Arends moved in in 1908. That year, The North American Journal of Homoeopathy noted, "Dr. Catherine [sic] Arends has finished her internship in the Laura Franklin Free Hospital for Children and is now located at 2708 Broadway." The Chironian added that she "announces that she will devote her time to anesthesia exclusive."
In 1914 the office of Broadway Photo Play Co., Inc. was in the ground floor space. The company managed motion picture theaters.
A peculiar incident occurred in The Grafton on November 25, 1915. Oliver Humprey, a 31-year-old broker, lived in an apartment with his wife. That morning he was taken to the Knickerbocker Hospital in serious condition with a stab wound near the heart. Mrs. Humphrey explained to Patrolman Walsh of the 100th Street station, "that her husband accidentally fell on a knife when cutting a piece of bread," said The New York Press.
Henry Lowenthal had two pay phones installed in the building, one on the second floor near the stairs and another on the ground floor. He took the New York Telephone Company to court in August 1918, insisting that it stop charging him 75 cents per month for the equipment, "and to declare the same to be a public pay station." The judge dismissed the case.
Lowenthall was back in court in October 1920, but this time he was the defendant. He leased an apartment to Mr. and Mrs. Jacob Groppler before the expiration of the lease of the current tenants, the Walter Fleming family. On October 8, the New York Herald reported that the Gropplers, "who were ordered by Magistrate Schwab in West Side Court to leave the apartment they had rented…were still without a home yesterday. They had unknowingly moved into the apartment which was still occupied by Walter Fleming." The Flemings kindly allowed the Gropplers to stay until they could find another place. In the meantime, Henry Lowenthal was held on $500 bail, "charged with violation of certain sections of the new rent law."
"Looking at all that money, and thinking this was the day Coney [Island] was opening was too much for me. 'Take it, take it, you boob,' something was saying inside of me. So I grabbed it and beat it."
Edith Gilson had made a friend of 12-year-old Fred Gillen in 1922. He became her "favorite errand boy," according to The Evening World on June 14, "doing odd jobs before and after school and being freely admitted to her apartment." He was alone in her apartment one day, when he saw $115 in her purse. He later told a detective, "Looking at all that money, and thinking this was the day Coney [Island] was opening was too much for me. 'Take it, take it, you boob,' something was saying inside of me. So I grabbed it and beat it."
Gillen and two friends had a splendid time at Coney Island, then went to Brighton Beach, and then to Clason Point. Late that night after the others went home, Fred slept in the basement of an apartment house. The next day he went to a department store "and outfitted himself from head to heels." Then he headed to Pennsylvania Station with a new suitcase and a ticket to Jersey City. But after a few days, he had only enough money left for a train ticket back to Manhattan. Afraid to go home, he did odd jobs and slept in basements. He was arrested near his house on West 100th Street on June 13 and turned over to the Children's Society, charged with being a juvenile delinquent. Edith Gilson had lost $115 and an errand boy.
In the 1930's until around 1940, the store was home to the Magazine Book & Music Exchange. It advertised, "Cash paid [for] better class magazines, books."
The building was purchased by Louis Zabar around 1940. In her 2022 book Zabar's A Family Store, Lori Zabar writes, "Only one of Louis's new ventures proved too painful for Lilly [Lillian Zabar] to tolerate—a bar and grill on the ground floor of a five-story building at 2708 Broadway, between 103rd and 104th Streets…Still traumatized by her experiences with drunken Ukrainian peasants in her family's tavern, Lilly insisted that Louis sell the bar and grill, which he did, reluctantly. Loath to sell anything, he held onto the building as an investment."
On March 22, 1966, tenant Armando Duchesne was nabbed as he exited a building uptown that he had just burglarized. He was the "cat burglar' police had been searching for, and Public Safety Commissioner Daniel F. McMahon called it "one of the most significant arrests this year." Just before his trial was to start on September 11, 1967, the 31-year-old had a change of heart and pleaded guilty to the burglary charges. He was sentenced to up to five years in Sing Sing prison.
For at least a decade starting around 2001, Petland Discounts occupied the store. Today it is home to a discount store. The ground floor has been mutilated and the façade painted a barn red. But overall, M. Louis Ungrich's 1885 flat house is little changed.
---
Tom Miller is a social historian and blogger at daytoninmanhattan.blogspot.com
Be a part of history!
Think Local First to support the businesses at 2708 Broadway: