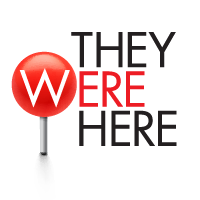 Early Multi-Family Housing
by Tom Miller, for They Were Here, Landmark West's Cultural Immigrant Initiative
Edward C. Clark made his massive fortune as the partner of Isaac Merritt Singer in the Singer Sewing Machine Company. In the 1870's he turned his attention to developing the Upper West Side, often teaming with architect Henry Janeway Hardenbergh.
In 1879 Clark began construction on an extensive project–25 rowhouses on West 73rd Street anchored by a matching four-story apartment and store building at the corner, at Nos. 280-284 Columbus Avenue. It was a risky proposition. Years later The New York Times would remind its readers the area "was in the heart of a squatter's shanty district, where goats and pigs were more frequently encountered than carriages in the muddy streets."
Hardenbergh deftly morphed the residential row into his apartment (or "flat") building on the corner. The brick-faced Renaissance Revival style structure was touched with modern neo-Grec elements and Queen Anne details like the nearly whimsical rooftop pediments. And, as if that mixture was not enough, he added delicate French balconies here and there.
The entrance to the apartments, at No. 101 West 73rd Street, mimicked the private houses along the row. The commercial tenants used the Columbus Avenue address. Interestingly, the ground floor commercial spaces were leased mostly by firms involved in the real estate and development industry. Among the first were Slawson & Hobbs, real estate agents, here in 1890; builder G. J. Harlow, and prolific developers W. W. & T. M. Hall. By 1893 builders Egan & Hallecy was here as well and would remain for years.
By 1896 those firms were joined by builder William E. Diller; Frederick H. Birch, real estate; Thomas J. Brady's commercial plumbing business; and Moquin & Offerman, coal dealers.
Years later The New York Times would remind its readers the area "was in the heart of a squatter's shanty district, where goats and pigs were more frequently encountered than carriages in the muddy streets."
Slawson & Hobbs, run by partners Frederick G. Hobbs and George L. Slawson, was a highly-visible real estate firm on the Upper West Side. They were highly responsible for filling the rising rowhouses and apartment buildings with tenants. At the turn of the century, for instance, they were the sole agents for the sprawling Ansonia and Victoria apartment buildings. In 1902 they published a booklet entitled "West Side Apartments."
That same year, on January 4, the Record & Guide commented on the firm's full-service business, calling their offices "a plant." "Slawson & Hobbs have made up a very complete plant, embracing sales, mortgages, building plans and other items of interest that facilitates very much their extensive and constantly growing business. The firm's offices, at No. 284 Columbus ave., near 73rd st., are thoroughly equipped for the quick and satisfactory dispatch of business."
Like many of the other commercial tenants, Thomas Brady's plumbing business remained in the building for years. In 1903 The Plumbers Trade Journal gave a hint of the activity within his office. "Still as busy as ever is the condition which Thos. Brady, of 284 Columbus avenue, Manhattan, is to be found. His trade at this time of the year is first-class and calls for a good deal of his personal attention, besides keeping three or four men very much on the go."
After being in the building for 20 years, Slawson & Hobbs moved to No. 162 West 72nd Street in September 1910. Five months later the Clark estate hired architect George H. Griebel to design a new storefront.
By now Thomas Brady's plumbing business had been replaced by that of John Boyd. Like Brady, he handled large projects, like the conversion of a five-story private residence on East 46th Street to a commercial building in July 1912. Interestingly, when Frederick A. Clark did renovations to the apartment building directly across Columbus Avenue in 1914, John Boyd not only did the plumbing, but was the architect of record.
In the meantime, the upper floors had been initially leased to well-to-do families, followed by more middle class tenants. When war broke out in Europe, young J. B. Johnstone sailed off to fight with Company F, 112th Infantry.
Although peace was declared in November 1918, the soldiers were still deployed for months. In order to provide them with a touch of home for Christmas, The Sun initiated The Sun Tobacco Fund, which provided soldiers with 17 packs of cigarettes and 23 "sacks of tobacco" each. Now a lieutenant, Johnstone sent his written thanks to the newspaper and gave a detailed account of his much improved conditions since peace was declared. His letter, published on January 28, 1919, said in part:
We are in a captured salient which the Americans took from the Heinies, and living in their quarters on a beautifully wooded hill. I with another 'shavetail' have a stone cottage, with real beds, a stove which the orderly lights before reveille, a desk, chairs, wardrobe and all the comforts of a human being's home. The mess is wonderful; pancakes with syrup galore, steak, fritters and doughnuts.
It was most likely the advent of the Great Depression that dealt a severe blow to the apartments. On September 10, 1934 The New York Times reported that the owners, Cappa Realty Company, had leased the three upper floors "to Bertha Stegun for a rooming house. The floors contain thirty-three rooms."
The accommodations in the "rooming house" were basic at best. It could more accurately have been termed a flophouse. In 1943 there were five stores at ground level, with two SRO rooms on the second floor with on "community kitchen," and eleven SRO rooms on each of the two uppermost floors.
Things seem to have improved somewhat by mid-century, however. By 1950 Alice Margaret Chilton called the building home. Formerly the wife of Boston architect Howland Jones, she was for many years a social worker for All Saints Protestant Episcopal Church on Henry Street.
In order to provide them with a touch of home for Christmas, The Sun initiated The Sun Tobacco Fund, which provided soldiers with 17 packs of cigarettes and 23 "sacks of tobacco" each.
The Columbus Avenue neighborhood experienced a renaissance in the last quarter of the 20th century as trendy restaurants and boutiques appeared. In 1974 a renovation resulted in six apartments per floor above the storefronts. Where builders and plumbers had once operated, The Cultured Seed opened its florist shop in 1974 and remained until 1984. It was perhaps better known for its remarkable window displays than for its floral wares.
In 1982 a unique clothing shop opened here, Vermont Classics. Owners Pauls Neustate and Sheila Silverman offered "classic clothing handmade by people who live in villages and on farms throughout New England," as described in New York Magazine on September 20. "There are hand-knitted sweaters, quilted pillows and bed coverings. And there are raw-silk dresses made in small workshops, as well as factory-made classic New England clothing."
At the same time Robbyn Yoffee and Jane Bloom ran Tianguis Folk Art here. No less unique, The New York Times on February 9, 1985 described its self-made summer line as "1950's inspired fashions for women who weren't yet born in the 50's."
The store spaces continued to house popular businesses like Exotiqa, which sold imported home furnishings and "trinkets" until 2000; and the seafood restaurant Ocean Grill. More recently the housewares store Terrine, Class Hair Studio, and the boutique Really Great Things have called the stores home.
In the meantime, the upper floors of Hardenbergh's stylish flat building have suffered little change. It survives as a remarkable example of early multi-family housing in the then just-developing neighborhood.
---
Tom Miller is a social historian and blogger at daytoninmanhattan.blogspot.com
LEARN MORE ABOUT
280-284 Columbus Avenue
Be a part of history!
Shop local to support the businesses currently at 280-284 Columbus Avenue:
Meet the Eurooptica Team!