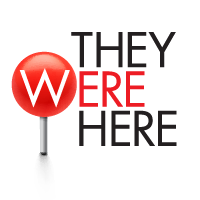 Big Fat Liars
by Max Chavex, for The Cultural Immigrant Initiative
In 1889, St. Matthew's Protestant Episcopal Church was erected atop a vacant plot of land at 466-468 Columbus Avenue. While the church's existence was short-lived, its provincial appearance speaks to the Upper West Side's then-ongoing transition from undeveloped rural expanse to densely-built urban landscape. It was a humble front-gabled church structure, clad in wood with Carpenter Gothic detailing along its narthex, windows, and bell tower cupola.
On October 31, 1893, a notice was issued announcing the construction of a two-story brick building at 466-468 Columbus. Curiously, a Christmas Eve 1894 issue of The New York Times notes that St. Matthew's Protestant Episcopal Church was still holding services at 466 Columbus, indicating a delay of reasons unknown in the demolition of the church building. Whatever those reasons may be, just a few months later in March 1895, dry goods store Williamson's had opened its doors there while St. Matthew's Church relocated to a nearby plot on 84th Street between Columbus and Central Park West.
The building's original appearance is unknown, but a photo from the late 1930s or early 1940s indicates how elegant the building would have been upon completion. A broad cornice, fitted with brackets and corbels, crowned the building's front elevation. On the second floor, a pair of expansive shop windows frame the building's architectural focus: a central arched window adorned with decorative spandrels.
This new, two-story building was designed by architect George F. Pelham, an incredibly prolific architect in turn-of-the-century New York. Pelham was a Canadian immigrant; born in Ottawa, he came to the United States as a young child. His father was George Brown Pelham, an architect who operated his own firm in the city and worked for New York City's Parks Department. It was in his father's office that he first trained as a draftsman. Pelham's specialty was handsome, high-quality apartment buildings and he designed residences all throughout the city. Today, his works can still be found in countless historic districts around Manhattan.
The proprietor and namesake of this gleaming new store, John G. Williamson, was born circa 1836 in Armagh, Ireland, before moving to New York City when he was just 10 years old. First working as a store employee on Grand Street until the age of 19, he was eventually able to open his own dry goods business. His first store's location was near the corner of 53rd Street and 3rd Avenue, a site he operated for 37 years. Following the success of this first store, Williamson relocated to the rapidly-developing Upper West Side. He ran the store until his death in 1902 at the age of 66.
In March 1895, a committee investigating the conditions of working women in New York City found that many department stores did not provide adequate seating for their women employees.
The adage "any press is good press" is one that Williamson may have taken too seriously in his new location's earliest days. Before the store on Columbus had even run its first advertisement, it received press coverage in the form of a labor practices investigation. In March 1895, a committee investigating the conditions of working women in New York City found that many department stores did not provide adequate seating for their women employees. As part of this investigation, Mrs. Frederick Nathan testified before the committee that she visited Williamson's and noted to Williamson that there was nowhere for his shopgirls to sit, to which he sharply retorted, "This is a business house and not a hospital." As a compromise, he eventually relented and agreed to add seats behind the store's side counters, but refused to place any in the center.
Williamson's only made it a half-decade into the 20th century before going out of business. The sale of the store's contents was publicized in October 1905: "half price."
In 1919, the building changed hands from the Williamson family to new owner, Alfred Neuhaus. Neuhaus was no stranger to owning property: real estate listings beginning in 1893 cite him as the owner of numerous Manhattan properties. The building is identified in advertisements as A. Neuhaus (or Neuhouse) Department Store as early as 1907, suggesting his eventual purchase came years after his store's tenancy in the building. Neuhaus Department Store remained the store's central tenant well into the early 1920s, at least.
In the late 1930s, the building was functioning as a mixed commercial building, with photos from the era showing the building flaunting three Streamline Moderne signs for Olympia Billiards, The New Westport, and Columbus Food Store. Not much is known of these businesses, but the many signs and storefront alterations present on the building during this time show that its original appearance had likely been altered many times in the five decades since the building was completed.
The building was the scene of a fire on the morning of April 1, 1944. At the time, 466-468 Columbus was operating as the Columbus Self Service Market and the store's main floor is where the blaze broke out. While the building survived the fire, two firefighters were reported as injured: Michael Gannon, 47, "was overcome by smoke", while Bernard Feinberg "suffered a sprained knee."
By 1961, the storefront continued to maintain its usage as a grocery store, now operating as an Associated Food Store. In 1962, 466-468 Columbus made news once again, this time for accusations of being big fat liars—that is, owner Rubin Schneider and butcher Irwin Enders were charged with misleading their customers about the true fat content of their ground beef. The investigation was part of a sweep by Markets Commissioner Alfred S. Pacetta who claimed that butchers were selling ground beef mixed with as much as 90% fat and blood. The cited charge against Schneider and Enders? "Adulteration of hamburger."
It was around this time that 466-468 Columbus underwent an unrecognizable refacing. Architects William J. and Donald E. Freed oversaw the renovation in which the building was wiped of all ornament and rendered as a plain commercial structure, with Pelham's original design forever lost.
466-468 Columbus was the setting of a grisly murder scene in October 1969 when manager Arnold Schneider (unclear his relation to the aforementioned Rubin Schneider) was killed by two armed intruders. When shots were heard, an employee "plunged through the window and ran across Columbus Ave. to another market whose manager had a .45-caliber automatic and a gun permit." The gun-wielding manager dashed upstairs and fired three times at the shooters, killing one, while the other, Eugene Smalls, was picked up by police just a half-block away.
The investigation was part of a sweep by Markets Commissioner Alfred S. Pacetta who claimed that butchers were selling ground beef mixed with as much as 90% fat and blood. The cited charge against Schneider and Enders? "Adulteration of hamburger."
The negative press for 466-468 Columbus continued into the 1980s when 40-year-old market employee Vincent Blazer was arrested on charges of sexually assaulting a 15-year-old boy. Per the teen, who lived in the Bronx at the time with foster parents, the abuse started when he was 6 after Blazer lured him into the supermarket's basement. A search of Blazer's apartment on 15th Street turned up further incriminating materials; it is unclear if he was ever convicted on these charges.
The building remained an Associated Supermarket into the new millennium, whereupon its future soon hung in the balance. Noted in the New York Daily News as a grocery store where "everybody who lives nearby shopped," the Associated Food Store at 466-468 Columbus was sold in 2005 by then-owner Stewart Schneider and his brothers for $7.15 million. While the new owner, Fred Rudd, was noted as being the manager of a large apartment building portfolio, it was unclear what Rudd's intentions were with 466-468 Columbus. Many, including Schneider, believed Rudd would soon demolish the building. Schneider, whose family had owned the supermarket for 45 years at the time of sale lamented, "This was my life […] I'm totally depressed."
Still, the building remained for years to come, even adding an extra story by Gruzen Samton Architects in 2006. After the sale, the building housed Kidville, a parent-and-child-friendly shopping experience, and Blossom, an organic, vegan, and kosher neighborhood restaurant, with the "cornmeal-crusted oyster mushrooms" noted as the must-have dish by local media.
In 2016, after a series of proposals, reviews, and revisions, the demolition of 466-468 Columbus was approved by the Landmarks Preservation Commission. It was demolished in 2019 and replaced with an eight-story mixed-used building designed by BKSK architects.
---
Max Chavez is an architectural historian based in Chicago, Illinois.
LEARN MORE ABOUT
466-468 Columbus Avenue
Be a part of history!
Shop local to support the businesses currently at 466-468 Columbus Avenue: