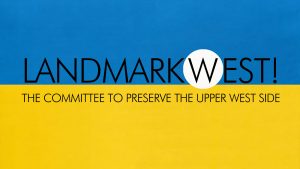 LW! Supports our Ukrainian Neighbors and Friends
The ongoing aggressions in the Ukrainian region have underscored the interconnected nature of our lives and the fragility of our collective whole as humans. While headlines sometimes feel far away, there are always reverberations at home.
Learn more about their Cathedral on West 82nd Street:
The 1894 "West End Synagogue" aka Ukrainian Cathedral of St. Volodymyr in New York
On January 28, 1921
The American Hebrew
reminded its readers of the history of Congregation Shaaray Tefila. "The congregation was organized in 1845. Its members were all immigrants from England or sons of British immigrants. Its first place of worship was on Franklin street near Broadway, a section which in 1845 was the residential center of New York."
In 1871 the congregation merged with Congregation Beth-El. It was around this time that the strict orthodox restrictions were loosened—organ music was introduced, females were admitted into the choir, and men and women worshiped together.
As the residential districts changed, Congregation Shaaray Tefila moved to Wooster Street, to West 34th Street, and to 44th Street. The American Hebrew noted "New York continued its uptown trend. In 1892, the Forty-fourth street building was sold and Carnegie Hall was selected as the temporary place of worship…Congregation Shaaray Tefila was the first organization to hold religious services in Carnegie Hall."
The trustees were planning the next move at the time. The Upper West Side was Manhattan's newest and perhaps most exciting new neighborhood. Three building plots—Nos. 156 through 160—were procured on West 82nd Street between Columbus and Amsterdam Avenues, and architects Brunner & Tyron were commissioned to design the congregation's new home.
For decades, synagogue architects had turned to the Moorish Revival style. Gothic Revival was too closely linked to Christian churches and Greek Revival had no historic context with the Jewish religion. Moorish or Byzantine motifs, on the other hand, reflected the pre-Inquisition period when Jews enjoyed relative freedom in Spain.
Arnold W. Brunner was gradually turning away from the style, and his Congregation Shaaray Tefila, completed in 1894, reflected his preference for the neo-Classical style in synagogue architecture. Nevertheless, he liberally splashed its symmetrical façade with Moorish touches—cusped arches, carved Moorish designs and alternating bands of lighter and darker stone and brick above the openings. KEEP READING