Courtesy of our friends and colleagues at the Historic Districts Council, you're getting your turn at the mic! Be a part of the discussion TONIGHT …
Open Spaces, Open Voices
Wednesday, January 25th from 6:00 to 8:00pm
Jefferson Market Courthouse, New York Public Library Branch
located at 425 6th Avenue in Manhattan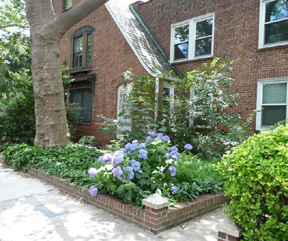 Sunnyside Garden Historic District
Grab the mike and tell HDC about the urban open spaces that matter to you! In order to best represent local communities citywide, we want to know what concerns you have about local public and private spaces. What challenges does a particular lot or park pose to your neighbors? How have you triumphed in preserving a garden or landscape? All are invited to share thoughts on public parks, plazas, streets and yards at Open Spaces, Open Voices. Attendees will be asked to voice their ideas in a moderated discussion with fellow neighborhood advocates.
The issues raised at the forum will shape the central topics for HDC's upcoming conference titled The Great Outside: Preserving Public and Private Open Space in March. The theme for the 18th Annual Preservation Conference is inspired by increased pressure on the city's green spaces due to overuse, development and neglect. Public and private open spaces and the environment created by the adjacency to buildings are top priorities as we plan for New York City's future. Participants will explore what makes open space historically significant and how those elements of history can be protected in a changing city landscape. The panels will consider current pressures and threats to public or private open space.
FREE and Open to the Public; Registration required.
Email sromanoski@hdc.org or call 212-614-9107 to reserve a space.
For more information or to rsvp please call 212-614-9107