As reported by Cristiana P.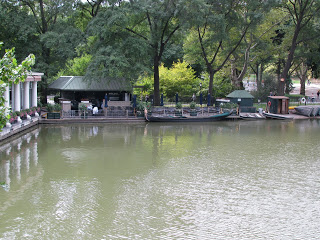 Boat launch and outdoor bar at the Loeb Boathouse.
Far left, white columns of the Boathouse; to the immediate
right, existing outdoor bar to be replaced.
Picture it: You're enjoying a beverage on the outdoor patio of the Loeb Boathouse in Central Park. The calm reflection of the Lake; the soundless paddling of boats; the crisp rustling of leaves … and a less-than-timid duck hops aboard the decking to join you for a brewskie. The industry of the city couldn't be further from your mind. That's Central Park living up to its character: rus in urbe. That is, a bit of country rusticity in the heart of the urban city.

On Tuesday, a proposal was heard by the Landmarks Preservation Commission
(LPC) at Public Hearing that would compromise the aesthetic of the Central
Park landscape, and the selection of buildings located inside (ie: the Loeb Boathouse pavilion, where the proposal is sited).
LW!'s Certificate of Appropriateness (C of A) design review committee weighed in on this project. The short of it: replace the existing bar with a new structure in glass and metal, relocate the bar closer to the Boathouse proper, swath it in a coat of bright-white paint … and top it all off with an illuminated display podium for the liquor bottles. Rustic, no? And there's more: the proposal calls for raising the level of the patio area, drawing visitors further away from their interaction with nature.

Our C of A Committtee strongly urged the LPC to deny the application. Click here to read our testimony, and let us know what you think! Our colleagues at the Historic Districts Council also presented testimony on this project (their statement available via their website)
. The public review was also reported on by
NY Eater.com
.