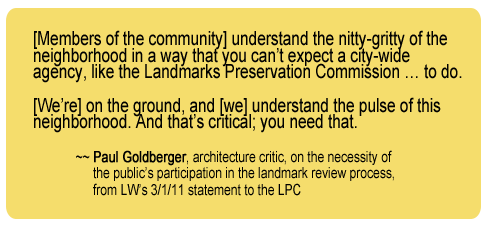 This past Tuesday morning, the Landmarks Preservation Commission convened to review proposed amendments to their

Rules

and to hear public testimony on this matter. LANDMARK WEST! was there, along with many of our preservation advocacy colleagues, representatives of community boards, neighbors' groups, and more.
One by one, we took to the podium to comment on the impact the proposed amendments could have on landmark stewardship throughout the five boroughs. One common theme became the mantra on many lips: the landmark review process serves the public, and the public cannot support amendments that remove it from the stewardship process.
There was no discussion among the Commissioners following public testimony—that will come at a later, "to be determined" date. But the record remains open! You still have the opportunity to be heard on this issue! General Counsel Mark Silberman noted that the record on this item will be held open for 10 business days (as of Tuesday, March 1). Forward your statement to msilberman@lpc.nyc.gov and LPC Chair Robert Tierney at rtierney@lpc.nyc.gov (please cc me at crsitianapena@landmarkwest.org!), and stay tuned for news on when the next public hearing or meeting will be!
Couldn't make the public hearing? Visit our YouTube page to watch the hearing and listen to the questions and concerns born from this proposal. For LANDMARK WEST's statement on both the proposed

Rules

amendments, and the proposed fee increases, click here.