Day to day, LANDMARK WEST!'s focus is on the Upper West Side, preserving the soaring apartments and brownstone-lined midblocks from West 59th to West 110th Street, as well as the stunning Scenic Landmarks–Riverside Park and Central Park–bookending the neighborhood on either side (and let's not forget the West Side's third Scenic Landmark, Verdi Square). With 2,700+ landmark-protected sites included in that ensemble, LW! staff keeps busy! From engaging with architects and property owners in design review, to advocating for expansion of the UWS landmark family, stewardship of our city's historic resources is a tireless and ongoing responsibility.
But sometimes, emergent issues concerning landmark sites outside our West Side boundaries call our attention. Such is the case with the ongoing issue of 27 East 4th Street, a site of new construction that puts at risk the historic Merchant's House Museum, a landmark of value not only to its neighborhood but to all of New York City. And less than a week ago, LW! was appalled to learn about serious vandalism occurring at Green-Wood Cemetery in Brooklyn.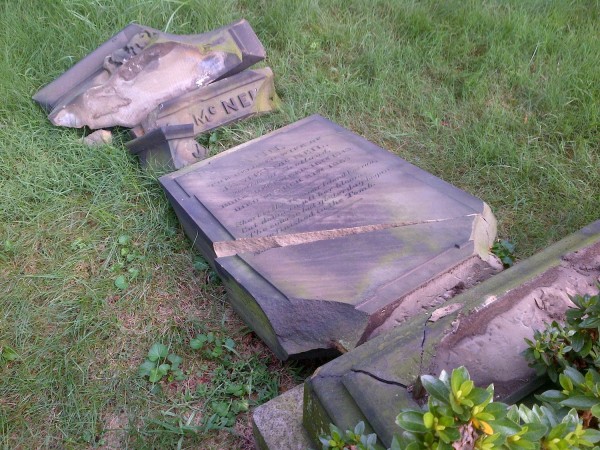 A shattered brownstone headstone in Green-Wood Cemetery, Brooklyn.
When it comes to landmarking in New York City's five boroughs, there's strength in numbers! What's good for one neighborhood (engaged community stewardship, strong and thoughtful landmarks regulations, etc.) is good for all! In that same vein, when landmarks are threatened, the preservation community must do what it can to support one another! It's our duty, then, to share this news about this eggregious vandalism at Green-Wood Cemetery.
Tuesday morning started out like any other summer day at Green-Wood. About 90 men and women who work on the cemetery grounds reported for work and headed out to mow the lawns, trim the grass, and weed the gardens. But, something was not right, as Ken Nielsen, acting foreman of the south zone, discovered. And worker after worker soon learned the sad truth: a very sick individual, or individuals, had vandalized 43 memorials and monuments of the dead …
I have been visiting Green-Wood since 1986, and, while I recall some incidents of vandalism, I cannot remember anything on this scale or close to it …
Although neither Green-Wood Cemetery nor The Green-Wood Historic Fund have any legal obligation to repair vandalized monuments, we are stepping up here and will be repairing each and every one of them. We also have been contacting the families of those whose graves were desecrated …
Ken Taylor, Green-Wood's long-time vice president for operations, estimates that the damage is "well in excess of $100,000." I already have made a contribution to help pay for these repairs and restorations. If you would like to do so, just click
here
.