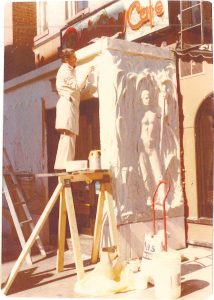 Wide eye'd pedestrians may have noticed earlier this week when signs went up on the glass of 240 Columbus Avenue at 71st Street announcing the closure of Cafe Tallulah, wanting to "thank all of our guests for five years of merriment, laughter, conviviality, and fun!", may we also add for preserving public art.
During a week with headlines in the Times about artist rights and recompense, the Upper West Side was again ahead of its time when in 2012, LANDMARK WEST! worked with the Cuban Cultural Center of New York calling for the preservation of the Victor's Cafe mural, eventually winning over Greg Hunt and his partners, in a positive compromise for the restaurant and the community.
Commissioned by Victor del Corral in 1971 for Victor's Cafe, the mural of a Cuban sugar cane farmer designed and executed by Arturo Martin has turned heads to the sidestreet ever since. We welcome our new neighbors and wish them success! Read more in the West Side Rag.