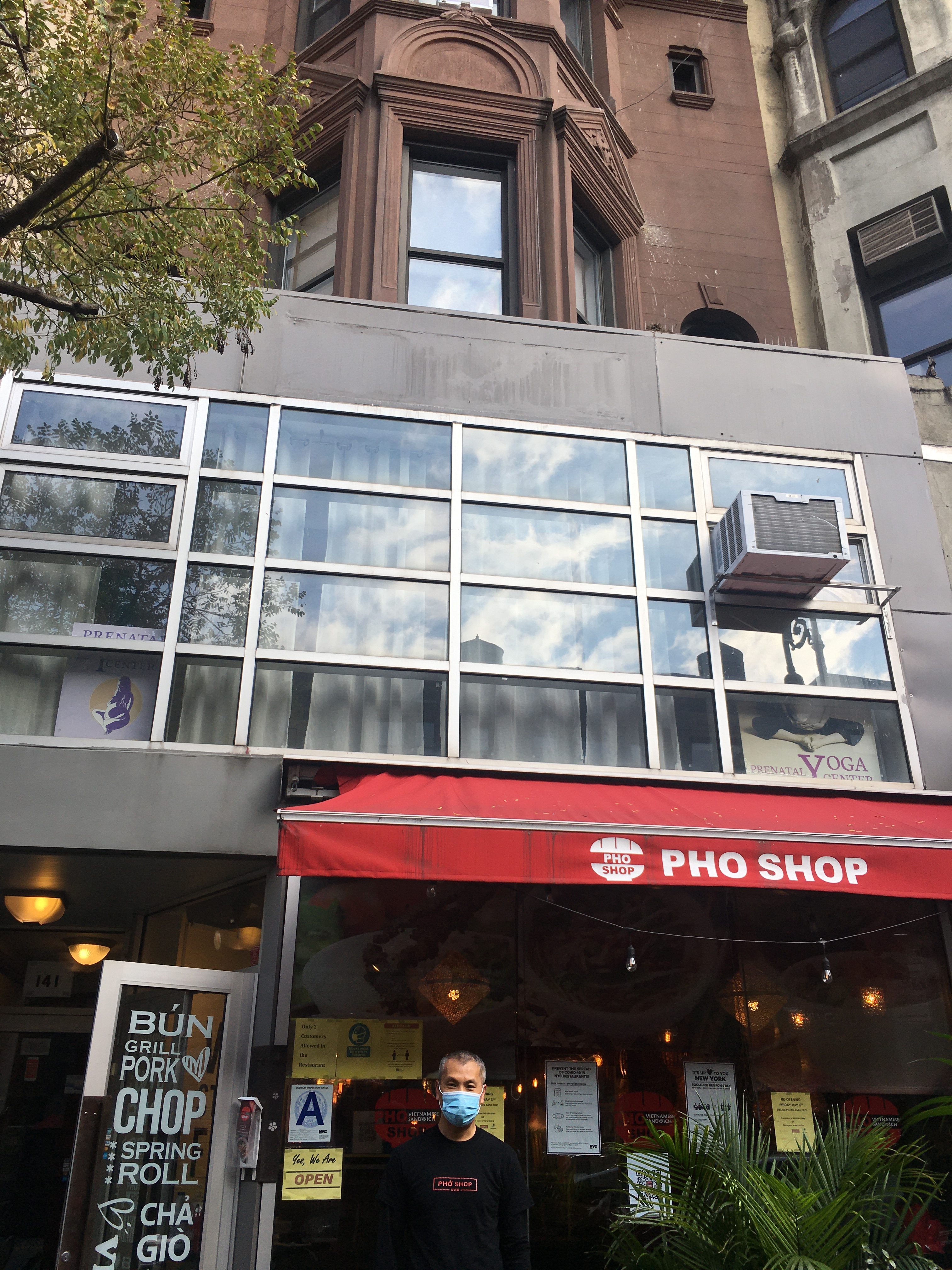 "We survived Superstorm Sandy and 9/11," says Allen Ng, co-owner of
Pho Shop
at
141 West 72nd Street
.  No question: the restrictions on restaurants, combined with escalating anxieties related to the Covid pandemic, are taking a toll on everyone.  But Allen Ng shares a can-do attitude with his partners, brothers Daniel and Billy Chau.
The three opened their first Vietnamese Pho Shop restaurant five years ago on the East Side.  Now, at 141 West 72nd Street, their new location, enthusiasm and hard work are showing results. The available, distanced seats are usually all filled in their outdoor shelter. Upper West Siders are flocking to the restaurant for Banh Mi sandwiches filled with pork, beef, sole, or tofu.  They're also very enthusiastic about Pho, Vietnam's hallmark street food, historically sold by vendors seated on stools as they stir pots of the soup over charcoal fires. Pho soup, adapted for the modern palate, has achieved international popularity. Today in Vietnam it is served both on the street and in upscale restaurants.
Customers are also coming by to pick up take-out containers of mouthwatering menu offerings such as vermicelli grilled shrimp and chicken in Viet style spicy lemongrass sauce. Can't go out? No problem – deliveries are available through services like Uber Eats, DoorDash, Seamless and GrubHub.

Like numerous other restaurants that transitioned to delivery-only during earlier Covid months, Pho Shop owners are still thinking about whether it's safe to accommodate customers inside. The Pho Shop is a subtly lit and beautifully decorated space.   Walls are hung with  woven lampshades that recall the peaked hats worn by Vietnamese farmers and wire sculptures of bicycles that remind anyone who's recently been to Hanoi of the chaotic energy of the street traffic. While Vietnamese restaurants have appeared here and there in the city over the years, the great interest in the Pho Shop seems to reflect  an upward trend. Allen lives in Staten Island; asked about the Upper West Side, he replies, "I love it.  It's very vibrant with people of different ethnicities and diversity."