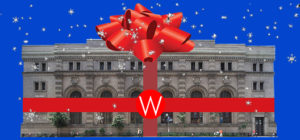 Some of my little friends say there is no Santa Claus.
~ Virginia O'Hanlon (age 8), September 21, 1897
Virginia, sometimes we're not so sure either.
But New Yorkers could use some good news, so here goes…
Dear Santa:
It's a tough world out here. 2016 hasn't been an easy year for New York City on the landmarks preservation front…or any other.
Landmarks make New York a better place. We need more of them.
There's a public meeting:
Tuesday, December 13

, starting at approx.

9:45am
at the Landmarks Preservation Commission (LPC)
1 Centre Street, 9th Floor
The LPC is planning to vote on the designation of 13 new landmarks, including
the former IRT Powerhouse
(McKim, Mead & White, 1904, Eleventh Avenue between 58th and 59th Streets). The Powerhouse – designed by the same architects as the original Pennsylvania Station – has been on LW's Wish List of landmark designation priorities for many years (it was first heard by the LPC in 1979). The others have been waiting a long time, too.
Could you please make sure these special places become landmarks at last?
That's our Christmas Wish, dear Santa.
Safe travels,
LANDMARK WEST!
P.S. If you can, please join us at this LPC meeting, and bring as many elves and reindeer as you can. Everyone makes a difference!
~