Current Status: Under Construction 
220 Central Park South Vital Stats
Address: 220 Central Park South (Community Board 5)
Type: Residential 
Name: 220 Central Park South 
Construction: Begun 2014; Completed 2018
Design Architect: Robert A.M. Stern Architects
Executive Architect: SLCE Architects
Structural Engineer: DeSimone Consulting
Developer: Vornado Realty Trust
Builder: __
Height: 953 feet, (290.4 Meters); 70 Stories
Total Construction Floor Area: 414,346 square feet; 38,494 square meters
Site Area: __
Density: 116 residential units
View Zoning Diagram HERE
Superlatives: 10th Tallest Building in NYC at time of construction.
On January 23, 2019, billionaire hedge fund manager Kenneth C. Griffin purchased a $238 million penthouse, making it the most expensive home ever sold in the United States
Loopholes Exploited: Packing multiple mechanical floors above street level to elevate sellable floors. 
Read through our blog below for more information on Supertalls.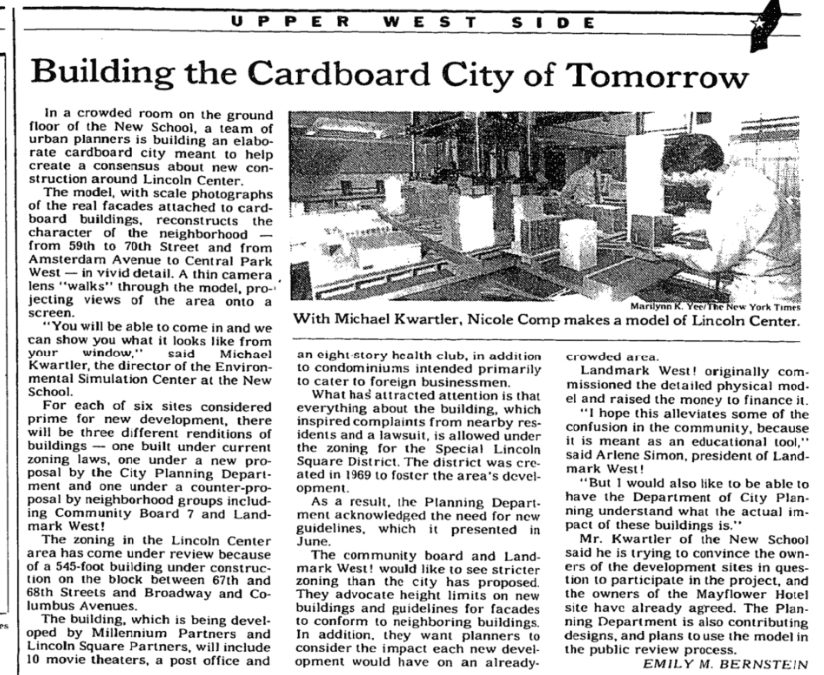 In 1993, LANDMARK WEST! commissioned the Environmental Simulation Center at the New School to build a model of the Lincoln Square area.  At a whopping 10' x 12' it was exhibited at the Apple Bank of Savings so that neighbors could come and see what was being proposed...
read more
Contact Information
Sean Khorsandi
Executive Director
LANDMARK WEST!
LandmarkWest@LandmarkWest.org
45 West 67th Street New York, NY 10023
212-496-8110
Be a Part of the Fight...