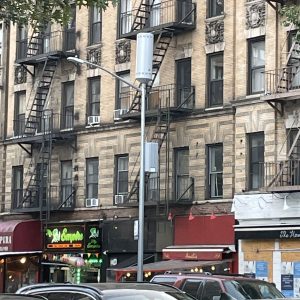 5G IN THE CITY
By Megan Fitzpatrick
Many of you have been following the 5G plans for NYC. While LW! supports accessibility to the technology, we remain steadfast that these out-of-scale 32′-towers do not belong in our historic district side streets.
We applaud CM Gale Brewer's efforts to curb them in our district and support the many co-location sites that use the cobra-head lampposts' existing infrastructure without further cluttering the public right-of-way.
As we continue to address the physical manifestations of 5G in our City with our colleagues, we have also joined a larger coalition of voices concerned about unchecked access from cellular companies who seek to usurp local regulations and bypass environmental and Section 106 Historic Preservation reviews through two federal bills, HR2557 and HR4141 which would prohibit moratoria, such as those which are keeping the City Bridge Towers currently at bay in NYC.
That letter can be found HERE. Learn more @ a Town Hall Wednesday August 16th
_______________________________________________________________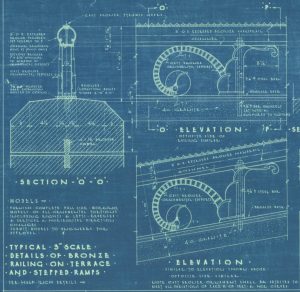 PUBLIC DESIGN COMMISSION
August 14th, 2023: Consent Hearing
Application is to reconstruct stairs at 105th Street and Riverside Drive within the Scenic Landmark Riverside Park
LANDMARK WEST submitted tesitmony to the Public Design Commission for a proposal to reconstruct stairs at 105th Street and Riverside Drive within the Scenic Landmark Riverside Park (Left: plans for the removal of historic guardrails).

LW! Testimony:
The LANDMARK WEST! Certificate of Appropriateness Committee has continued to review this proposal as additional original drawings have come to light, and we are disappointed that as stewards of this Scenic Landmark, the Parks Department continues to propose non-original utilitarian railings for a functional and ornate designed element of the park such as the 105th street staircase.
READ LW!'s FULL TESTIMONY HERE.
_______________________________________________________________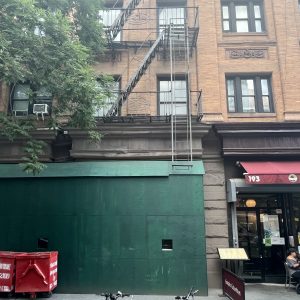 DEPARTMENT OF BUILDINGS
August 17th, 2023
Application is to propose and amendment of DOB rules to add a new rule regarding artwork on temporary protective structures.
LANDMARK WEST submitted tesitmony to the Department of Buildings for a proposed rule to add DCLA approved artwork to temporary protective structures (i.e scaffolding and sidewalk sheds)

LW! Testimony:
LANDMARK WEST! appreciates public art as an enhancement to our parks, plazas and public thoroughfares. We even mourn its loss when it is removed, which is why we applied to the Preservation League of New York State's PRESERVE NEW YORK Grant program and have recently launched our Upper West Side Public Art Survey. This proposal is near to our mission and we feel can have great benefits to the quality of life of the general public.
With safety remaining at the forefront–unobstructed code signage, and non-dimensional art, we feel this can be an appropriate win for New Yorkers.
READ LW!'s FULL TESTIMONY HERE.