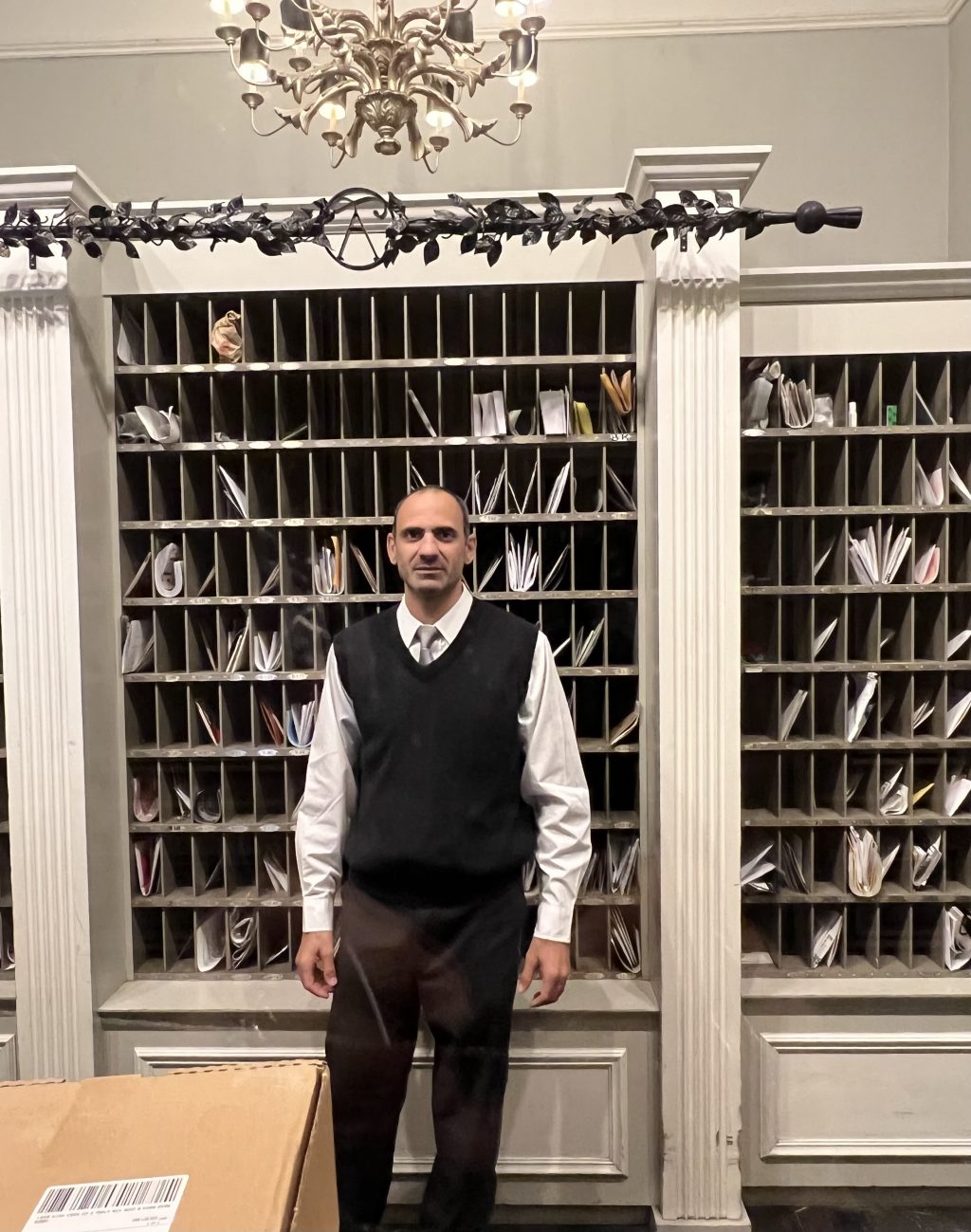 By Claudie Benjamin
It may seem unusual for an apartment house lobby to use and display artifacts of its past. But then the Ansonia is no ordinary building. Demetrios Mitsopoulos has been the Concierge at the Ansonia for 21 years. He arrived at the historic building a few years after massive renovations were completed as part of a condominium conversion.
Somewhat shabby through the 60s and 70s, the artful renovation restored much of the building's former glamour and extravagance. One outstanding element from the very early days was a small rooftop farm with cows to produce milk for residents. The farm was closed by the Department of Health in 1907 and never restored. Today, in its place, there's a roof deck for relaxing, explains Demetrios.
But some artifacts of the past remain and are indeed showcased. You can't miss the massive mail distribution cabinet that accommodates 450 apartments. The cabinet is by an elaborate wrought iron decorative filigree circling an "A" motif that is also found on other ironwork at the Ansonia.
The cabinet is very much in use as Demetrios hands tenants their mail. He explains that the cupboard containing the mail was originally installed in an adjacent lounge. And, the lounge was formerly where the mail/reception counter area is now. The lounge is discreetly designed with a gray and olive color palette that suggests a bygone era. Of particular interest is a curio cabinet displaying memorabilia linked to the one-time residential hotel. There are silver-plated serving items, a baseball signed by sports hero Babe Ruth (who lived at the Ansonia) and postcards including one of the elaborately decorated early English Grill restaurant.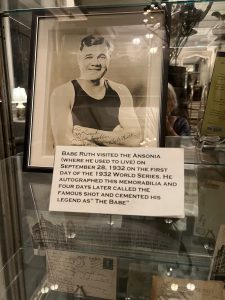 The curio cabinet was once used by a former Ansonia owner. "[Jesse] Krasnow keeps a curio cabinet in his office filled with Babe Ruth memorabilia. He's spent the past 25 years trying to track down which apartment was Ruth's, but nobody knows for sure. [1] Like mail and postage, hotel keys that in many places were attached to heavy key chains to avoid having guests take them away have largely disappeared, replaced by electronic keys. Sending mail to a hotel or apartment hotel also seems to a practice that was lost to time.
Opposite the mail cabinet is the base of a chute that allowed residents to send letters on their way via the mail chute where they were collected by a postal worker. These vintage conveniences are reminders of a time when stationary, mail, airmail and stamps were not only part of an essential means of communication but were widely collected drawing great interest and admiration for their beauty and historical importance. The National Postal Museum in Washington DC is a treasure trove of memorabilia and exhibits all related to mail. [2]
So, in contrast, you can look wistfully at a postcard in the Lobby curio case that bears a stamp, a New York postmark, and an address in Paris.
Or peruse the numerous menus from daily meals to banquets that are included in the NYPL's digital archives. [3]
Among them is the menu served at the Ansonia for a major Navel League of the United States event, the Tenth Annual Banquet and First Annual Ball. The festivity was held at the hotel on May 14, 1915. Guests dined graciously (with a note on the menu that "There will be no formal toasts but a limited number of short talks may be expected. The ball opens at 10 o'clock." Among the speakers was Franklin D. Roosevelt, then Asst. Secretary of the Navy and others talk about the importance of strengthening the Navy by convincing Congress to allocate more funding. [4] The US entered WWI just two years later. In early April 1917, with the toll in sunken U.S. merchant ships and civilian casualties rising, Wilson asked Congress for "a war to end all wars" that would "make the world safe for democracy." [5]
The cover of the banquet menu depicts naval ships along with the insertion of a small graphic of the Soldiers and Sailors Monument on 90th Street and Riverside that had been dedicated in 1902 and a small image of the Capitol.
A few framed photos of the Ansonia in earlier days are in a hallway just off the main lobby. One depicts a gracious private dining room. The other shows a huge number of well-groomed children, beautifully dressed in white party clothes for their participation in a building-wide surprise party. A special treasure, located off the main lobby and through a set of doors is a magnificent 17-story spiral staircase with ornate iron railings.
A fuller picture is breathlessly described in a 2005 New York Magazine article. Among many fascinating details, the article notes: The Ansonia even had its own curator, Joseph Gill-Martin, who collected 600 paintings for the hotel to display. In one of Stokes's (original owner) outrageous touches, each suite's lush inventory of towels, napkins, table linen, soap, and stationery was refreshed three times a day. [6]
Tempted to view more memorabilia? Simply enter the Lobby of TD bank where ATMs are housed. There is a continuously running overview presenting Ansonia highlights.
Continuing the tradition of businesses along Broadway, today the Ansonia's mix includes The Northface, Sephora and TD Bank. On 74th Street is a neighborhood Mt. Sinai medical center affiliate, and a dry cleaner. Upstairs a Goddard early childhood center is expected to open soon.
A lovely, lyrical YouTube video provides a visual overview highlighting some one-time residents. [7]
References
[1] https://nymag.com/nymetro/realestate/features/1871/
[2] https://postalmuseum.si.edu/
[3] http://menus.nypl.org/menus/33397
[4] http://www.fdrlibrary.marist.edu/_resources/images/msf/msf00044
[5] https://www.rochester.edu/newscenter/looking-back-100-years-u-s-enters-world-war-i-on-april-6-1917/
[6] https://nymag.com/nymetro/realestate/features/1871/