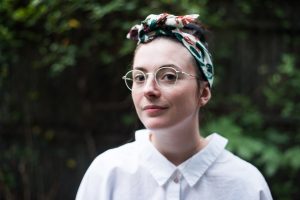 By Claudie Benjamin
There are certainly many eyeglass shops on the Upper West Side. But the designs at Anne et Valentin are in a class of their own. Mathilde Brecy is the manager of the store at 248 Columbus Avenue that opened in March 2016. Started about 40 years ago by a couple, Anne and Alain Valentin, in Toulouse, in the South of France, the French-owned optical design company now has three stores in New York (Madison Avenue, Columbus Avenue and Prince Street in Soho); one on the West Coast in Seattle and five in France.
Born in Amiens in the North of France, Mathilde lived for seven years in Toulouse where she discovered the brand. She was trained and certified as an optician and then mentored in the specifics of the Anne et Valentin brand. Mathilde had always dreamed of living in the United States. And, this greatest wish came true – Anne et Valentin company brought Mathilde to New York. Asked about living and working in the city, she says, "It's great to live here (Bed-Stuy), to learn another language (she's totally fluent) and to explore this neighborhood (the Upper West Side). "I love it."
What makes the shop's concept stand out among others? Mathilde says the difference is apparent from the moment a customer steps into the store that is designed to suggest an art gallery with delicate abstract wire sculptures hanging on the walls. Glasses are not displayed but in drawers and cabinets. Customers discuss their style and image preference with the shop's staff who are all opticians. The frames are then brought to the table where the customer is able to try different styles and looks.
"Then, we make sure that the glasses are never too big or two small. The fit must be perfect." The Anne et Valentin staff discuss options that will work well not only with the customer's face, but also ensure optimum fit and reflect the image they wish to project. The designs, subtle works of functional art, are a pleasure to behold. The variations of frame color, variations in weight and lens tint are key design components that combine to produce effects that range from refined and conservative to noticeably bold and glamorous – all innovative. Glasses are designed in Toulouse. Most are made in France. About 20 percent, those with ultra light titanium frames, are produced in Japan.
Most Anne et Valentin customers purchase one pair of glasses a year. Some buy as many as three or four pairs. "The glasses are designed to be timeless rather than trendy," says Mathilde, "At the same time, new designs are developed and released four times a year to surprise our customers." Every pair of glasses has a name. For example, those in the "Sunset City" collection are named after women in the film industry as Sciamma (French movie director), Swinton (American actress), Seydoux (French actress) or Sigourney (American actress). All started with an "S".
Anne et Valentin's staff team stayed in touch with customers during the pandemic. Now, as restrictions are relaxing, Mathilde is hoping to increase the number of those who want to come in for store visits. She says with the recent lowering of rents, many more young people are moving into the neighborhood and becoming customers.