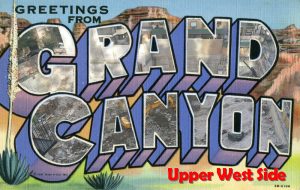 Charles Bagli of The New York Times cited the postcard at left (dreamed up during a summer visit to the other Grand Canyon in Arizona) in his article The Empire State Building May Soon Have Another Rival… which went live on Friday evening. The journalist writes:
Many New Yorkers are also dismayed by how their neighborhoods have been rendered unrecognizable by the rising towers. "Greetings from Grand Canyon, Upper West Side," says a colorful graphic on the website for Landmark West!, a civic group dedicated to "a long range effort to curb supertall towers."
The astute viewer will note that the negative space within the letters reveals a window into the construction site at 36 West 66th Street. In that instance a developer assembled many parcels, three set buildings from ABC, the land beneath Congregation Habonim, as well as the 65th-street frontage of the Jewish Guild for the Blind. In addition, Extell purchased air rights from the First Battery Armory, an individual landmark owned by ABC and used for ESPN.
Those air rights are over 200,000 square feet. The City allows transfers of development rights from individual landmarks with the reasoning that the floor area that could otherwise be realized on that site just shifts, and it remains within the block. Several groups have attempted to further "unlock" air rights and give them more flexibility of transfer. One caveat to that rule is religious properties who can transfer their development rights diagonally or across a street, which is what Macklowe is planning to do with air rights from St. Patrick's Cathedral, a compound which occupies an entire city block. Coupled with these provisions is even greater flexibility of moving air rights within 72 blocks of mid-town east, a plan certified under the deBlasio administration.
While the City must evolve and change and development is inevitable, many argue that it should be predictable. In the instance described by Mr. Bagli the developer seeks a building a full 66% larger than then intended maximum, with amenities like an 85-foot tall (essentially, 8-story) lobby and a cumulative stated height of 96 defined floors, it would be
head and shoulders above its context…if all goes as planned it will literally even cantilever over the neighboring landmarks of the John Pierce House and the Look Building, which is the current home of the Municipal Art Society
of New York. Daniel Garodnick who helped negotiated the terms of the Midtown East Rezoning noted "This project goes way beyond what is allowed to be built," if that is the case, one must wonder why the City further loosened the rules in the first place, and now that these additional reaches have been identified, what they will do to reign them in–if anything.