Left: District Map from 2010, Right: District Map post-de Blasio Diet on June 23, 2015
Image by Landmark West!
This morning, the Landmarks Preservation Commission held a public meeting to consider designation of the third, and as they emphasize, "final" segment of the Riverside-West End Avenue Historic District. Originally calendared on November 16, 2010, the District extension under review today showed the slimming effects of The de Blasio Diet– weighing in at an original 377 buildings in 2011, today this "study area" was reduced to a trim 344 (a number even Bob Harper and Jillian Michaels would be astonished at).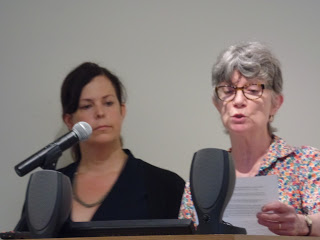 LPC staff Lisa Kersavage and MaryAnne Percival present the
the slimmed-down RSD-WEA EXT II Historic District today.
What exactly was excised? Predominantly, the Broadway border- in its entirety, and various carve outs for playgrounds, tenements and row houses– block "fragments" which "did not sufficiently contribute to the sense of place". A scant few images displayed examples of the cut outs but by no means represented all of the 33 missing sites- sites Commissioner Michael Devonshire unsuccessfully lobbied for the Commission to visit prior to voting. In a concession, formerly omitted P.S. 75 was drawn back into the map as of this morning, but one branded as a "no-style" building which is a debased designation. Everyone cheats on a diet a little, right?
In addition to Broadway, the revised boundaries were nipped and tucked both north and south. The new district was cut from 89th Street, to begin all the way up at 92nd Street and similarly, it was shaved down a block to 108th Street as its modified northern most border.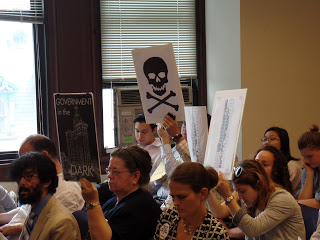 Members of the public, unable to testify held up maps of the
original district boundaries to protest "Government in the Dark"
The LPC defended their all inboard-of-Broadway diet restrictions by deferring to legal counsel who cited previously designated Historic Districts (Gansevoort, Ridgewood, East Village etc.) that had cut-outs identified at time of designation. What makes this unique is not only how a commission adamant about not adhering to precedent is suddenly leaning on precedent when convenient (now) but the unprecedented scale of reduction. This District is in fact, the Biggest Loser to date!
Dissent among the commissioners logically questioned why buildings by established pedigrees (Neville and Bagge; George and Edward Blum), recognized elsewhere within the Community District were forsaken here. The response was that Broadway would not contribute to the cohesion of the district. Commissioner Fred Bland lamented that it took 43 years to vote on this District which was clearly deserving and he hoped "the notion of Broadway" would not take as long to evaluate. Commissioners Adi Shamir Baron, and John Gustafson also echoed the need to put attention towards better understanding Broadway's identity, and to recognize its cultural landscape.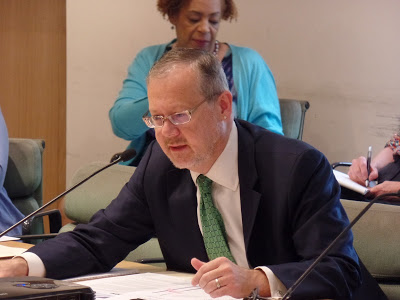 Commissioner John Gustafson spoke the voice of reason, questioning why significant buildings by noted architects were being ignored. As the staff responded in defense of the cohesion of the historic district, Commissioner Gustafson also questioned the cohesion of the blocks within this district and how they will be affected if these significant structures are altered.
The reality is, with the buildings omitted, Broadway becomes the excess skin for the developers to re-shape, and even the work of the best plastic surgeon looks familiar but out of place.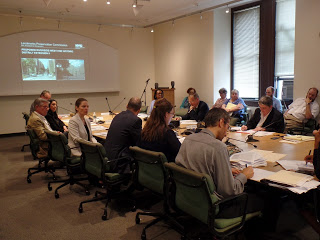 The Commissioners in conversation with their legal and research staff
That these decisions were made behind closed doors is unsettling- that the final map was not made available to those experts voting on it until the flash of a slide in a power-point is unconscionable. After a self congratulatory victory lap, pronouncing the process and resultant district as respectful, thoughtful, rigorous, fair and mindful of initial requests, Chair Meenakshi Srinivasan called for a vote of designation. With the only alternative of denying designation, the modified district passed unanimously, becoming the twelfth Historic District within the Community Board. Up next, lucky 13…