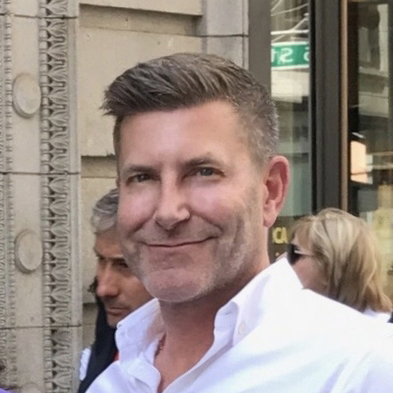 By Claudie Benjamin
Historic preservationist Ken Lustbader is known as "a pop culture maverick" among his fellow colleagues leading the NYC LGBT Historic Sites Project. Why? Because among them, an essential area of his expertise is the city's LGBT cultural and social life, including pre- and post-Stonewall gay haunts, and how the growth of gay activism is related to historic buildings and NYC neighborhoods. He's drawn to detailing unappreciated and unusual venues that contributed to LGBT culture and connections, often overseen by colorful characters.
Lustbader got his start in the field while a graduate student at Columbia University, where in 1993 he wrote his Master's thesis "Landscape of Liberation: Preserving Lesbian and Gay History in Greenwich Village."
Evolving out of the gay liberation movement of the 1970s, public policy began to mitigate widely held prejudice and regulations against gay men and lesbians. These are certainly issues that still need to be addressed even as substantial advances have been made regarding the acceptance of LGBT identity.
The Continental Baths were located in the basement of the Ansonia Hotel on 74th Street and Broadway. It was opened in 1968 by former opera singer Steve Ostrow. On offer were casual sex, a sense of community in a relatively safe space, and top-notch performers as entertainment. It was an unabashedly opulent venue for gay men to meet and have sex. "Although it was raided many times, patrons had a sense of freedom to connect as gay liberation took hold," said Lustbader. "It is reported that some men entered the Continental Baths on Friday and emerged on Sunday."
More significantly, he said that the social impact of the Continental Baths was a meaningful turning point for many men who were becoming more aware of post-Stonewall activism in a venue that unabashedly recognized their sexuality.
The decor of the Continental Baths could today be considered dated, but it was a high-end design executed by Richard Ohrbach, known then as "designer to the stars." As Lustbader describes it, the one-time Turkish baths and swimming pool was part of a huge basement site that was part of the original Ansonia Hotel. The pool boasted a waterfall, there were elaborate colored lights and a cruising hall lined with black marble. 70s in style, there were plenty of mirrors to enhance the cruising experience. Gay men, wearing nothing but white towels, would stand or sit watching performances on a small stage. Bette Midler, accompanied by Barry Manilow, famously got started there. Metropolitan Opera soprano Eleanor Steber, an Ansonia resident, recorded a live performance (linked) at The Continental Baths. And, for this occasion, the men in the audience wore black towels with the name "Continental Baths" embroidered along an edge. Cab Calloway and Lester Gore were among other stars who performed there. A number of DJs including Larry Levan, later of Paradise Garage, got their start at the Continental Baths, playing for the crowds on its widely popular dance floor.
Another notable feature was the orgy room, where carpeted risers were installed so that seated men could watch others engaged in sex. When it first opened in 1968, there were 50 private rooms, which expanded to 400 at its peak. The Baths drew about 10,000 patrons a week. Lustbader reported that during its nine-year run, there were about 200 raids despite the payoffs Ostrow made to the police and organized crime figures, somewhat shielding patrons from harassment, which was common at the time. By the end of 1976, the Continental Baths was past its prime and was closed by 1977. The facilities had become run-down as its core clientele moved on as the Baths became known primarily as a performance venue for a mixed crowd, leaving behind its important role as post-Stonewall incubator space for gay liberation.