Two Mentions in the Gray Lady over the weekend: LW! is making headlines
Covering our Advocacy and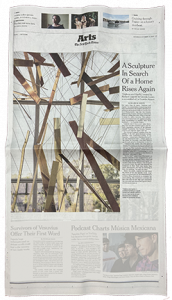 A Sculpture in Search of a Home Rises Again: 'Orpheus and Apollo,' Created by Richard Lippold for Lincoln Center, is reinstalled at La Guardia Airport
by Hilarie M. Sheets
LW! partnered with the Preservation League of New York State in asking Lincoln Center to return the site-specific Orpheus and Apollo (the first piece of public art commissioned for Lincoln Center) to the lobby of the Philharmonic Hall where it once completed the facade.
Identified as one of their Seven to Save sites, our advocacy helped keep it in America and it is reinstalled at LGA.
It also instigated our district-wide Public Art Survey.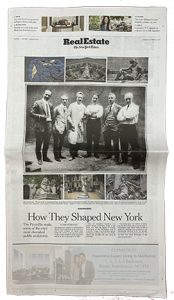 STREETSCAPES:
How They Shaped New York: The Piccirillis made some of the city's most cherished public sculptures.
by John Freeman Gill
The Piccirilli Brothers represent some of the many immigrants who have brought beauty to our parks and streets.
Whether on Columbus Avenue or in San Juan Hill, immigrant stories help illustrate our community's history.
Our LW! Programs bring that history alive. Join us on October 25th for John Belardo's The Piccirilli Family: A Stonecarving Dynasty, to learn more, or our other programs like Raising Titanic's Big Piece HERE.
Every day, LANDMARK WEST! is engaged in extensive education outreach, diverse programming and wide-ranging research and preservation advocacy to continue to protect and celebrate our unique historic environment.
Join Us
.