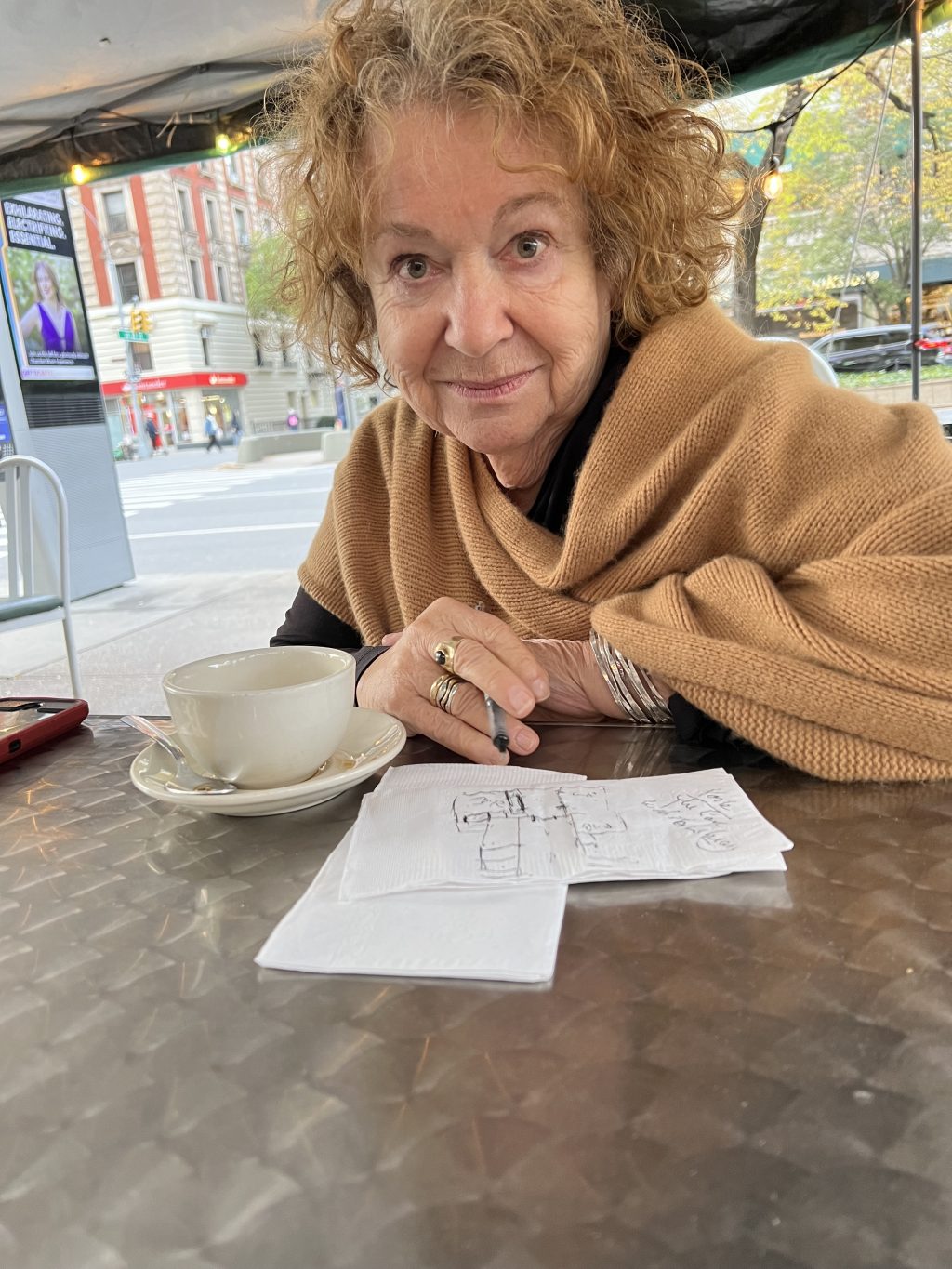 By Claudie Benjamin
In the mid-1970s, Louisa and John Craddock were a young adventurous couple being priced out of their apartment with a view of Central Park. Then they heard about what seemed like a great deal. Now in 2022, almost 50 years later, Louisa is sitting at Cafe 82, explaining over a coffee how she and her husband came to own the beautiful eight-room apartment where they still live in the 1899 Saxony building on the opposite side of the street.
At the time, if the Upper West Side was not at its best, the Saxony at 250 West 82nd Street, one of the first of famed architect Emery Roth's designs built in NYC, (under Stein, Cohen & Roth) was probably at its worst.
The disaster was attributable partly to landlord neglect but mostly to the occupancy of nine of the building's 18 apartments by a cult called the Sullivanians. Louisa says, "I knew about the building. It was notorious for wild parties featuring a heavy dose of drugs and sex." As Louisa understood it, cult members renounced friends and family and committed to psychotherapy, radical politics and sexual liberation.
Most damaging to the structure and interior design of the actual building, the group was opposed to anything that could distract them for their various pursuits and were appalled by or, at best indifferent to the ornamentation of a turn-of-the-century building. They cut holes in floors to install ladders for use as internal staircases, broke through walls to connect apartments, stripped wainscoting and moldings from the walls and tore up parquet floors.
Eventually, the landlord took them to court and they were evicted. According to Gothamist, in an article written after the cult members were evicted from the Saxony, they moved to 100th Street and Broadway where their activities, sometimes tinged with violence, incited problems with neighbors.
The landlord of the Saxony, rather than fix all the damage, decided to co-op the building. Louisa recalls that a friend looking for an apartment heard that there were large apartments available with the departure of the Sullivanians, albeit in very bad shape and asked her opinion. Louisa advised that in New York City, space is the ultimate luxury. Her friend bought an apartment and six months later, Louisa and John did too. Although friends and family tried to dissuade them because of the condition of the building, Louisa and John accepted the risks and never looked back.
They had several empty apartments to choose from and settled on one that had a view over the tops of other buildings and looked out onto Broadway with a lot of light. The layout was more basic than in later Roth buildings, but with so much room, the couple had plenty of leeway in terms of how they would use the space. "We put in a lot of sweat equity. John built all the bookshelves. We did a lot of work ourselves and when we had money we hired workers, some who had posted signs on lampposts."
The adventure suggested discovery and delivered on its promise.
Among other finds was a beamed ceiling that had been covered with plasterboard. An original filigreed mantle had been painted over so many times, it took time, patience, and love to bring it back to its original beauty. Solid cherry wood doors throughout the apartment had been painted over numerous times. Walls that contained elegant sliding doors that fit into the walls had been covered with sheetrock. Once they were uncovered, "They were in perfect shape." There were treasures in the basement, like an original wooden medicine cabinet in its original box and original pedestal sinks.
Saxony's newcomers formed a strong and long-lasting community and kept in touch. Because they all arrived at the same time and all faced the same issues in renovating their apartments, they bonded over issues of the boiler, the best paint remover and passing on the names of the best workmen–one plasterer basically lived in the building moving from apartment to apartment. Parents at Red Paint, a parent-run daycare center, heard about the new co-op and a number of them also bought in—everybody seemed linked to somebody else.
John Craddock is a film editor. Louisa Craddock worked in a variety of non-profit, low-paying editorial jobs after dropping out of Hunter when she was fairly close to graduation. After a friend urged her to complete her degree, she went back. Needing one course to obtain her diploma, she chose Urban Life and submitted a paper on the early gentrification of the Upper West Side. Emerging clearly as a good match for the profession of urban planning, her professors persuaded her to apply for a master's degree. She received a fellowship, and after working at a required internship at the NYC Department of Planning, she was hired after graduation. She soon became the editor of the Zoning Resolution of the City of New York, working at City Planning for the next 25 years while serving at the same time as the president of the co-op board. After retiring, but still wanting to use her skills and experience, she found new challenges as co-chair of the Housing Committee of Manhattan Community Board 7.