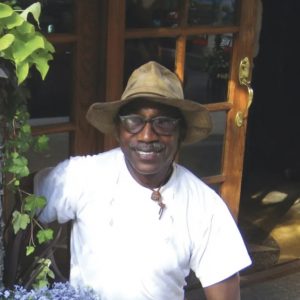 By Claudie Benjamin
"Talk to dogs, and you get no disagreement. Usually, you know the answer to your problem in your own head. Talking it out aloud to a dog helps you to move on."
This advice comes from Precious Costello Caldwell, a man who has been taking his own advice for the past 30 years as a dog walker. He's been discovered and rediscovered by the media over the years, and the details of his special standout dog-walking business have been covered by The New York Times and CBS News. Also, he is very well known in the neighborhood of his home at 235 West 102nd Street.
A 2014 New York Times article, "Dressed to Lead the Pack," described Costello's attire, Mr. Caldwell, too, is always impeccably turned out. He walked the dogs through Riverside Park on a recent weekday in an outfit that seemed to borrow equally from Ralph Lauren, Indiana Jones, and the Marlboro Man: boots, rugged canvas pants, an olive green sweater, and a matching vest bearing a self-drawn logo for his dog-walking company, Royal Wolves.
Costello is joyful about his life and work, and his well-thought-out approaches to his profession are admirable, witty, and educative. He's a very sociable guy with many stories to tell.
Born and raised in a small farm town outside Baltimore, Maryland, Costello worked in the fashion trade as a sales rep for about 15 years, first in Maryland, then in Los Angeles before moving to New York City.
Here he worked as a maitre d' at Jezebel, a former Hell's Kitchen restaurant serving Southern comfort food in a 1920's Gatsby-touched Parisian setting. But the required ever-present greeter's smile lost its attraction, and Costello moved on to found his own business.
To begin, well-schooled in the power of promotion through his fashion world experience, Costello put his advertising know-how to work on establishing a strong recognition factor. The overarching goal was to establish trust and professionalism. In Costello's view developing a brand required the appropriate (and original) uniform both for himself and for the dogs he walks.
Surveying the clothing lines promoted by sporting companies, Costello decided on a distinctive look for himself and any assistant dog walker he employed. His doggie clients also were always outfitted in bandanas designed by Costello with the Royal Wolves Academy name and individualized with the dog's name e.g. Cadet Dora or Cadet Tyler. Then, leashes all of the same length and style are used for dog walking. Costello keeps the leashes and brings them each day to the client's home to avoid delays while the dog's mom or dad searches around the apartment for a leash.
Costello has been very deliberate about establishing trust with clients. Many consider him like family. He says he was aware of the challenge of establishing trust, especially as a Black man coming to wealthier homes of non-Blacks. So, his rules for his employees, as for himself, were very strict. Dress in the company uniform, stay as close as possible to the door, and never touch or even wander around and look.
Dog owners are very dependent on Costello, and he is very attached to them. He says he's winding down his business but can't say no to pet owners who got young dogs over the Covid period. While he's not taking in new clients, Costello is likely to be seen walking his team of six pups every day around noon. "People always ask how do you clean up the poo-poo when you're walking six dogs?" Costello explains that it's really quite simple. Since the leashes are all the same length, you hold them in one hand and do the scooping into a disposal bag with the other hand.