The student becomes the teacher! Recently, LW! graduate intern Kate Gilmore took two of our summer high school interns on a trip to the New York Public Library, to share with them one of the places in New York City that, as a historic preservation student, Kate knows all too well! But rather than burying their heads in historical prospectuses or style guides, the intern team took in the NYPL's current exhibition "Lunch Hour NYC". Here's Kate's report …
The New York Public Library's current exhibit, "Lunch Hour NYC," is a great look back into the history of how Americans eat. While today there seems to be a plethora of lunch options, from food trucks to a "power lunch", a midday meal has not always been part of Americans' routines. To find out more, I ventured down to the NYPL with fellow interns Jonathan Ortiz and Jahmauny Monds.
"Lunch Hour NYC" examines the history of lunch as we know it today and how it has evolved over the past century. One of the highlights of the exhibit was the old images and equipment from a Horn & Hardart automat. The hands-on exhibit allowed us to operate the automat machine to retrieve popular recipes. Once ubiquitous, automats were a quick, efficient lunch option for busy office workers. Here on the Upper West Side, 170-172 West 72nd Street, was once home to a Horn & Hardart automat designed by architects F. P. Platt & Brother in 1931. Another West Side automat is already an Individual Landmark (more here!).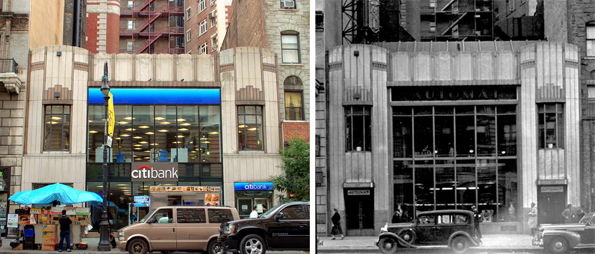 On the left, the former Horn & Hardart Automat on West 72nd Street (now a Citibank).
On the right, the Automat as pictured in 1942.
The exhibit chronicles the invention of cafeteria-style restaurants, the rise and fall of the automat, soda parlor slang and the invention of the hot dog–to name just a few of the highlights. Who knew that lunch had such a rich and interesting history!
LW! summer high school interns Jonathan Ortiz and Jahmauny Monds learn more
about how an automat functioned at the NYPL "Lunch Hour" exhibit.
In addition to the amazing exhibit, the NYPL has an amazing Menu Collection that is available online. The robust collection features menus from popular eateries all over the city, totaling 45,000. It can be an invaluable resource when documenting the location of popular restaurant chains, since the menus usually featured lists of available locations. They are also highly enjoyable to get a sense of the popular foods of the period.
So the next time you head out to your favorite lunch spot or pull out your packed lunch to heat in the microwave, just remember this American routine has not always been. It continues to evolve with the food truck craze that has changed the eating habits of city dwellers yet again.