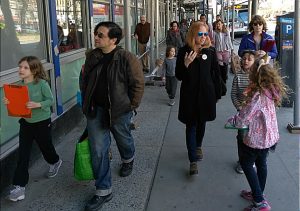 Last Saturday, Landmark West embarked upon our first ever collaboration with the Children's Museum of Manhattan in our own Upper West Side. Landmark West's Education Director, Rudie Hurwitz, coordinated with Nellie A.V. Chaban, the Director of School Programs & Community Outreach at Children's Museum of Manhattan, who brought in Allison Austin, Manager of School Programs. We did two sessions of a condensed Neighborhood Explorers workshop. The first was sold out so some participants moved to the 11:30 session. Many were not new to Landmark West's education program, Keeping the Past for the Future, which goes into public elementary schools in the Upper West Side and teaches kids about local architectural history, preservation, and civic engagement. With a dedicated fanbase of 1st through 4th graders, we were able to fill the studio at the Children's Museum. There were some new faces as well and Keeping the Past for the Future garnered interest from a Manhattan School for Children parent, so perhaps Landmark West will be adding that school to its partner list in the future.
The groups met near the door to the Museum, where clipboards were handed out to each child with a survey worksheet for counting building types in one square block of NYC. While walking around the block and counting buildings, we also examined specific details, discussed the future of empty storefronts and what made a building look like the function it served in the community. For instance, in order for a fire station to serve the community, how must it look on the exterior? Generally, fire stations are red, which indicates that these locations deal with emergency situations. Most importantly though, the fire station must have a large garage door to get that truck in and out of the building fast!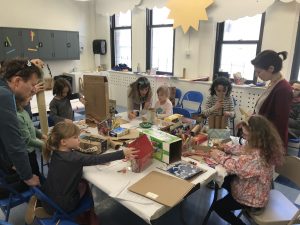 These were the types of design challenges facing us in the Museum's art studio, which had been loaded up with fantastic art supplies. We brainstormed ideas for an ideal neighborhood. A few kids felt their neighborhood should have a large nature preserve. Another group carefully designed a teleportation station to work with the nature preserve. One girl created a beautiful church, another a carousel, and one boy specifically chose this time to work on the skyscraper he'd been unable to realize during limited class time with Keeping the Past for the Future. The art educators at the Museum had prepared roads and helped the participants build, providing construction and design ideas. After a fantastic frenzy of creativity, we moved the structures to the roads, sometimes creating bridges, sometimes narrowing roadways, to form totally unique urban communities. After a quick share, all kids happily received a copy of Landmark West's new edition of My Preservation Journal, also available at Book Culture and the CMOM gift shop!
It was a wonderful day and a great collaboration, providing a taste of Landmark West within a beautiful facility with brilliant staff. Anticipate another workshop collaboration next semester at CMOM!