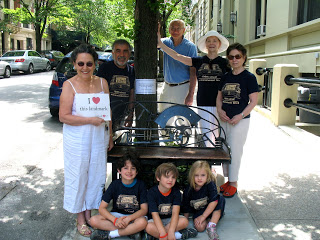 "Bashed Trumpet Bench"
We love our "landmark" benches on West 100th Street!
Our beautiful "Bashed Trumpet" was commissioned by the Block Association over a decade ago to provide respite for the young, old and in-between who live on and visit our monumental block. Linus Coraggio, the metal sculptor who created this bench, was raised on this block and still lives in his apartment of origin.
Here are Block Association members and other bench lovers.
100th Street Block Association