by Claudie Benjamin
Upper West Side illustrator Nancy Stahl has designed about 30 US Postage Stamps. Her depiction of a Snowy Egret, a first class stamp that sold 8 billion, was among the all-time best selling issues of the USPS. Just out is her stamp celebrating the 100th anniversary of the passage of the 19th Amendment to the U.S. constitution, granting women the right to vote. Elegantly dressed in white, Stahl's photograph of herself standing on a table served as the model for the women depicted on the stamp.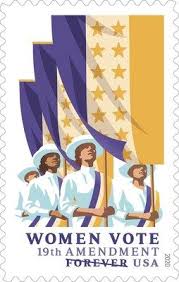 ©2020 United States Postal Service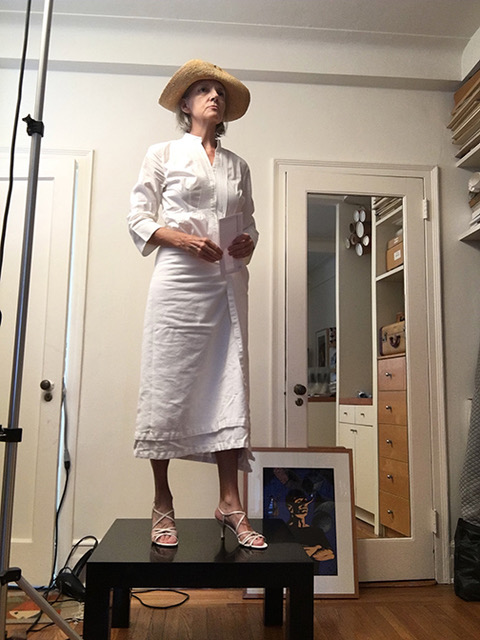 Artist as her own model for the
Suffrage Anniversary stamp
The process of researching and producing an image for a stamp if uninterrupted would take Stahl a month. But, the complex approval process can easily spread the work out over three years.
At the height of her career, Stahl's schedule regularly involved 18 hours a day of work with two or three all-nighters a week. "It was unhealthy. I'd throw some rice in a pan, usually burn it and then order in," says Stahl. A driven artist, Stahl said she was also motivated for a long time to earn enough money to pay the maintenance for her apartment in her 1929 West End Avenue building. Though for years established as a well respected artist, Stahl says, "As a freelancer you're always worried about the next job."
In addition to images for US postage stamps, Stahl's career includes working regularly for the New York Times and Der Spiegel. Her work has also appeared, among other publications, in the Wall Street Journal and Time Magazine. It is used to define corporate identity as well as for advertising, book covers, movie posters and packaging.
She has been an instructor at The School of Visual Arts and the Fashion Institute of Technology and in 2012 she was inducted into the Illustrators Hall of Fame by the Society of Illustrators.
Stahl, who initially painted in gouache, is among the earliest group of artists in the United States who transitioned from other media to making art on a computer. In the late 1980's she was one of very few illustrators to work in post-production on a mainframe computer. Later, she and several other artists were invited to California to advise on software that was eventually developed into a product called PhotoShop. Today she uses several software programs for her work. Stamps are created at 400 times the size of the eventual result sold at the post office.
Stahl's work falls primarily into three categories: animals, travel and people. "Yes, I like animals," says Stahl, but the themes are mostly determined by requests from clients. She's particularly attracted to natural themes. Cars and other vehicles are not her favorite subjects because they involve details that are critical to connoisseurs but of less interest and less familiar to her. One transportation exception (because her father worked for many years as a TWA pilot): planes. Also, she says travel subjects including ships and even compasses suit her style.
These days, with more free time than in the past, Stahl plays tennis most mornings on Riverside Drive's red clay courts. She also says she has been catching up on repairs needed in her apartment. This does not mean she hires someone to come in to do a range of work. She does these sometimes complex projects herself and is known among friends for her specialized YouTube-learned expertise. Asked for an example, she recalled that a neighbor's 1920's peephole nameplate had broken. Ever the perfectionist, Stahl was inspired to create a reproduction, drawing the specifications using Photoshop. She then had the piece created on a 3-D printer—even fitting it with a one-way mirror.
In the relative quiet of this period, Stahl is diverting her creativity to "catching up on Christmas presents for family members" in the form of portraits inspired by photos. She is also applying her can-do skills and creativity to garment making on the sewing-embroidery, knitting and serger machines. Boredom is not in her vocabulary.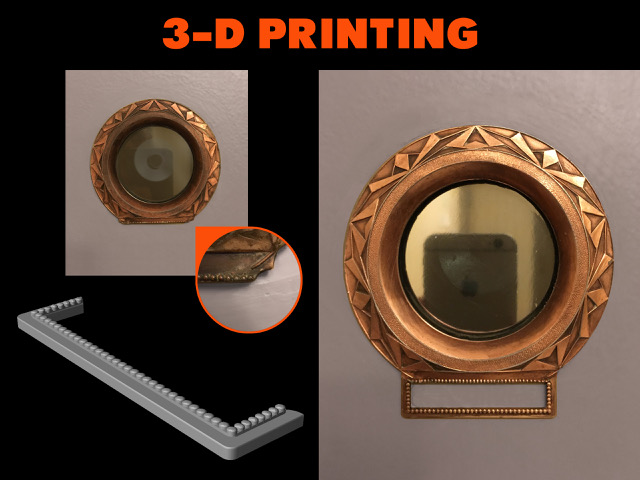 Stahl's reproduction to replace a damaged 1920's peephole cover in her apartment building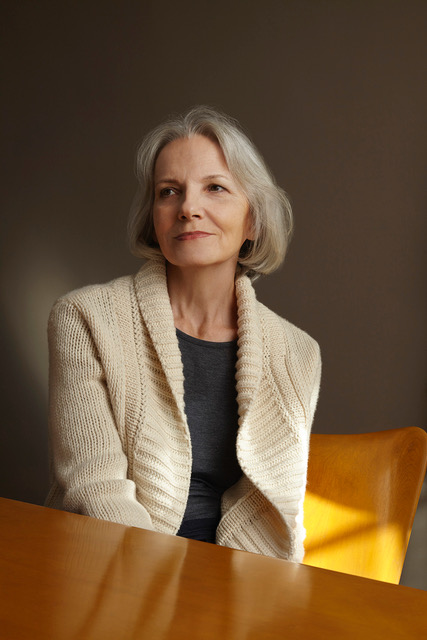 Nancy Stahl, Illustrator
Find out more: nancystahl.com