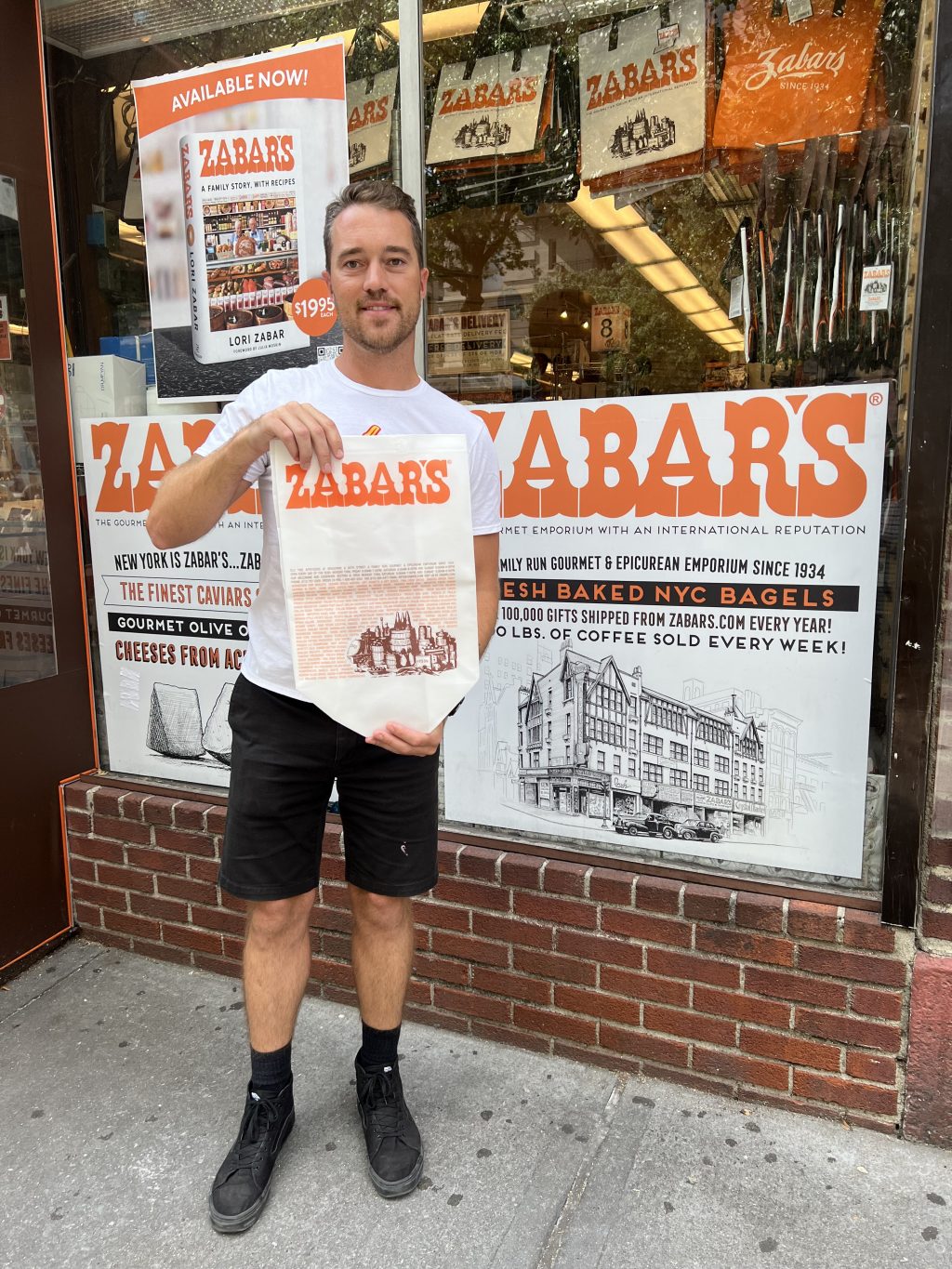 By Claudie Benjamin
Have you spotted the new Zabar's disposable coffee cup? Look around on any street of the UWS and you'll likely see someone carrying their cup of hot brew. The thing that actually makes you want to have your own is not only the enticing aroma but the miniature, labeled drawings on the cup. What you have here encircling the cup in diagonal stripes is the recognizable Zabar's lettered name in orange (so you always remember the lox). And, there are also little drawings of hard-to-resist classics such as rugelach, pastrami sandwiches, smoked salmon…
Working with a creative designer and a photographer, Zabar's Graphics Designer Eric Anderson has the job of keeping Zabar's in mind among potential in-store and online customers. It's a tall order considering the extraordinary number of gourmet food purveyors in the highly competitive New York marketplace. And, Zabar's appeal certainly is national too. It represents the best or only source for the genuine bagel for thousands of foodies. Some even take tours that include a stop at the famous deli emporium.
Zabar's is located at 2245 Broadway. A few posters in its windows highlight top-selling specialties. Grasp the concept that 8,000-lb of Zabar's brand coffee is sold each week. Another poster informs that cheeses come from around the world, and still another announces smoked fish with the image of a glistening smoked sturgeon.
For those who live at a distance or simply enjoy the convenience of ordering goods for themselves or gift packages, there is always 24/7 shopping available via the three-times-a-year catalog and comprehensive social media.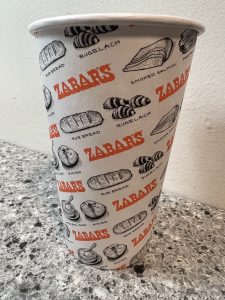 Eric's creativity is showcased in a variety of marketing projects. Like the new paper coffee cup graphics, another eye-catching design updates the familiar Zabar's shopping bag: once paper, then plastic, it's now coated paper and reusable. The outside of the bag is printed with a design including a still-life of edibles and a running text of Zabar's favorites that recalls a Zabar's bag of the past. "I see people with them everywhere," Eric says.
Eric says that "The current iteration of Zabar's logo was designed sometime around the late 60's, early 70's by a local UWS graphic designer named Elliot Schneider. "Somewhere in the Zabar's building, an old sign was found with a former logo featuring the name of the store in an orange script. That sign possibly dates back to the store's opening in 1934. That bit of memorabilia is now hanging behind the appetizing counter.
Another way Eric has celebrated Zabar's past is his creation of an intricate line drawing based on a photograph. The drawing that appears on a window poster has also been used for other marketing items. It depicts a time when Zabar's second floor was a hotel and surrounding stores in the building included a cigar store at the NW corner of 80st Street and a drugstore at the SW corner of 81st Street.
The catalogs are deceptively simple and cleanly designed. The no-frills style paired with outstanding photography conveys freshness, abundance, and an enormous variety of gourmet products that absolutely promise to taste as good as they look. Zabar's takes pride in offering many types of traditional Jewish foods that now are sold everywhere, but you know taste best from Zabar's!
Originally from Long Island, Eric completed The Hartford Art School in Connecticut. He found a job at Whole Foods, and then started freelancing for Zabar's after responding to a post on Craigslist. He says he will always be grateful to Scott Goldshine, his boss and General Manager of Zabar's, as his point of contact for the original Craigslist ad. In 2015, Eric left to work at an advertising agency. Then with a wealth of skills and experience, he returned to Zabar's where he is continually challenged to do his best work. When asked about his approach to designing for Zabar's, Eric's usual answer: "I've been on a mission to refresh Zabar's brand to be more contemporary, yet retain the antique nostalgia that everyone loves."
As Zabar's continues to be a household name, Eric takes personal satisfaction in his contribution to its continued success. Who doesn't know and appreciate an opportunity to buy some coffee, caviar, creamy chèvre, or rich chocolate babka from Zabar's?
Eric recently stayed at a bed and breakfast in New York State and yes, there on the shelf was a signature white Zabar's china mug with its orange Zabar's logo. The hosts didn't know about his connection with the store, but for Eric, it was a pleasing welcoming touch.
Taking NYC liberal views to a national level, US Representative Jerry Nadler made national news when he appeared for the January 14 Trump Impeachment Hearing. He was carrying a Zabar's shopping bag holding a chocolate Babka and a copy of the US Constitution.