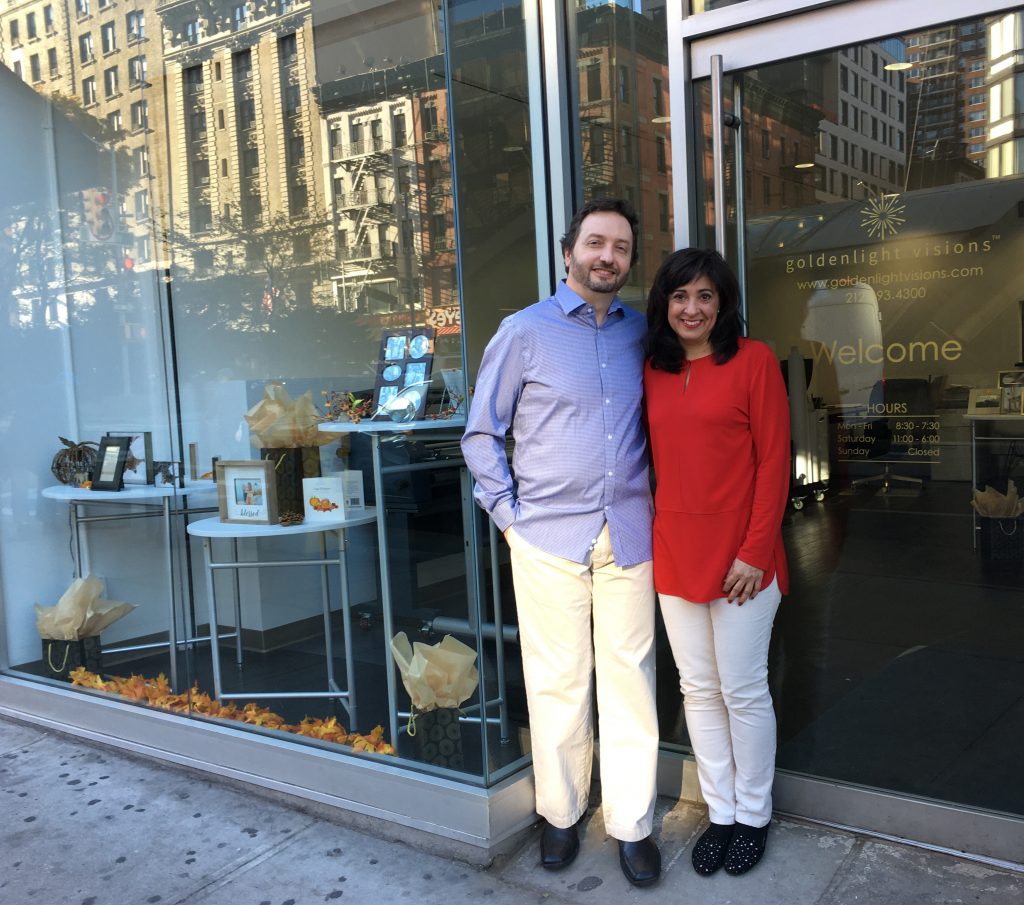 By Claudie Benjamin
Kim Duncan and Bretton May, owners of Goldenlight Visions at 2543 Broadway, met on the ski slopes of Utah. He was shooting photographs. She was on a ski trip. Like in a New York Times Modern Love story, they kept in touch long distance for a while, then "it was either Utah or New York," says Kim. "And I got him to come to New York." The "business partners and soulmates," as Kim says, have now lived together on the Upper West Side for eleven years.
Kim describes Bretton as the art expert with a fine sense of layout, color, and picture framing. Kim's specialty is based on her experience in corporate marketing and promotion. They both enjoy communication and consultation with their customers who come to them with projects related to photography ranging from memory books to large wall galleries composed of photos that are meaningful to the client. Love of family and friends, memory, and nostalgia are entwined in this service that ensures that the most meaningful of photographs do not remain in a computer archive or in a shoebox tucked away in a closet.
Examples, please. Kim says the memory books usually are focused on interesting travels or a celebratory occasion like a wedding. The project starts with a conversation with Bretton and Kim. "Some couples know exactly which of their photos they like best or is heartfelt and perhaps most meaningful. Others ask us to decide, and then they review a draft of the book," which involves many variables such as the size of a photo, the order and placement of photos in the book, and the quality and character of the paper on which photos are printed and the material – linen, leather or hardcover used for the book's covers.
Also, approaching family connectivity in another way, some customers have come in to have first birthday books made that include both vintage photos of great-grandparents as well as notable images of a child's first year. "It's something the child will have forever." Digitizing photos and resizing are important parts of work at Goldenlight Visions, both for preserving photos for the future and adapting them to fit a particular layout. Kim says Bretton is straightforward with clients advising them if a particular image will not enlarge well or if it will enlarge too many times its original size. The question of super enlargement, say to 8'x 4', mostly comes up for customers interested in having wall art that may be highly personal and even sentimental, but the right file size is needed, or lack of clarity of the original would result in a blurry image. For the right image, enlargements as big as 5' x 8' may be printed.
Digitized vintage photos as small as 4"x 6" printed on fiber so that they look like originals can be very effective. One customer had vintage family photos produced this way so they could be given out at a family gathering. Wall art made with photographs can be displayed within a frame or once digitized, enlargements may be printed on metal or acrylic for a uniquely interesting look.
Many other related services are offered at Goldenlight Visions, where imaginative applications of photography ensure that memories remain strong.
How did they manage through Covid when many locals felt too anxious to engage in creative projects and group celebratory events, and photo ops were minimized or indefinitely postponed? It was a struggle admits Kim, who gives the impression of being undefeatable. To begin with, the store, which opened in December 2019, three months later, was temporarily shuttered. There were months of uncertainty until the shop re-opened in June 2020. It has not been helpful that the shop was also shadowed by scaffolding for two years. Today, with families and friends reconnecting and celebrating, they are coming in to share ideas about imaginative ways to highlight their photographs. People are also traveling and snapping cell phone shots of what they eat and drink, the scenic views they enjoy, their fellow travelers, and chance encounters. Click! A photo. Back home from a trip with perhaps 100s of images, choosing the best or having Bretton and Kim assist with the choice and compilation as a gallery wall or as a memory book with images that last forever seems a very, very good idea.