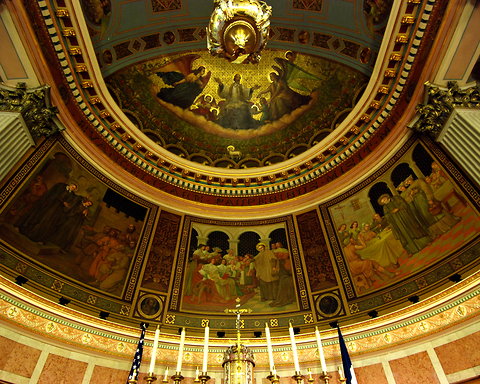 Sanctuary of St. Vincent de Paul
"A French Church Nears Its End, but Not Without a Contretemps"
By David W. Dunlap,
April 5, 2012, 6:16 pm

Tossing a gauntlet as he delivered an Easter sermon in 1841 to the people of New York, Charles Auguste Marie Joseph, the bishop of Nancy and Toul in France, demanded:
"In this great city, where the Irish and German Catholics have recoiled from no sacrifice to have their own churches and priests, how is it that the French, so famous for the faith of their fathers, alone remain indifferent?" he asked. "How, in fact, can this nationality be long preserved in a foreign land without the powerful bond of religion?"
That is exactly what some parishioners are asking today as the Roman Catholic Archdiocese of New York prepares to close the Church of St. Vincent de Paul at 123 West 23rd Street – the very church that emerged 170 years ago in response to the bishop's exhortation – and merge the French-speaking parish with the Church of St. Columba at 343 West 25th Street. No date has been set.
How will an unusually diverse body of Catholics from France, Belgium, Benin, Burkina Faso, Cameroon, Haiti, Ivory Coast, Senegal, Switzerland, Togo and elsewhere maintain their connection with one another and with the mother church? What will keep them from dispersing, even if accommodated at St. Columba?
"The consequences are so grave, so overwhelming, they don't even want to hear about it," said Sylvestre Kouadio, a 51-year-old Ivorian taxi driver from the Bronx who directs the choir at St. Vincent. "The church has become a second home, a home away from home for Africans who speak French. This is the anchor."
Click
here
for the full article and slide show at www.nytimes.com. Please post your comments!
Click here to visit "Save St. Vincent de Paul" and here to read LW's previou

s e-blast
on this issue.