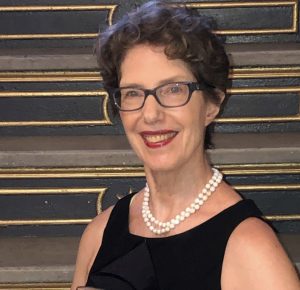 By Claudie Benjamin
Phyllis Jo Kubey approaches all that she does with glass half-full (even brimming) enthusiasm. She's also committed to being the best she can be in accomplishing the very different goals she sets for herself.
At 68, Kubey is a highly credentialed Enrolled Agent/tax professional, an accomplished contralto, and a highly trained, credentialed Alexander Technique teacher. She's juggled her emphasis on particular aspects of these challenging professions over the years. But generally, she's kept all three fires burning at the same time. And, for decades, her apartment at The Manchester at 255 West 108th Street has been the base of her activities. Building residents, according to its website, are proud that many creatives, like Kubey, have lived and still live there.
Kubey is originally from Pittsburgh, PA. She came to NYC to study voice at Juilliard. She was already aware she might not want to dedicate herself to a full-time career as a performing artist; still, she wanted to complete her Master's Degree at Juilliard. While a student, she had worked in the Juilliard Registrar's office. Offered a staff position after graduation, she continued to work at the school, immersing herself in business administration. Considering career options other than music, tax preparation intrigued her. She was good at it, too. After taking a course offered by H&R Block, she was then offered a seasonal tax preparation position with the firm. Over the years, she became proficient in the intricacies of compliance rules and other elements of tax preparation. She pursued further training, becoming a Certified Financial Planner in 1991 and an Enrolled Agent in 1995. The EA credential is required to represent clients in IRS appeals. Viewing this expertise as a way to help others, Kubey decided she would open her own service. At the same time, she was auditioning and performing – focusing "mostly on early and contemporary music and working in numerous NYC professional choral ensembles." She developed a passion for unusual repertoire such as Arnold Schoenberg's Pierrot Lunaire, and performed it frequently."
Her apartment was then a two-room space at The Whitehall at 250 West 100th Street (W 100th Street and Broadway). She started out with a roommate, but as her tax practice grew, she let the roommate go and used the second room as a home office. Needing more space, and with rents for 2-bedroom apartments prohibitive, she decided to buy "something." When she connected with an enterprising real estate agent, she suggested he come over to where she was living to understand her needs regarding a suitable space.
"One Saturday morning, he called and told me to come over immediately. I found your apartment." It was very bright and spacious. She made an offer on the spot (which was accepted). She's lived and worked there since the early 1990s. In the late 1980s/early1990s, experiencing back and neck problems, she was referred to an Alexander Technique teacher. She could not have been more impressed with the effectiveness of the work. From there, with her characteristic search for excellence, she enrolled in an intensive three-year training that qualified her as an Alexander Technique instructor. The practice of this therapeutic modality centers on acknowledging detrimental movement habits and consciously changing them to avoid pain and difficulty with movement and daily activities. Kubey explains that the technique has long been introduced to students at Juilliard and other schools for the performing arts.
Over time, Kubey has drawn a circle of followers who connect with her background as a performing artist. Eighty percent of clients for her tax preparation services are performing artists. Also seeking her assistance in tax preparation are members of the clergy and Americans who are living abroad or non-residents who are temporarily living in the United States. Sometimes, there's an unexpected connection between her areas of expertise. At the 35th NYSSEA (New York State Society of Enrolled Agents) Conference, for example, she and a co-worker, a soprano, were asked to sing. "We sang a duet from Offenbach's Tales of Hoffman, and then each did a solo. I sang Stephen Sondheim's Send in the Clowns. from Stephen Sondheim's A Little Night Music."
Kubey continues to have a voice lesson every week and still enjoys singing.