Among many ways in which Zoom has become part of life, it's now integrated into the daily management of Mille-Feuille, a go-to destination that is French accented in every way.
For starters, the Parisian style bakery cafe transports the sweetest aesthetic pleasures of a macaroon, exquisite petit fours as well as the buttery, flakey "je ne sais quoi" of a pain au chocolat to New York City.
Mille-Feuille started in 2010, the dream of owners Olivier and Nathalie Dessyn. Olivier was executive chef, Natalie involved with all that goes into design, environment, and general concept. The agreement between Olivier and Nathalie was that after 10 years in the New York business, they would return to Paris. According to plan, they returned in February 2020.
They planned to operate remotely with trusted staff in key positions in New York, then had to confront the restrictions of the worst of the Covid period.
The people in charge of the three NYC bakery cafes located on the UWS, in Greenwich Village and in Prospect Heights along with the bakery located in Brooklyn, are Chef Dimitri Viaud, General Manager Amer Ait Ouhamou and Steven Kelly who worked as a barista at Mille-Feuille before going behind the scenes as Business Administrator/Tech Specialist.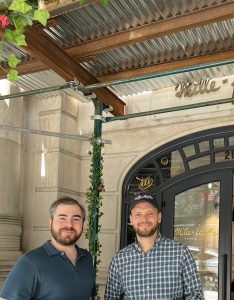 "We were able to open the Brooklyn location before the pandemic. We had a few weeks open and then had to temporarily close with the rest of the city," says Steven. Despite these challenges, they've survived. On a recent Monday morning, Mille Feuille Upper West Side at 2175 Broadway in the Hotel Belleclaire, had all cafe style tables filled and a line out the door. Plain and almond croissants and pains au chocolat—the type of breads known as Viennoiserie, were disappearing quickly. "Customer service matters. We are very quick," says Amer.
Amer came to New York from Algeria in 2010 when he started working at Mille-Feuille. He, his wife and two children live in Pennsylvania. Amer seems cheerful about the 2-hour daily commute. Chef Dimitri worked side by side with Olivier and trained under him. Steven says depending on how busy things are they may have a Zoom meeting once a week with the owners in Paris. More frequently, they just text or phone whenever a question needs to be answered.
Classes at the 552 Laguardia Place location started almost a decade ago for those interested in the intricacies of making croissants and macaroons. There is high demand—so book far in advance. Steven says he's hoping to add another class soon, perhaps to offer participants the opportunity to learn the secrets of making the special Galette des Rois, a New Years and Epiphany tradition in France, that contains a small porcelain charm within the flakey dough creation. Amer notes that notes placed on the wrapping warn consumers to take care while eating because of the concealed charm.
Hands-down favorites at the bakeries are croissants and pain au chocolat. Amer and Steven agree that what makes Mille-Feuille breads and pastries distinctive is the skill of the chef and the outstanding quality of the butter and other ingredients. About a dozen people work on the baker's team. Croissants and other specialized breads are made by one team; petit fours and cakes are made by another team. The menu evolves balancing customers' interest in being able to find traditional favorites as well as exploring something new. A little tray with three petit fours matches an interest in sampling. One petit fours might be chocolate, for example, another vanilla and a third, a reinterpreted miniature version of an Ispahan, meringue cake with rose, lychee and raspberry filling. The confection is named for a rose from an ancient Persian city.
Special celebration items include buche de Noel, tower of chocolate, vanilla, caramel, pistachio and other flavored macaroons and classic French Croquembouche, essentially a mountain of cream puffs, assembled with caramel. "The creation is meant to be cut with a sword," says Steven.
Mille Feuille is offering LW! (& WEPS!) readers 25% off its baking classes, so they can learn the ins and outs of achieving the architecturally perfect croissant. (Offer expires a month from posting)
Baking Classes are described on the Mille Feuille website.
Readers can book using the promo code LANDMARK