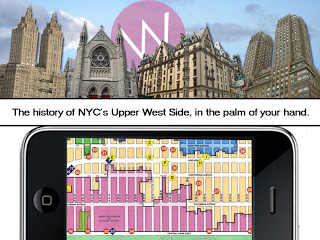 Mark it on your calendar! Today, LANDMARK WEST! kick started the fundraising of a history-making project: the development of the FIRST EVER iPhone walking tour app of NYC's Upper West Side. And, conveniently, we teamed with the revolutionary website Kickstarter to do it!
Early this morning, we sounded the call far and wide. We want people from Bay Ridge to the Bay City; from the Upper East Side to the Upper Penninsula; from Manhattan to, well, Manhattan (KS!) (look 'em up, people!) to be inspired by our project. And to pledge their support!
We can't go any further without thanking–profusely–the backers who've helped us launch the project with a bang! So, thanks to:
Brandi Hayes
Ethel Wood
Francesca Segreti
Wendy Frank
Gordon Ryan
Kate Wood
Pauline Eveillard
LandmarkLion1984
Eileen Marzola

You're our heroes! And with 34 days to go, the list of others who support our iPhone app development project will only continue to grow!
We'll post updates here to the blog at regular intervals, but for the most up-to-date info on our Kickstarter campaign, check us out on Twitter and on Facebook!