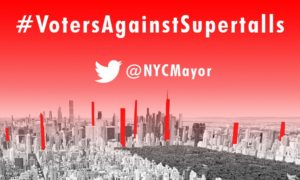 New Yorkers from neighborhoods across the city came together on Thursday, June 22, 2017, for a Save New York Summit to discuss City policies that have enabled and incentivized the trend of supertall development, now threatening traditional residential neighborhoods like the Upper West Side.
Please urge friends and neighbors to follow these steps to help Save New York:
Print, sign, and send this letter to Mayor de Blasio (see text below, and feel free to personalize).
Ask at least 10 friends and neighbors to do the same. **If YOU and everyone else does this, the Mayor will receive thousands of letters!**
Send similar letters to your City Council Member and other elected representatives (find their contact info at www.mygovnyc.org/).
Spread the word on Facebook, Twitter and Instagram! Use #VotersAgainstSupertalls in your posts, and be sure to tag @NYCMayor. Encourage friends to join the campaign!
VOTE!
VIDEO OF THE PROCEEDINGS COMING SOON!
And please mark your calendars for Tuesday, July 25 (time tba), when the NYC Board of Standards & Appeals will hold a public hearing about 15 E. 30th Street, a proposed 760′ tower propped up on a "structural void" the equivalent of 15 stories above street level!
Speakers highlighted issues threatening neighborhoods, including:
Zoning expert George M. Janes' presentation "What's Up With Supertalls?" (available HERE].
Attorney and community defender Michael Hiller's proposed 9-point platform (COMING SOON!).
Friends of the Upper East Side Historic Districts ("Loopholes in Action: 180 East 88th Street" information available HERE)
Alliance for a Human-Scale City (advocacy platform and petition HERE)
Committee for Environmentally Sound Development ("200 Amsterdam Avenue Zoning Challenge" available HERE)
711 West End Avenue Tenants Action Group ("Fraud" and the Department of Buildings information information available HERE)
Carnegie Hill Neighbors Association (City trading parkland for development rights on East 96th Street)
Manhattan Community Board 8 ("Questionable Tactics to Evade the Text and Intent of the Zoning Resolution")
Inwood (community pushback against rezoning to enable tower development)
~
Mayor Bill de Blasio
City Hall
New York, NY 10007
Dear Mayor de Blasio:
As a New Yorker, and a voter, I write to request your immediate assistance to stop the sprawl of gigantic, Midtown-scale buildings into residential neighborhoods.
Towers of extraordinary height are transforming our city's skyline, changing the scale of our streets, straining infrastructure, raising serious questions about safety, challenging sustainability, and casting shadows. The lengthening, permanent shade over the southern part of Central Park—New York's most significant, and symbolic, public open space—is a warning sign of damaging development trends, policies, and problems that undermine your vision of a more equitable city.
"Supertall" towers are marching into traditional residential communities like the Upper West Side and Upper East Side. Sadly, plans for wildly out-of-scale buildings—proposed and, in some cases, inappropriately approved "as of right"—are already in motion. 200 Amsterdam Avenue (the 668' tower proposed for West 69th Street) and Sutton Place (the 850' tower proposed for East 58th Street) are just two blatant examples. Next stop, Harlem. These "totems of inequity" will surround Central Park on all sides.
This is not a future New Yorkers want to see. Our right to light, air, and other quality-of-life necessities ought to matter more than so-called "development rights".
At the base of this significant threat is developers' ability to exploit and pervert the current zoning laws. In particular, developers' manipulations of laws concerning zoning lot mergers, transfer of development rights, and mechanicals have yielded unpredictable, often outrageous results.
As an immediate starting point, I support the following actions:
• A moratorium on all buildings that seek to use development rights transferred from other sites without public review, pending…
• Statutory limits on the "as of right" accumulation of development rights on any given site
• Zoning amendments to include mechanicals, voids, and floor-to-ceiling heights over 10 feet in floor-area calculations
• An audit of Department of Buildings zoning plan review and enforcement procedures
We look to you as Mayor for leadership to curb excessive development that threatens residents, overwhelms infrastructure, destroys community character, and violates the rights of all but the most wealthy.
Sincerely,
Your Name
Your Neighborhood