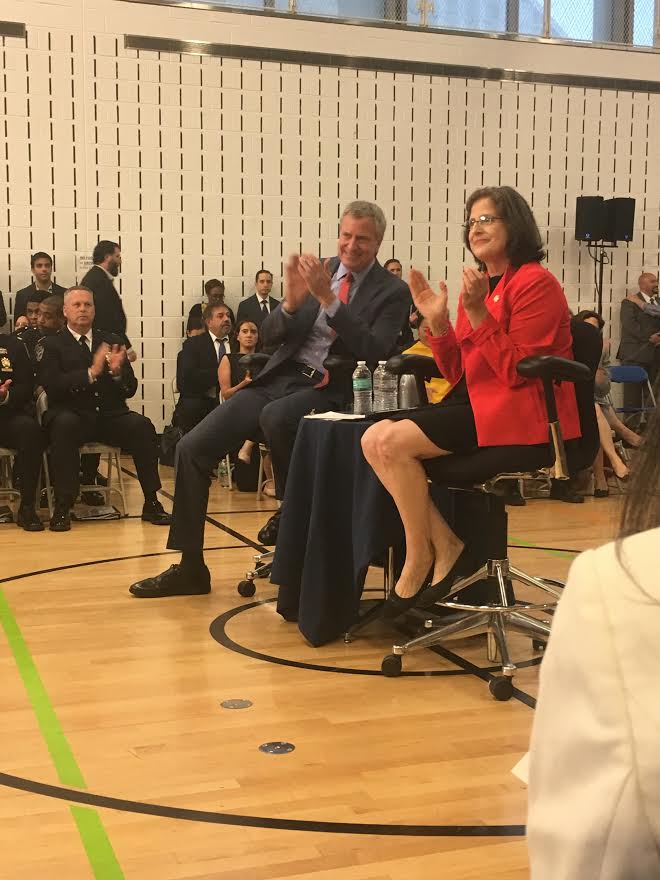 Last night's town hall meeting saw the community pushing Mayor Bill de Blasio on some issues close to our hearts–the impending rise of the supertall CENTRAL dARK Tower. Below is the press release from our neighbors, which shows de Blasio administration members giving some sense that they're looking at the problem… but perhaps not soon enough to make a difference at this site.
MAYOR de BLASIO'S WEST 61st STREET TOWN HALL
Block Association Members Press Mayor and Agencies for Answers
NEW YORK, NY District 6 Council Member Helen Rosenthal moderated Mayor Bill de Blasio's Town Hall last night at PS/IS 191. The school's gymnasium was full of West Siders including members of our West 65th & 66th Streets Block Association on hand to address questions to the Mayor and city agencies.
As expected, the Mayor brought much attention to his administration's school initiatives including expansion of pre-K and after school programs. Speed camera legislation was also discussed, as was sexual harassment, retail vacancies, landlord harassment, housing affordability, parking and rats.
During her opening remarks Council Member Helen Rosenthal led with our community's concern about "mid-town creep into the Upper West Side exemplified by gerrymandered zoning lots, by out-of-context buildings, developers who are both finding and creating new loopholes to build taller buildings."
Addressing the topic of zoning and development Block Association member Wanla Cheng, representing Save Central Park NYC asked, "In our neighborhood on West 66th Street between Central Park West and Columbus Avenue there is a building going up that is planned to be 775' – twice the size of anything in the neighborhood – but only 40 stories. This has been accomplished by the inclusion of 150-foot voids. Back in January you had talked about closing loop-holes not the intention of the zoning resolution. What has been done since January and what is the timeline to accomplish that?"
The Mayor passed the mic to Manhattan City Planning Director Edith Hsu-Cheng who answered, "We have been very hard at work looking at every building to better understand the issue of voids … we want to understand the necessary voids and the extraneous, maybe egregious, those used just to loft the building taller" adding "We are on track to issue a solution by the end of 2018 as scheduled".
Central to this issue is the proposed 775' 127-unit luxury apartment building at 50 W. 66th Street, the mid-block lot spanning West 65th and 66th Streets between Central Park West and Columbus Avenue currently in final stages of excavation by developer Extell. Rising as high as a typical 80-story structure, twice the height of the neighboring buildings, the most recent renderings for 50 W. 66th Street are dramatically different than the plans filed by Extell with the Department of Buildings in November 2015 for a 250' – 25 story – building that allowed Extell to begin excavating the site.
Initial review of the proposal raises questions about Extell's potentially aggressive interpretation of existing zoning laws – dating from 1961 – which exclude inner-building voids, mechanical spaces, and floor-to-ceiling heights in determining whether the building fits within the Floor Area Ratio zoning requirements required at this residential location. Such a determination would allow Extell to build "as of right", which would mean proceeding without public comment.
When renderings of the 775' structure were circulated by Extell several months ago, concern about the new development concept came swiftly from Manhattan Borough President, Gale Brewer, City Council District 6 member, Helen Rosenthal, Manhattan Community Board 7, and local civic advocacy groups including Landmark West, Save Central Park NYC, and the 65th & 66th Streets Block Association. Many called the revision tactic "bait and switch". Considered a "too tall" building using current urban planning terms, the 775' 127-unit luxury building was determined out-of-scale with the neighborhood, at odds with the intention of the Lincoln Square Special District zoning resolution, likely to use questionable interpretations of the zoning laws, and in no way satisfying City Hall's demand to increase affordable housing stock.
West 65th & 66th Streets Block Association Co-Founder and President Chris Giordano responded on behalf of the community group, "It is deeply disappointing to hear from Director Hsu-Cheng that City Planning's response to loopholes and inner-building voids will be made after Extell is likely to file their plans to bring mid-town scale buildings into a residential neighborhood on the Upper West Side. Our repeated requests to hear from City Planning about their vision for the growth of the City and how that would impact our neighborhood have been particularly frustrating. The only sensible solution is a moratorium on issuing permits for these out-of-scale buildings achieved by manipulating the zoning code until City Planning has issued its solution."