Private Terrace for Future Residents of 50 West 66th Street is more than 150 Feet Above Street-level 
View Architect's Renderings of the proposed SKYLINE and 65th Street Synagogue Entrance
Design firm Snohetta has proposed a 39-story residential development of 775 feet-the equivalent of a 77-story midtown office tower on the Central Park block of West 66th Street.  If built according to plan, the through-block site will feature a shorter construction on the 65th Street side which will replace the former Jewish Guild for the Blind and house the relocated Congregation Habonim.
This site is a combination of several different parcels:
36, 38 and 40 West 66

th

 Street: former residences turned office buildings in 1962, these were previously used for set props and storage by ABC.  In 1982, a feasibility study was done for a previously proposed 38-story residential tower designed by Arthur May under A. Eugene Kohn of KPF for the Reliance Development Company.
44 West 66

th

 Street: the former Congregation Habonim Synagogue, by Stanley Prowler and Frank Faillance (1956-57).
15 West 65

th

 Street: Jewish Guild Healthcare Building aka Lighthouse Guild aka Estelle R. Newman City Center, by Matthew J. Warshauer (1971).
plus the air rights from 56 West 66th Street, the individually landmarked, former First Battery Armory, by Horgan & Slattery (1900-03).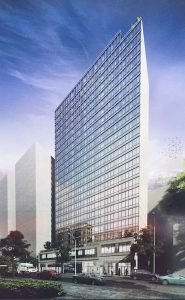 When The Real Deal first reported a sale on August 28, 2014, LW! began studies of what could be feasible on that site. Once reports of the acquisition of the synagogue site were confirmed, the available FAR significantly increased. It was surprising, then, that permits filed in late November 2015 featured only a relatively modest 25-story residential development of approximately 250 feet. The developer's current proposal is now more than three times as tall with 14 additional floors.  In all, it will reportedly house 127 apartments.
The site straddles two zoning districts: the south side of the block falls within the R-8 zoning district, while the northern portion of the site is C4-7 which has an R-10 equivalent.  This site is completely within the Lincoln Square Special Purpose District.  There are no contextual zoning height limitations, and this development is being filed as-of-right, which means there are no requirements for community board input.
Read an additional statement on Central Dark
Read through our blog updates below for more history on this critical zoning matter.

    FREE Jane's Walk!  RSVP via Municipal Art Society Website. The East River Fifties Alliance's ("ERFA") Lisa Mercurio joins Save Central Park NYC to explore megatowers in development and invading our skyline. Casting shadows on residential blocks, landmark...
read more
Contact Information
Sean Khorsandi
Executive Director
LANDMARK WEST!
LandmarkWest@LandmarkWest.org
45 West 67th Street New York, NY 10023
212-496-8110
Be a Part of the Fight...