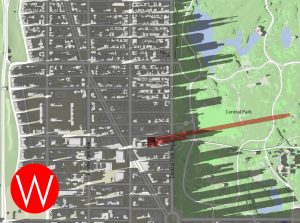 The Department of Buildings (DOB) has 75 days from our 9/9/2018
CHALLENGE
*
filing against 36 West 66th St.
to respond–that means news comes after Thanksgiving!
In the meantime, as the developer had their recent
_______________________________________________________

George Janes has examined the shadow impact of the proposed development at 36 West 66th Street which is designed to rise 775-feet tall–even higher than a typical 77-story office tower. If built as designed, this tower would monopolize the skyline. 215-feet of this height, (equivalent to a 21-story office tower) is empty space for mechanical equipment–not people; a device that 'incidentally' pushes upper floors even higher, casting shadows even longer. How does this affect you? GREATLY. For starters, it will cast shadow on you as you attempt to enjoy:
* Damrosch Park * Central Park * Hearst
Plaza
*
* Richard Tucker Park *
* Riverside Park * The Hudson River *
Shadows cast from 36 West 66th Street will impinge on each of these public assets.
This 775-foot building WILL AFFECT you in the SUMMER: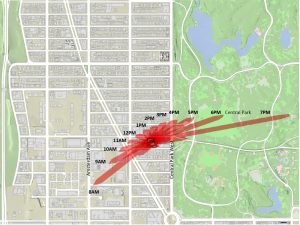 Shadow Sweep on June 21st, 8am-7pm, Annually.
This 775-foot building WILL AFFECT you in the FALL: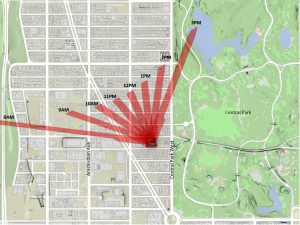 Shadow Sweep on November 6th, 8am-3pm, Annually.
This development will literally affect your neighborhood from
EARLY MORNING
on into the
NIGHT
, from Riverside Park to Central Park.
Want to get involved?