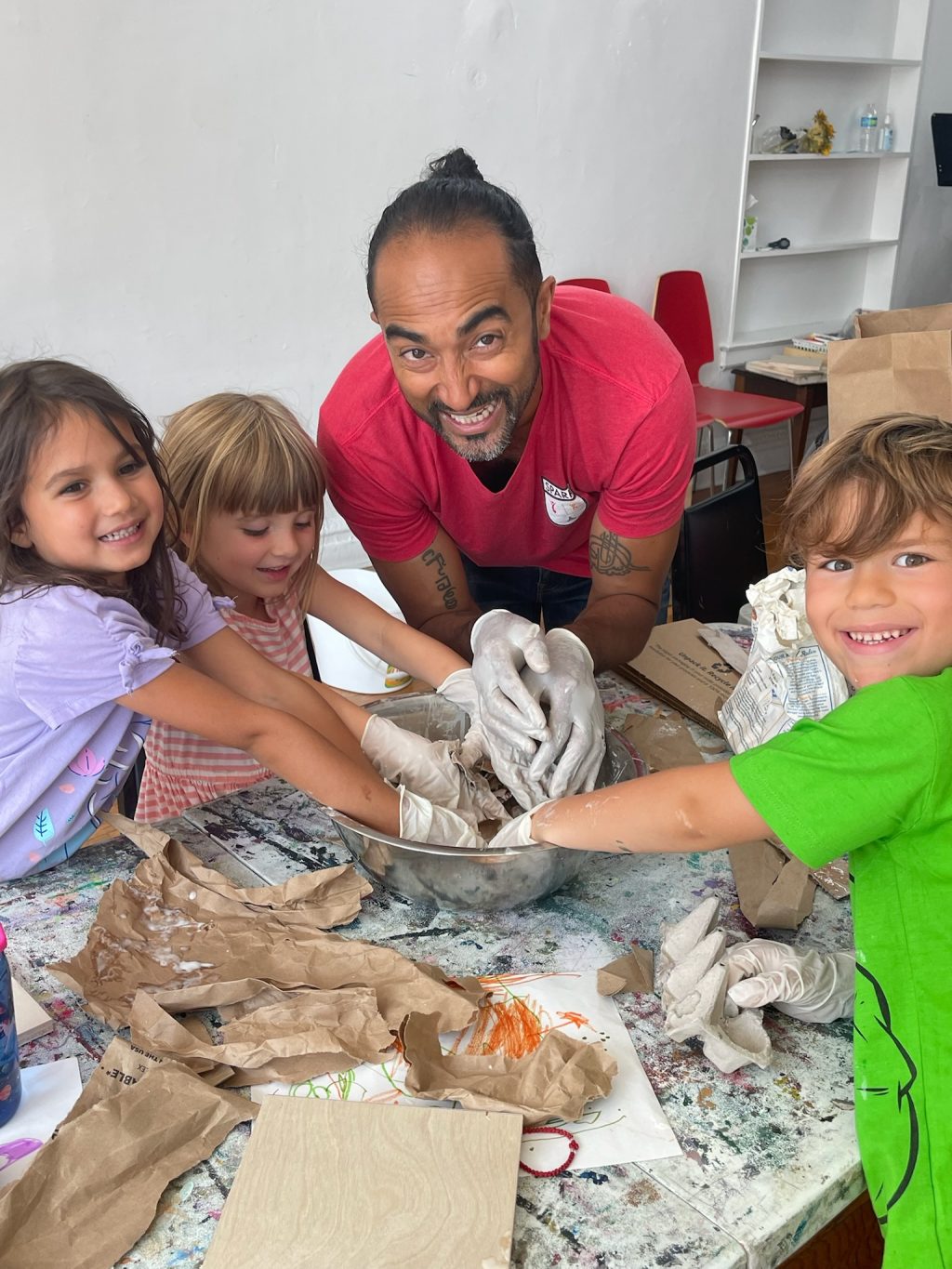 By Claudie Benjamin
"When one door closes, another opens" is an expression that resonates deeply for Sebastian Alappat. He repeatedly finds ways to turn challenges into successes.
Sebastian is the founder of SPARK, a children's yoga, art, and meditation business that started on the Upper West Side in 2015. What started with one student has now turned into a 5-borough, after-school program that reaches hundreds of kids across the city. SPARK's main mission is creativity, movement, and mindfulness woven into numerous offerings like museum field trips, birthday parties, portfolio prep classes, and starting in early 2023, yoga classes that will be held at the Prenatal Yoga Center at 141 West 72nd Street.
Sebastian's parents are immigrants from India. Until they retired, his father was a pharmacist and his mother was a science teacher. "Growing up, it was almost expected for any firstborn Indian son to become a doctor," says Sebastian. He went to Binghamton University embarking on a course of study that would lead him to medicine. During his sophomore year, he decided to make a big change towards art. His parents were less than enthused. As a sort of compromise, he completed a double major in art and computer science.
After graduating he found work as a graphic designer creating websites and logos for various companies like Tommy Hilfiger and Armitron. He continued to work as an Art Director on many projects for various ad firms around the world. But after nearly a dozen years and achieving the title of Creative Director, he decided that sitting in front of a screen all day wasn't for him and it was time for another change.
Over a fortuitous lunch meeting, a dear friend suggested he teach art to kids. In February of 2015 he launched SPARK, weaving together his love of art with his knack for teaching kids. Later as the company grew, he combined yoga and meditation and this became his path to an occupation that he loves. The home garden apartment on West 90th Street that was used as a classroom worked until after the couple's first child was born. A separate work space was needed and 2067 Broadway fit the bill. For years the Broadway location housed Spark's after-school program, summer camps, birthday parties, and more. Spark truly thrived there. When Covid policies restricted the number of people who could share use of space, Sebastian reconfigured work tables and did his best to manage the ever-changing policies and waves. Yet, it still felt exhilarating to be in the middle of the Upper West Side, and with endless Covid restrictions, many parents were eager for extracurricular programs.
Fast forward to 2022, Sebastian's landlord was not earning enough from the adjacent studios that had been rented as opera rehearsal spaces. Regretfully, he told Sebastian he was leaving the space. Another realtor in the building was charging what Sebastian considered outrageous rents so ultimately the time came to find a new home for SPARK. With the help of a local Facebook group, Sebastian worked out an arrangement for a new space at 113 West 78th Street. No question that where there's a will and creativity, there's a way.
Over the eight years, Sebastian has grown from a one-man show to a business employing 12 Teaching Artists. An underlying focus of the art program is to help each child find their own creative voice. The introduction to yoga and meditation is integrated into the curriculum and carefully sequence into each semester to make for a well-rounded, holistically driven, and unique approach. Spark also includes inspiring field trips to the Met and the American Museum of Natural History plus creatively themed birthday parties.
The program also engages in helping students prepare portfolios for New York City's art high schools. Sebastian's staff of accomplished artists provides individualized instruction for prospective candidates looking to create their portfolios in order to prepare them for the rigors of applications and interviews.
Overall Sebastian enjoys having a lot on his plate. He appears to move at a rapid pace, where ideas keep flowing. He is grateful for the appreciation expressed by children and their parents. One mom described how surprised and pleased she was to discover her child quietly meditating at home.
Sebastian has moved with his family to Pennsylvania where he hopes to now bring Spark to the country. He comes to Manhattan regularly to supervise his business activities. Some of the students who have been part of the program since its inception don't want to be taught by anyone but him. For those, there's Zoom and a once-a-month, Saturday class with him called the Founder's Class.
A longtime staple at 2067 Broadway, SPARK will now be venturing off to their new studio at West 78th but Sebastian will always love and fondly remember SPARK's first home.
For more info about Spark and its offerings:
www.thespark.nyc or call (917) 817-7142