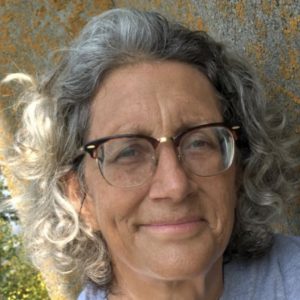 By Claudie Benjamin
Put on your to-read list FRIGHTEN THE HORSES by Oliver Radclyffe, to be published by Roxane Gay Books/Grove Atlantic sometime next year. Oliver's agent Malaga Baldi counts this memoir among the finest, most exciting, perceptive books she's helped bring to press. In sync with the growing integration of outstanding LGBT writing into the canon of literature, the book is about Oliver, an upper-class British mother of four, living in England who transitioned to be a man and is now bringing up his teenagers in suburban Connecticut. FRIGHTEN THE HORSES refers to the comment made by a British actor who didn't want traditions upset. "I don't care what they do in private, so long as they don't do it in the street and frighten the horses." This exploration of life change and acceptance has no equal, according to Malaga.
She was born in Philadelphia and raised by American parents living overseas in Madrid. Her father was a Management Consultant, and her mother was a homemaker and artist. She is the eldest of four siblings. She spoke only Spanish until the age of eight, when her family returned to the US and settled in Greenwich, Connecticut. "I learned English by watching TV shows like Superman and Officer Joe Bolton on WPIX." Identifying as a lesbian, she moved to Hell's Kitchen after college and then to the Trafalgar on West 99th Street on the UWS in 1989. Earlier, she worked as a "lousy cashier" at the Gotham Book Mart. Before opening her own independent agency in 1986, she worked at two literary agencies.
How did she first get the idea of becoming a literary agent? While an undergraduate at Hampshire College, over one summer working as a nanny, she met a literary agent, the mother of the child she was caring for. The writer Erich Segal (LOVE STORY) appeared one day at the door. His hard contact lens popped out in the vestibule. "We were all on our knees, tapping the floor with our fingertips. I found it." The lightbulb went off in her head–the pieces: her interest in books, and random skills like finding contact lenses came together. Malaga would start her own agency that specializes in representing books by different voices, especially queer authors. Publishers Marketplace describes Malaga's list as including, "topics ranging from the history of New York City garbage; to Greenland ice shelf melts; Hollywood divas; gay male hustling; nautical sayings; social behavior and cultural attitudes in the Victorian novel; cultural history topics include horror, furries, gay film and culture, men's beards and awkwardness; biography, urban tantric sex practice; dog behavior; foodie culture; gender/queer/trans studies." She is very proud of Bruce Duffy's THE WORLD AS I FOUND IT, an imaginative exploration of the lives of philosophers Bertrand Russell, G. E. Moore, and Ludwig Wittgenstein in the period around WWI. It was the first novel she sold as an agent and "It got fantastic reviews," Malaga recalled.
GAY/lesbian/trans gems that come immediately to mind include HOUSE RULES by Heather Lewis, LIKE PEOPLE IN HISTORY by Felice Picano, YES, I CAN SAY THAT by Judy Gold, and ASSUMING THE POSITION by Rick Whitaker.
Malaga rented a small office for a time and then switched back to the convenience of working at home. Her base has been 233 West 99th Street for many years.
Developing her expertise as a literary agent since the 1980s, Malaga has developed a process for deciding if a book is worth her effort. The bottom line is "if I never would have thought about the concept and wish I had written the book." Malaga usually recognizes that a manuscript has captured her attention after reading 50 pages. She agrees to review and read three or four manuscripts a month and sends out many rejections to query letters. Among these are manuscripts from authors who appear not to have read her website and are unaware of the type of material that elicits her interest. To be published and reach a buyer, a book first has to be sold in four ways…to the agent, to an editor, to the publishing house's marketing department, and then to the reader." She advises writers to "cut, cut, cut." Lean, mean, and clean. A suggestion that often comes to the fore when reviewing a manuscript that's over 100,000 words, is "Drop the reader into the middle of the conversation," eliminating extraneous context-setting introductions.
Malaga said that, unlike many literary agents, she's never been a writer or editor. "I'm a cheerleader," She said. Her participation in the challenge of refining books for publication involves her skill in making suggestions about things like suggesting an author focus on a certain topic, structure, and coming up with just the right chapter headings. She is usually the one to refer an author to a particular editor. Pre-Covid meetings with authors were mostly in person over an office desk or at lunch in a restaurant. Today many of these meetings are via Zoom and conference calls.
"I'm glad the time is right for books by and/or about queer people. For a long time, books on this subject were mostly directed at LGBT readers only and carried an underground quality," Malaga said. "Now, the literary environment has become more open and supportive of LGBT writers, and I'm glad to be part of this culture of acceptance."