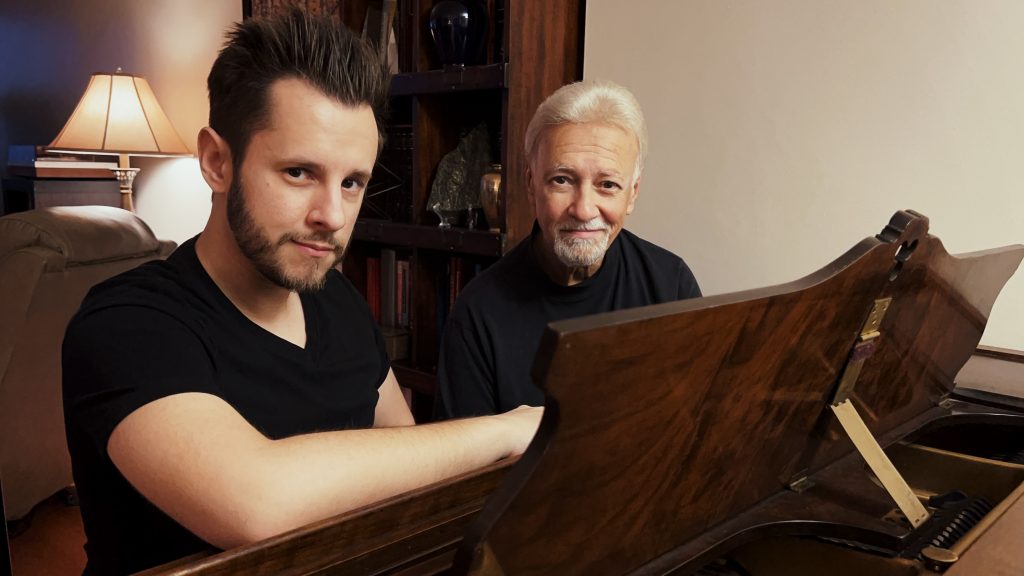 By Claudie Benjamin
Gaga. Jagger. Whitney. Bono. As the Lawrence Vocal Studio celebrates its upcoming 75th anniversary, the Lawrence family continues to show why they are among the premier teachers of voice in the world. Their studio tradition has influenced some of the biggest stars in the music industry, and has been recognized by the top ENT physicians in New York and Los Angeles for their knowledge of the voice and care for the performer.
Don Lawrence has taught voice for 55 years, preceded by his father Martin Lawrence by 20 years. Don's son Max joined the NYC-based studio during the height of the pandemic, after having taught at the Music Academy of Kansas City. Max will continue to carry the torch of this family legacy and long-standing Upper West Side institution.
Don and Max are passionately dedicated voice coaches. Their mission is to help singers find their true voice, maximize their range potential, teach them to sing regardless of self-imposed limitations, and to never look back. A most powerful motto in their teaching is, "Think what you want, not what you don't." As it states on their website LawrenceVocalStudio.com, "We care for the whole person – the artist, the performer, the creator within."
The Lawrence Vocal Studio -some examples
Don says that, "Bottom line, our goal is to help singers improve their sound within the context of developing and strengthening a distinctly personal style." Myriad stars have studied with him at the studio's 260 West 72nd Street location.
Lady Gaga has worked with Don for more than 20 years. "She's brilliant. She does everything," he says. He is also hugely enthusiastic about the work he's done with Eliane Elias, 2022 Grammy nominee for the best Latin Jazz album. "She has a smooth, even sound," he says. "We took her singing to another level," Don says. He explains that he encouraged the performer to be more trusting of herself when singing for an audience." Don is also very proud of his work with Whitney Houston. "She communicated. She had one of the great voices. She had it all."
In the Beginning
Don's father Martin Lawrence set the professional stage. Martin was the lead tenor with the Philadelphia Opera Company. In the early 50s, Martin made the transition to teaching and found rapid success after initially opening the vocal studio at the Ansonia Hotel on West 73rd Street. Martin's students included Dion, Bobby Rydell, Buddy Greco, Jerry Vale, Jane Morgan, Connie Francis, Vikki Carr, Annie Lennox, The Spinners, and the B52s. With the massive popularity of his vocal studio, Martin moved to its current West 72nd Street location. Martin not only devoted himself to training students but also shared his love of the career with his son, teaching him the vocal coaching technique he had developed.
Don himself was singing from early childhood. His father was an emcee at hotels in the Catskills. At weekly talent nights, Don would dress to the nines and perform. "I loved it!" Don said. In later years, Don attended the Juilliard School of Music. In 1965, he was drafted and served in the Army as lead vocalist for the Commanding General of The Third Army. In 1967, Don was honorably discharged. His first job was performing at the glittering hot spot of the time – the Copacabana. "I performed 7 nights a week, 4 shows a night. It wasn't for me." He quit after two months and began a career in voice coaching.
The Nature of the Work
Vocal coaching encompasses a great variety of challenges. Don says that teaching singers how to breathe properly and place their voice are the two fundamental concepts behind great singing. The job also takes knowing how to manage sensitivity while interacting with performing stars who are not always appreciative of suggestions. Don, a lover of jazz, says that he initially had a difficult time liking where music was going. "The Beatles – the Rolling Stones. I could not get a handle on it. But I learned. This was great music!" In later years he worked with every "hair band" singer that was out there. From Bon Jovi to Twisted Sister and everyone in between, he loved it.
Many well-known vocalists feel they owe their careers to Don. The team working with Axl Rose, of Guns N' Roses fame, reached out to Don. "Axl has a problem." Next thing Don knew, he was at Axl's hotel helping with his voice. "No doctor, no steroids," Don says. Don was pleased with the wonderful improvement in Axl's vocal performance as a result of his intervention. He was bowled over when years later, after Axl had joined with Australian rock legend AC/DC, Axl sent Don his Platinum as a thank you.
The Current Era of Coaching
While Don has been teaching virtually since the pandemic, Max teaches the majority of his lessons in-person at the 72nd Street studio. Max grew up backstage, witness to how his father would attend to the stars. Not surprisingly given Max's family background, he earned his doctorate from The George Washington University and applies the instructional, coaching, and mentorship skills from his extensive education to his work with musicians, actors, and public speakers.
Though he teaches the same fundamental vocal technique as his father and grandfather before him, Max says that he has expanded the definition of what it means to be a vocal coach. "Artists experience unique pressures as a result of their identity and career. It's something people outside the industry often have difficulty understanding." Max says that he emphasizes the coaching aspect of his work, frequently engaging in the role of life or career coach. "My students and I talk about how to handle the emotional side of being an artist. Common experiences like performance anxiety and impostor syndrome. We think together about navigating social media, and its impact on the path to success in the industry."
Max says he has applied the Lawrence technique to fit the needs of the modern era, and sometimes that goes beyond just working with singers. Max frequently works with social media influencers, content creators, and people who desire to learn how to speak more authoritatively. "Singing is an extension of speech, and the fundamental principles driving both are the same. What I love is learning the balance of what makes my student an artist and coaxing out their artistic identity," Max says. Elaborating on the Studio's mission, Max says that establishing an understanding of the student's state of mind and personality is essential in helping them deliver their best performances. "Do I love my work? I love it 100 percent," says Max.