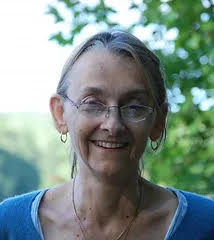 By Claudie Benjamin
Iva Smith found her dream job as a special education teacher at an East Harlem Public School after earning a Master's at Columbia University Teachers College. Looking back on the 30 years she spent as a public school teacher until her retirement in 2011, Iva said, "Even as a child, I always knew I wanted to become a teacher."
For years, while teaching, Iva still had plenty of energy to pursue her other interests; she spent time dancing, hiking, and biking. While continuing these active pursuits, she added pottery, which became more important in her life than she'd ever imagined.
Her initial attraction to creating pots, she explained, was in the physicality of clay making and doing something creative. Iva says, "I've always liked working with my hands: knitting, carving, building, and using materials to create something new." Her first classes, back in 1983, were with Supermud's original owner, Maxine Krasnow. She founded Supermud Pottery in 1978 at a studio space on West 114th Street and Broadway.
In 1998, Maxine moved to Arizona, and she sold the studio to a group of her students, including Iva. They moved the studio to its current location at 2744 Broadway between 105th-106th Streets.
The new owners ran the studio as an artists' cooperative, appreciatively relying on the support of volunteers who wanted to help grow the pottery school. They offered more children and adult classes for the general public. Over the years, the other Supermud owners moved on, leaving Iva behind as a dedicated teacher and the sole owner of the pottery studio. Unlike the position of teacher, this new role of studio owner was a title she'd never planned for.
Although Iva never owned a business, keeping the studio open wasn't difficult because she had so much help. Most comfortable in the role of teacher, Iva hired more teachers and a studio manager. She emphasized, "I never felt alone. I love learning new things—so it's always interesting. I enjoy learning the clay-making process and artistic expression and learning from the many excellent teachers at Supermud. I learned about running a business from our students and teachers who have business experience and from those who are computer technicians. I continue to ask a lot of questions of our many helpful volunteers."
Supermud was conceived as a friendly, community enterprise. The studio offers classes and private lessons for children and adults. Flexibility and responding to the community's needs have always been important to Iva. At various times, Supermud has offered classes in Spanish, run a summer day camp, offered Tiny Potters classes, and frequently holds parent-child classes and special workshops. Some high school interns and adults take courses in exchange for working a specified number of hours. "It's all about community, our friendly, supportive neighborhood community," said Iva. Many staff members and students have been part of the Supermud family for decades. Some people who took classes at Supermud as adults now send their children there; others took classes as kids and come back as adults.
For Iva, uniting her love of teaching and her love of clay was easy. Iva particularly enjoys working with beginners. How does a beginner start out? Iva asks them what most interests them. Do they want to build a pot with or without a wheel? Most answer that they want to work on a wheel. "Generally," Iva said, "it takes about two instructional classes and some practice time before a new student gets a sense that they are gaining control of the clay on a wheel. If they can make a cylinder, they can make almost anything." As a longtime teacher, Iva is confident in her teaching skills. Sometimes, though, it's less about learning techniques and more about having fun, playing, and enjoying the feel of the clay.
What do students want to make? Students are generally interested in making cups, bowls, and other objects they can use. Once formed, the pots are decorated with glaze and fired in our kilns. All students and their teachers participate in an annual holiday show. Supermud also boasts a small gallery that displays and sells some of the work created by students and teachers.
These days, Iva spends a lot more time in the studio – both teaching and making pots. She continues to take pottery classes with ceramic masters when she has a chance. Finding NYC an exciting, inspiring place, she still finds time for theater, museums, and all the fun that this city has to offer.