UWS Highlight by Claudie Benjamin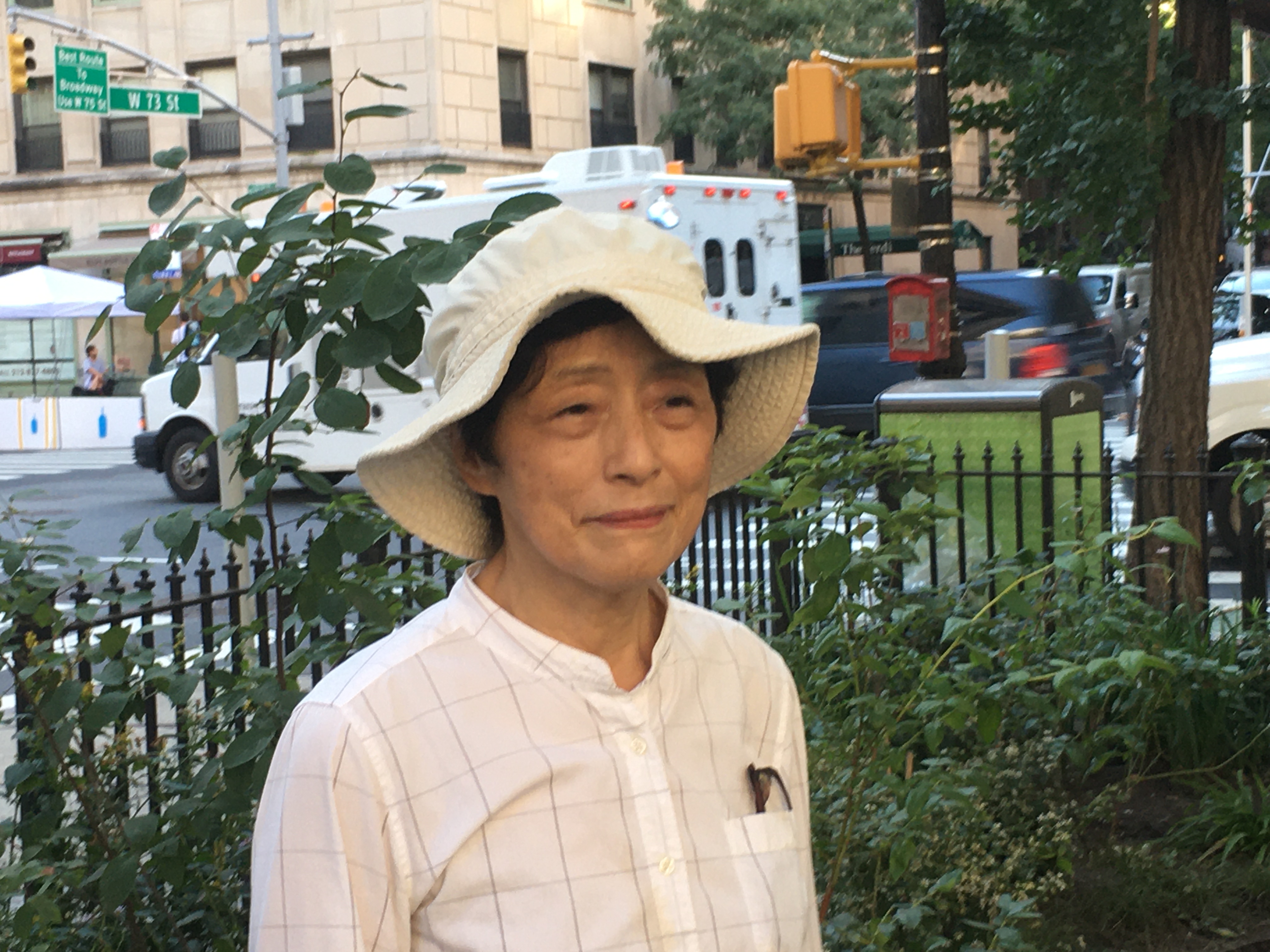 Volunteer gardener Chizu Ito in Verdi Square
These days, a place to pause, distance and simply enjoy serenity in NYC is a prize. Verdi Square, between 72nd and 73rd Streets and Broadway is not an obvious location for peace and quiet, but for the lucky few who snag a seat at one of the tables set in this garden, it's possible to let the sounds of the city dim, listen to birds chirp and enjoy the carefully tended plants that surround a graceful monument that pays homage to 19th century opera composer Giuseppe Verdi.
A NYC Parks staffer unlocks the gate at 8:00 am. Most of the dozen or so volunteer gardeners who tend the park are on-site on Saturdays, but with Friends of Verdi Square Founder and President Aleya Lehmann's permission, Volunteer Chizu Ito arrives very early each and every morning to work in the garden.
She prunes one plant at a time, draws water from a nearby hydrant to refresh the plantings, and carefully rakes the gravel, a task she says, "is very important."
Ito thinks of her mission within Friends of Verdi Square as a Zen approach to daily life. As a young person in Japan, and later for many years in New York City, she expressed herself in painting. Her work was exhibited numerous times in Japan and here. Arriving in New York City 35 years ago, Ito worked as a cook in a Japanese restaurant in Queens, painting in every spare moment. But about 20 years ago she put her brushes down, feeling she was "doing the same thing over and over."
Eleven years ago Ito moved to a senior residence on the Upper West Side very near Verdi Square. At the time, she says, "The garden in front of the station was abandoned and I was deeply disturbed by the misery of the garbage."
Time passed. In 2018, Friends of Verdi Square took shape, and in 2019 became active,
launching an outreach effort to draw in volunteers
. Ito was a natural. She knew there was great beauty beneath the neglect. "I felt that what I was desperately looking for in painting was here." Initially, Ito mainly attended to the raking of gravel. Now, she's involved in every aspect of pruning and transplanting when needed. "I can't stop," she says.
Making the space usable took many volunteers, support of NYC Parks, and private donors. "When the seating area was set up, I was fascinated by its beauty," says Ito. "The beauty emerges everywhere in the space."
She views the garden as she would a painting. "Now, there is a gentle sunlight through the seating area where you can see the harmony of people, trees, plants, insects and birds. The winter brings its own challenges. But, that is also in harmony with the declaration of the universe. I will continue to protect this beautiful place."
The variety of planting is deliberate. Friends of Verdi Square's commitment to planting only species native to the region, such as Lindera benzoin Spicebush, Asclepias tuberosa Butterfly Milkweed, and Magnolia virginiana Sweetbay Magnolia, has produced a pollinator garden.
President of Friends of Verdi Square, Aleya Lehmann is a long-time Upper West Sider. By profession, she is a photographer and also Administrator for the Photo Conservation Department at The Met. For years, Lehmann would pass Verdi Square every day on her early morning walk from her apartment on 93rd Street down to 68th Street and back. She recalled that when the new subway station and
plaza
opened in 2004-2005 it had been spectacular, but had fallen into disrepair. Returning from her walk one day in August 2019, she says, "I knew I wanted to form a Friends group. I learned that for years people had been advocating to have the park fixed. I raised my hand at the right time."
On September 19th, the 2nd anniversary of Friends of Verdi Square, the group will become an official partner of NYC Parks, joining 21 other parks and conservancies. "It's a huge step, very exciting," says Lehmann.