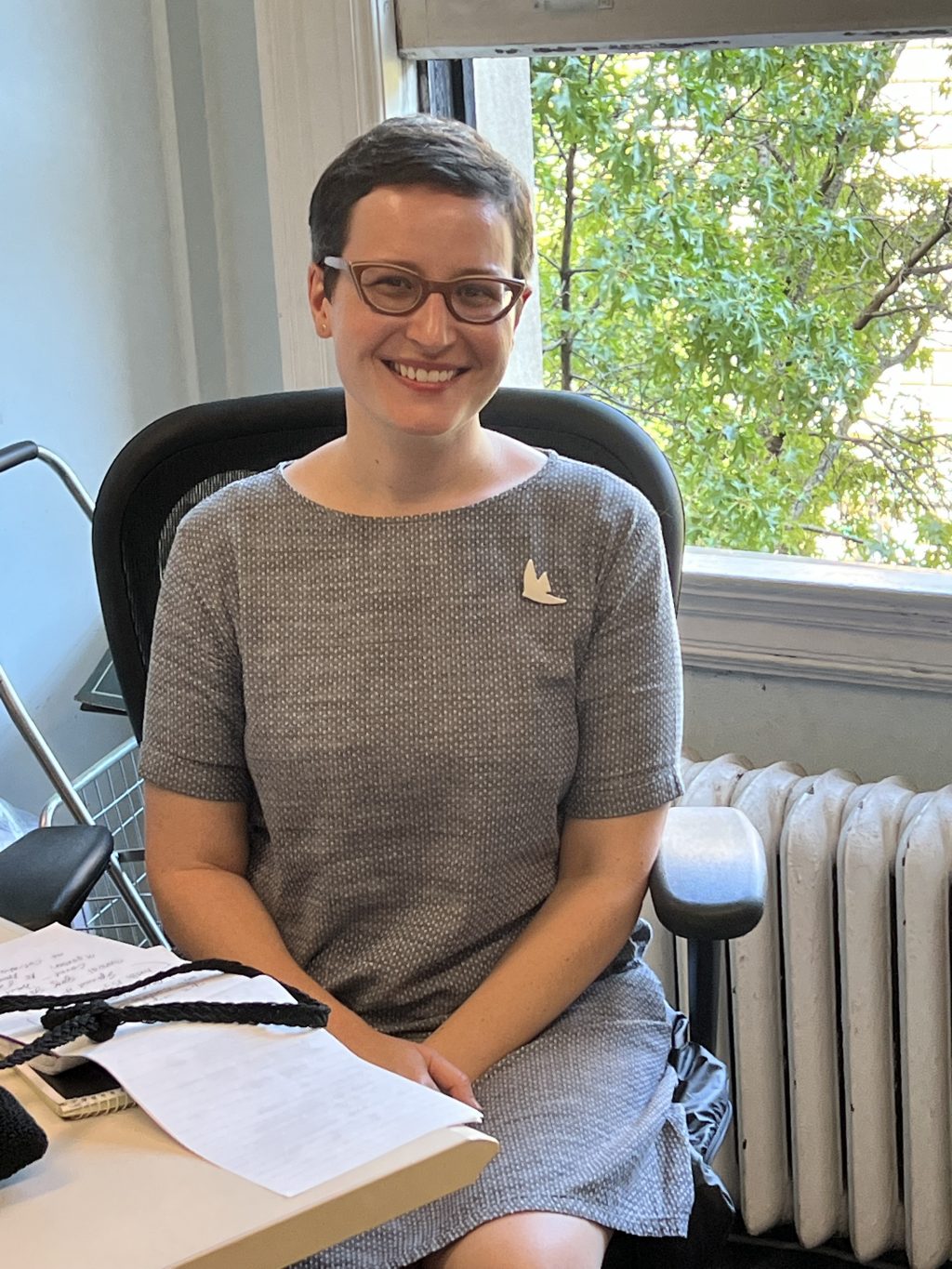 By Claudie Benjamin
The days are flying by and The Broadway Mall's annual celebration beginning the holiday season is coming up quickly. The kickoff will be a Winter Lighting Ceremony on Tuesday, November 29th at 5pm in Verdi Square. There will be performances by the Reaching for the Arts Choir and a countdown from 10 to one is held as the lights are being lit. Holiday Lighting will be also installed at various points throughout the span of the malls with locations to be announced. The Winter Lighting Ceremony is free and open to everyone. Light refreshments will be served.
The event highlights the Broadway Mall, a pathway up Broadway that's so familiar it might be taken for granted. But pre-deep winter and from the beginning of spring, if you think green you'll be surprised by this many blocks-long mid-section of Broadway you may mistakenly have believed was gray.
Originally, in the late 1800s and early 1900s, the dividing stretch of land that has been described as a "ribbon" ran from 59th Street to 158th Street. Not only was it planted with trees, but a walking path ran up its center providing an unusual urban park that was as original as the High Line–built a century later–from 14th Street to 34th Street.
According to a New York Times Streetscapes article by Christopher Gray, "Photographs from this period show tall trees shading a peaceful footpath up the center of the malls, which were otherwise covered by turf. But at least one, from 72nd to 73rd Street, had a distinctive treatment, with no path at all but elaborate shrubs, including what appear to be yucca plants." (1) The same article indicates that "Beginning in late 1900, contractors tore up Broadway above 59th Street to build the new Interborough Rapid Transit subway — the grass plots, the stately elms, were all destroyed over a four-year period."
The Broadway Mall has always been under the jurisdiction of the Department of Parks and is currently maintained by the Broadway Mall Association (BMA), of in partnership with Goddard Riverside and other partners. Prior to the establishment of the non-profit BMA in 1972, maintenance of trees and plantings would have been done by Parks.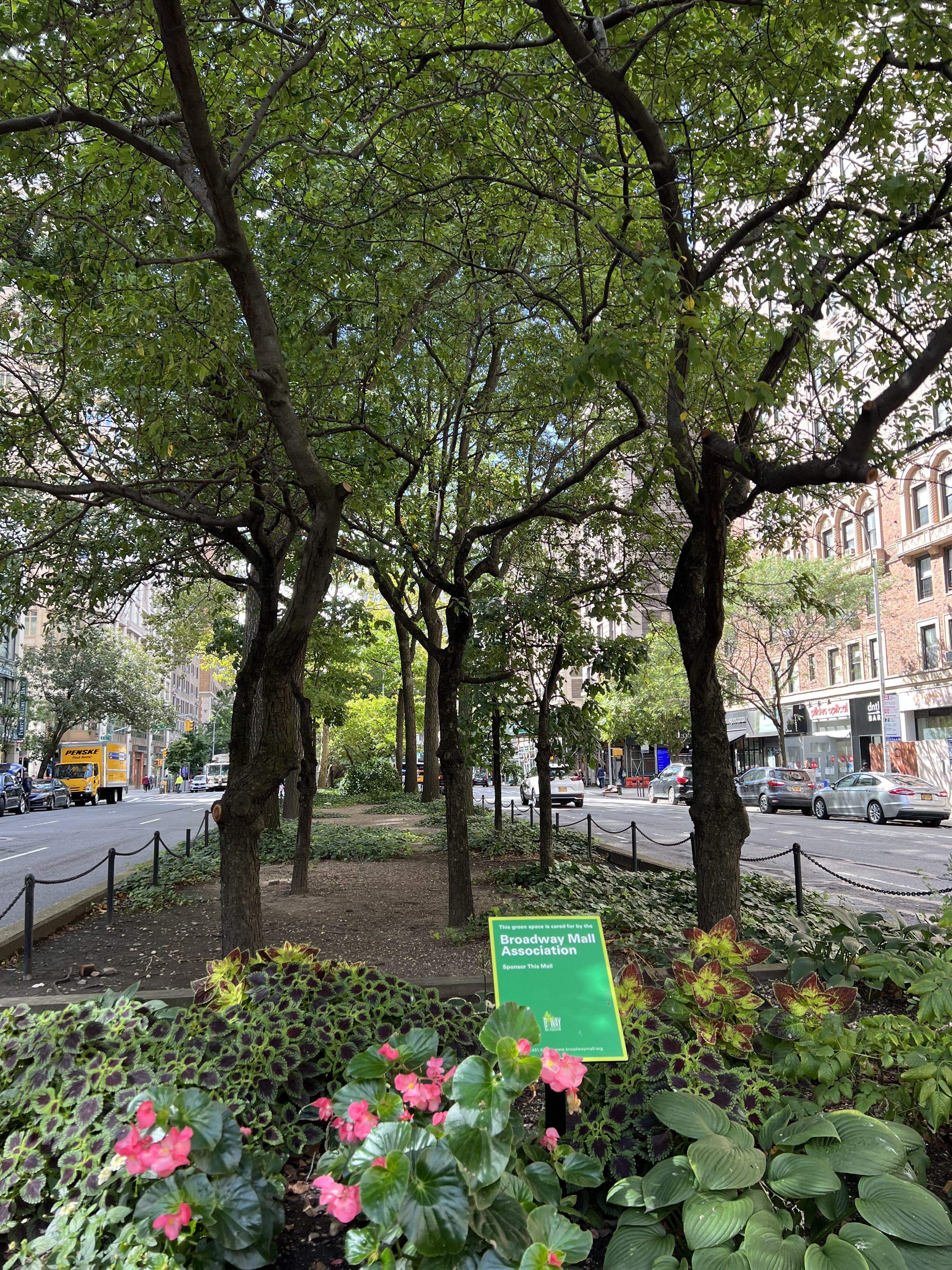 The mall has a distinguished pedigree. It was designed by the prominent landscape architect Samuel Bowne Parsons Jr. A partner of the Frederick Law Olmsted and Calvert Vaux firm and for many years NYC Superintendent of Parks. Parsons was a founder of the American Society of Landscape Architects. (2)
Of course, parks require an overwhelming amount of time, money and effort directed maintenance whatever their location. The Broadway Mall is no exception. The long stretch is exposed to brutal summer and winter conditions combined with the toxic effects of traffic and rodent infestations and flash floods–keeping it clean in itself is a tall orderBMA Executive Director Emily Walker says managing this challenge is ongoing. The Broadway Mall Association office is located at 2095 Broadway. Its windows look directly onto the mall and the trees planted there between 72nd and 73rd Streets.
Asked about trees on the Broadway Mall, External Affairs and Development Manager Erin Powers conferred with Director of Horticulture, Jennifer Shafer. They provided an impressive overview of the entire Broadway Mall that stretches from 59th to 158th Street.
Broadway Mall Association malls have approximately 1,100 trees, with more than 30 species represented. According to Shafer, "about 2/3 of our trees are shade or canopy trees and the remainder are smaller flowering trees. 43% of BMA's trees are oaks, mostly our native pin oak (Quercus palustris) with smaller numbers of other oak species. London Plane trees (Platanus x acerifolia) are the next largest group of canopy trees. Flowering crabapple (malus spp.) are the most prevalent flowering tree. The malls also have sizable numbers of magnolia (Magnolia soulangeana and Magnolia stellata), flowering cherry (Prunus spp.), and Hawthorne (Crataegus spp.)." As trees have died or been damaged and are replaced, BMA seeks to increase the diversity of the tree population.
BMA does not keep records for 58th to 70th, operated by Lincoln Square BID, but 550 is a rough estimate of the number of trees on the malls between 70th and 110th.
Trying to visualize the original stream of greenery? Erin and Jennifer say that historical images show the very early malls with gravel walking paths, low shrubs, and trees. "We can identify pin oaks and elms in some of these photos. Our own research finds two 100+-year old elms (Ulmus spp.) on 106-107 and about 7 75+-year old pin oaks across the malls," says Erin. A later renovation in the 80s saw the addition of many flowering crab apples and other flowering trees, as well as many varieties of canopy trees.
Parks maintains responsibility for pruning and health (and removal, as necessary) of the canopy trees while BMA is responsible for pruning and health of the flowering trees. BMA works with Parks to ensure the health of the canopy trees and alert them to pruning needs. BMA contracts with arborists to determine any nutrient or pruning needs for the understory trees.
More specifically, BMA takes responsibility for visually monitoring trees and other plants for signs of disease and pests. In general, a light hand is taken to pest and disease management and BMA's focus is on controlling things that will cause long-term damage or kill the tree. "Fortunately, the trees on the malls are remarkably healthy, especially considering the difficult environment," Erin says.
Commenting on trends, Emily says that the interest among landscape designers and neighbors who formed BMA is a commitment to plantings that are native to the region. The trend continues today with native plantings in contrast to the interest in importing foreign species that were popular a century ago when horticulturist Samuel Bowne Parsons Sr., (father of The Broadway Mall designer) imported Japanese Maples and had them planted in NYC. (3)
Although the pathways through the mall are long gone, what began about 20 years ago was the integration of art into the ongoing cultivation of trees, shrubs, and flowers. Most recently, the 13th exhibit, a series of eight monumental sculptures of flowers, entitled, "Broadway Blooms: Jon Isherwood on Broadway," was installed in July 2021 and on view through July 2022. Placed at selected portions of the Mall, the giant blooms could be enjoyed by pedestrians crossing Broadway. The art exhibit was "Organized in partnership with NYC Parks' Art in the Parks program and Morrison Gallery in Kent, CT, and with the assistance of the Lincoln Square Business Improvement District." (4)
More about Reaching for the Arts
The music at the November 29 lighting has been an annual event for the past six years. The inspiring story of how the Reaching for the Arts organization began and how it continues to thrive is linked to the passion of its founders Sharon Johnson and Jessica Punchatz. Bridget Hogan is the new Artistic and Choir Director. (click to view Sharon and Bridget)
Sharon, a violinist who earned a degree at the Manhattan School of Music, wanted to play the violin from the time she was a child. Sharon's mother was passionate about music and insistent on music lessons for her children with a piano and organ at home. In addition, she was extraordinarily supportive of her daughter's dreams. "After working the graveyard shift as a nurse, she would change out of her uniform and take me to the Manhattan School of Music Prep School." Sharon's family moved to Long Island and it was in middle school that she found the violin, glockenspiel, and school musicals. I joined them all," Sharon recalls. Sharon went on to teach for 20 years in Harlem and 11 years in the Lincoln Square area at Riverside School, PS/IS 191 for Makers and Artists.
Bridget grew up in Courtice, a small Canadian town in Ontario province. She says she had the good fortune to be in a family that proudly supported her interest in singing as part of a choir. Later, she too was a student at the Manhattan School of Music.
Bridget joined Sharon and Jessica as they were developing Reaching for the Arts programming. Both women are passionate about their effort to provide training to talented young people in grades 3 to 8 to prepare them to successfully compete for admission to NYC's specialized schools for the arts. Sharon and Bridget explain that their own experience testifies to the special advantage some students have based on family interest, and financial resources to encourage opportunities that combine academic and arts induction. "When you have a music teacher that prepares you for an audition to a specialized school, picks your piece, and offers that extra support, that student has a fighting chance." And, they are successful. Reaching for the Arts has assisted 60 students in being accepted at specialized schools like LaGuardia. The connection at LaGuardia also includes mentoring of younger students by the high schoolers.
Sharon and Bridget say that students who do not go on to professional careers in the arts still learn a great deal about meeting commitments,
discipline and composure among other transferable skills that move from practice studios to most work settings. Children who participate in the program must agree in advance to follow the rigorous schedule of sessions to stay in this after-school program. The RFA Alumni give back by mentoring and performing with the younger students in the program.
The Upper West Side's reputation for upscale lifestyles is misleading according to Sharon and Bridget. They explain that many families who live in the neighborhood do not have the income to spend on extracurricular arts programs. The program is designed specifically for Black and Brown students.
Providing exceptional opportunities for free?
"That's where we come in," says Sharon. Determined to give children enrichment grounded in actually playing an instrument (rather than simply attending a concert as a school trip). Reaching for the Arts is thrilled to have a six-year relationship with the BMA that provides a special venue for children to perform. Another site is still to be determined for a mid-December Holiday concert that will showcase the talents of Reaching for the Arts (RFA) and LaGuardia students.
For more information: https://www.reachingforthearts.org
A new exciting art exhibit is expected to launch in Spring 2023. Details are still under wraps.
(1) https://www.nytimes.com/2002/12/15/realestate/streetscapes-broadway-malls-60th-168th-street-green-oases-boulevard-commerce.html
(2) https://en.wikipedia.org/wiki/Samuel_Parsons
(3) https://www.bownehouse.org/theparsons
(4) https://broadwaymall.org/public-art/broadway-blooms-jon-isherwood/