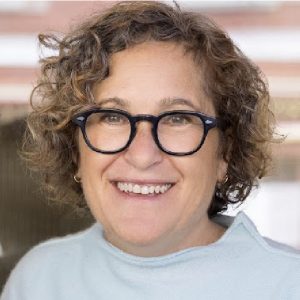 By Claudie Benjamin
When did you decide to change careers? "It's funny," says Helene Godin, Founder and CEO of By the Way Bakery. "I remember the exact moment. I was working at Bloomberg and I thought 'I'm done.'" It was 2010. She had been working as a corporate lawyer for a total of 22 years at a number of prestigious companies. That she was ready for a change was clear. Less distinct were next steps. "I wrote my boss something like, 'Who knows? I may open a vegan bakery.'" Never a cook or a baker, Helene says that quip was mostly motivated to reassure her boss that she was not going to work for a competitor. Helene says that when she phoned her husband, author and marketing expert Seth Godin, he said, "I'm done too," meaning she explains, he was done with the crazy hours and demands of her lawyering. Ironically, what might have seemed less demanding turned out to be a wonderful source of satisfaction and creativity—that was, if anything, even more demanding.
During that brief period of "retirement", Helene made a few trips to her local supermarket, something she rarely did when she was a practicing attorney. Surveying the grocery shelves, she noticed that there was a growing selection of allergen-free foods. She initially experimented with gluten-free vegan baking, but quickly settled on gluten-free dairy-free sweets. (There are eggs in all By the Way Bakery's products.) Dairy-free baking opened the door to kosher pareve desserts as well.
Endlessly enthusiastic, Helene, then nearly 50 and a mother of teenagers, spent a year researching the details of how to accomplish launching the business she envisioned. Research and writing had been her forte as a lawyer. Now she researched food and flavors and textures. ("I know everything about egg whites,") Helene says. She was determined to create a line of pastries that were not only gluten-free, dairy-free, and kosher pareve, but as delicious as – or even more delicious than – those made from traditional recipes.
Determination doesn't begin to describe the effort Helene put into creating her bakery business. Persistence was key to discovering and inventing recipes. It was also a key ingredient in marketing her delicious cakes, muffins, and cookies. Her personality and intuition about customers' preferences were a winning combination. "A muffin shouldn't be bigger than the coffee cup." is one of Helene's favorite lines. It was on the original By the Way menu, and you'll find it on the By the Way website today.
The Upper West Side store – located at 2440 Broadway – opened nine years ago, two and a half years after Helene opened the first By the Way in her hometown of Hastings-on-Hudson. There are also By the Way Bakery shops on the Upper East Side and in Greenwich, CT. A fifth By the Way Bakery is expected to open on Kent Avenue in Williamsburg in December. You can also find By the Way Bakery baked goods in more than 80 Whole Foods Markets. In addition, By the Way supplies delicious baked goods to the Museum Cafe at the Metropolitan Museum of Art and to Madison Square Garden.
The Upper West Side By the Way Bakery is charming. It's a wonderful showcase for the tempting baked goods. "Everything is delicious," says one recent customer. The muffins and cakes are also beautiful. A spiral lemon poppy cake, and classy little cream puffs, for example, make you want to host a brunch just to have the pleasure of serving them.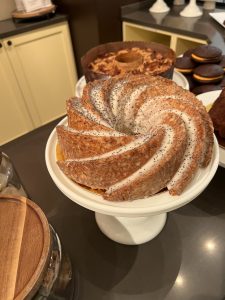 What's on the menu?
"You can't have a bakery without blueberry muffins, brownies, and cookies," says Helene. She's particularly proud of the bakery's signature Almond Cookies and their Classic Chocolate Cake. The holiday time of course boosts bakery interest enormously. The Thanksgiving menu will feature a pumpkin tart, a cranberry apple cake, a latte layer cake, and more. This year, the bakery is introducing "Cake Truffles" – petite chocolate-coated truffle-like confections covered with gold sprinkles. (Think "Chanukah gelt for adults".) On the fanciest celebratory side, some wedding cakes are 4-tier extravaganzas, others are simpler 2-tier creations.
Yes, Helene and her team continue to experiment. Potential new menu items are often tested at the dinner parties that she and her husband host for friends on a regular basis. One day recently, Helene was planning on serving a pumpkin cheesecake and the new "Cake Truffles" to her dinner guests. (Who cooks the pre-dessert fare? Helene laughs and explains that when she called her husband to tell him that she no longer wanted to practice law he had only one request: that he continue to cook dinner every night, as he had done since they were first married in 1986.)
To learn more about By the Way Bakery's offerings, including custom cakes and ordering online, visit https://www.btwbakery.com/. The Thanksgiving menu now posted. To be sure that you don't miss out, it's best to order early for the holidays.