… but the idea of architecture inspiring other modes of creativity is a fascinating one, worthy of more than 140 characters!
Stone designed the iconic mid-century masterpiece that was 2 Columbus Circle (for a refresher on the long saga of how we fought for, but lost, this would-be landmark, click here); he is responsible, of course, for another iconic Modernist edifice in New York City: the Museum of Modern Art.
Edward Durell Stone House, 130 East 64th Street
(between Park and Lexington Avenues)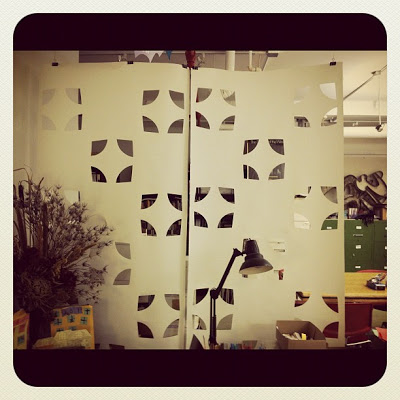 In our office, the same open concrete block used by Stone is translated
into an interesting paper screen.
The newly-installed cultural medallion on Stone's personal residence will serve as a reminder to all who pass by "that history is about more than bricks and mortar, but what people accomplished under the city's roofs that truly matters". Barbaralee Diamonstein-Spielvogel, founder of the HLPC continues:
Not only do they help bring history alive, they're meant to remind people of how New York became as rich and vital, as energetic and dynamic as it is. They're also meant to inspire you in your own life.
Stone's cement block clearly inspired an industrious LW! intern of years past, who made the screen that livens up our office. What other examples do you know of architecture translating into another medium? We want to know! Send us an email at landmarkwest@landmarkwest.org.