In honor of Keeping the Past for the Future's Spanish language initiative, launched September 2015, we offer this blog post translation. The goal is to translate and provide access to Spanish dominant families about what their children are learning in the classrooms. Thank you Lourdes Davila for your beautiful translation. ¡Disfrutense!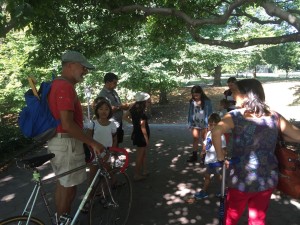 The ABCs of Central Park [Las ABC del Parque Central], título del libro y de la visita guiada. Nos encontramos a las 10 am en el Obelisco, donde Lynas, como los conocen sus amigos (entre los que se encuentra LW), les explicó a los niños cómo encontró y escribió sobre los ABC. Le pidieron a Lynas que creara un juego de ajedrez de Central Park. Decidió que el rey de Central Park sería Frederick Law Olmstead, el diseñador original del parque. La reina era un poco más difícil, pero la encontró en el ángel de la fuente de Bethesda. Fue así como Lynas le dio la letra A a ángel. B, por supuesto era para "buildings" (edificios), barcos, y beisbol. C era para castillo y carrusel, y así de ahí en adelante, las letras y sus representantes aparecían en su travesía por el parque. En nuestra segunda parada, Lynas les mostró a los niños cómo había podido descubrir, a lo largo de dos años, todas las letras del alfabeto al igual que los números del 1 al 9, en las ramas de los árboles. Encontrar los números y las letras en los árboles es un desafío mucho mayor en el verano cuando las hojas cubren las ramas, lo cual hace de The ABCs of Central Park un excelente libro para todas las estaciones.
Después de detenernos en el Teatro de Marionetas, pasearnos a través del Jardín de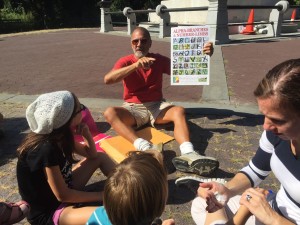 Shakespeare, subir hasta el Castillo de Belvedere, y admirar panoramas y detalles, escuchar historias y la Historia en el camino, llegamos a la gran explanada, donde finalizó la visita guiada. En lugar de concluir, Lynas sacó una variedad de frisbees de su mochila, y todos jugamos hasta que tuvimos que separarnos para ir a nuestros picnics del Día del trabajo.
Lynas no se enfocó en los peligros inminentes que acosan al parque (landmarkwest.blogspot.com/2015/05/central-dark.html); la visita fue muy positiva y centrada en la experiencia presente. Todos se sintieron imbuidos con la belleza del Parque Central. Tenemos el privilegio de tener este recurso a nuestra disposición. Fue un día que los niños no olvidarán. Cuando llegue o si llega el momento de proteger el Parque Central, estos jóvenes se unirán a la lucha.