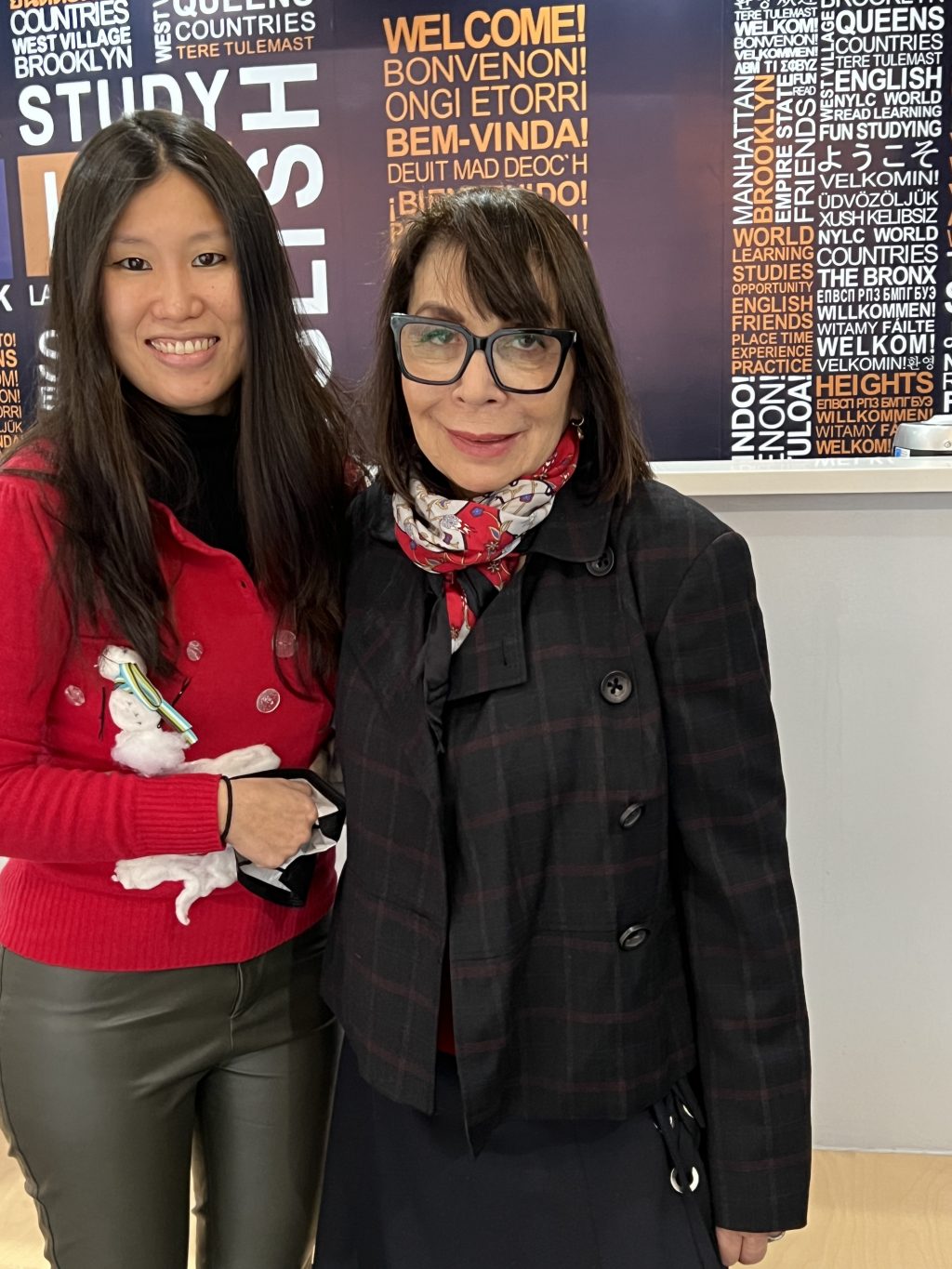 By Claudie Benjamin
Its most appropriate that the New York Language Center's UWS is located in a historic former Horn & Hardart Automat at 2710 Broadway, 2nd Fl. This is because using the UWS neighborhood and the five boroughs as teaching points is integral to the school's approach to teaching English.
More specifically, students have the opportunity to practice their English as they become familiar with the character of the Upper West Side along with taking in sights like the Empire State Building and the extraordinarily elaborate Christmas decorations in Brooklyn's Dyker Heights. "Not just Manhattan, all New York City!" says Cassandra Wong, Director of Operations at The New York Language Center. The Hunter College graduate's grandparents came to New York City from China. Her mother immigrated to New York from Hong Kong when she was twelve. Years later, Cassandra's parents settled in Brooklyn where Cassandra was born and raised.
Cassandra has been working for the New York Language Center for about thirteen years. Her interest in traveling and interacting with people from all over the world and all things international make her a perfect fit for her job.
Cassandra and Barbara Dick, Founder and Executive Director of the program, are aligned in their commitment to the mission of the program to help students improve their English starting out at whichever level their skills are accessed. They are also ever excited that the enterprise helps immigrants who come to the United States to find better jobs and also offers opportunities for foreign students and professionals to improve their English skills.
Students also may be tourists who wish to extend sightseeing to improve their English in a New York setting. The learning environment in this building couldn't be a better match for appreciating a true New York neighborhood with all its attributes and quirks. Look out the huge arched window, and you see the orange and white globes that announce the 103rd Street station. There is also a food cart doing a brisk morning business, along with a view of small businesses across Broadway with its eclectic bustle and traffic.
Barbara says she began the school in 1985. There are three locations today. The program in the Bronx serves mostly working students. In Jackson Heights, students are a mix of immigrants with little English and international students. At the 103rd Street location, most participants are visiting university students, professionals who want to improve their English, and others whose goal is to improve their English in order to pass the TOEFL exam required for US university admission. The courses are available as an eight-week series. There is also rolling admission – so once assessed for language level, students may join a class with others who have the same level of English competency. "We try to make our fees affordable," says Barbara. She notes that the program has links with some colleges that look favorably on student applicants who have completed a New York Language Center program. At least 1,000 students participate in the program each year.
Appreciation for an international community is tremendously motivating for program staff. As Cassandra explains, "I love traveling and this is like traveling in that I'm interacting with people from all over the world. Sometimes when I am actually traveling, I meet former students again."