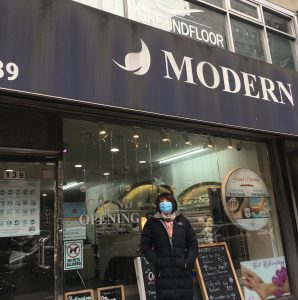 By Claudie Benjamin
Spa services, while not an absolute necessity, certainly make you feel better. Take massage, for example, who doesn't have at least one ache or pain that can't be eased by a massage provided by a skilled practitioner? Stress too, can be defused by a 30-minute back rub or foot massage.
Just making time to breathe deeply, to embrace relaxation, and to decompress from the week's anxieties, is a positive way to move forward during this anxious Covid-19 period.
Michelle (Xiu Fei) Chen, Owner of Modern Spa at 139 West 72nd Street, must certainly have moments of concern as she sees the drop in customers and has had to reduce the staff in her two nail and spa shops. The second shop, Michelle's Nail Spa is at 240 W 72nd Street. But, it's in her character to look at the glass as half full. Dressed casually with black leggings, a purple top and with an elegant silk scarf draped around her neck and shoulders, she is upbeat and speaks warmly of her many regular customers. "I like the older women because they are nice and the little girls because they are cute."
Michelle completed beauty school in Wuzhen, China, before she came to New York 20 years ago. She worked for a while for a friend who owned a shop further East on 72nd Street. Later, she started her own businesses. But, the neighborly feeling persists. Michelle says that when the number of customers who come in creates a greater need to distance, she extends service provisions to her friend's shop.
While Michelle's nails are unpolished, she says, "We have lots of glittery polishes and designs that can be painted on nails." These along with dozens of colored polishes of every hue, making a selection a huge, but enjoyable challenge. New customers sometimes check the space before committing to a mani-pedi, but once they see it is so clean with safely distanced chairs, they are happy to settle into the cushy seating to receive some beauty care that will make them look and feel better!