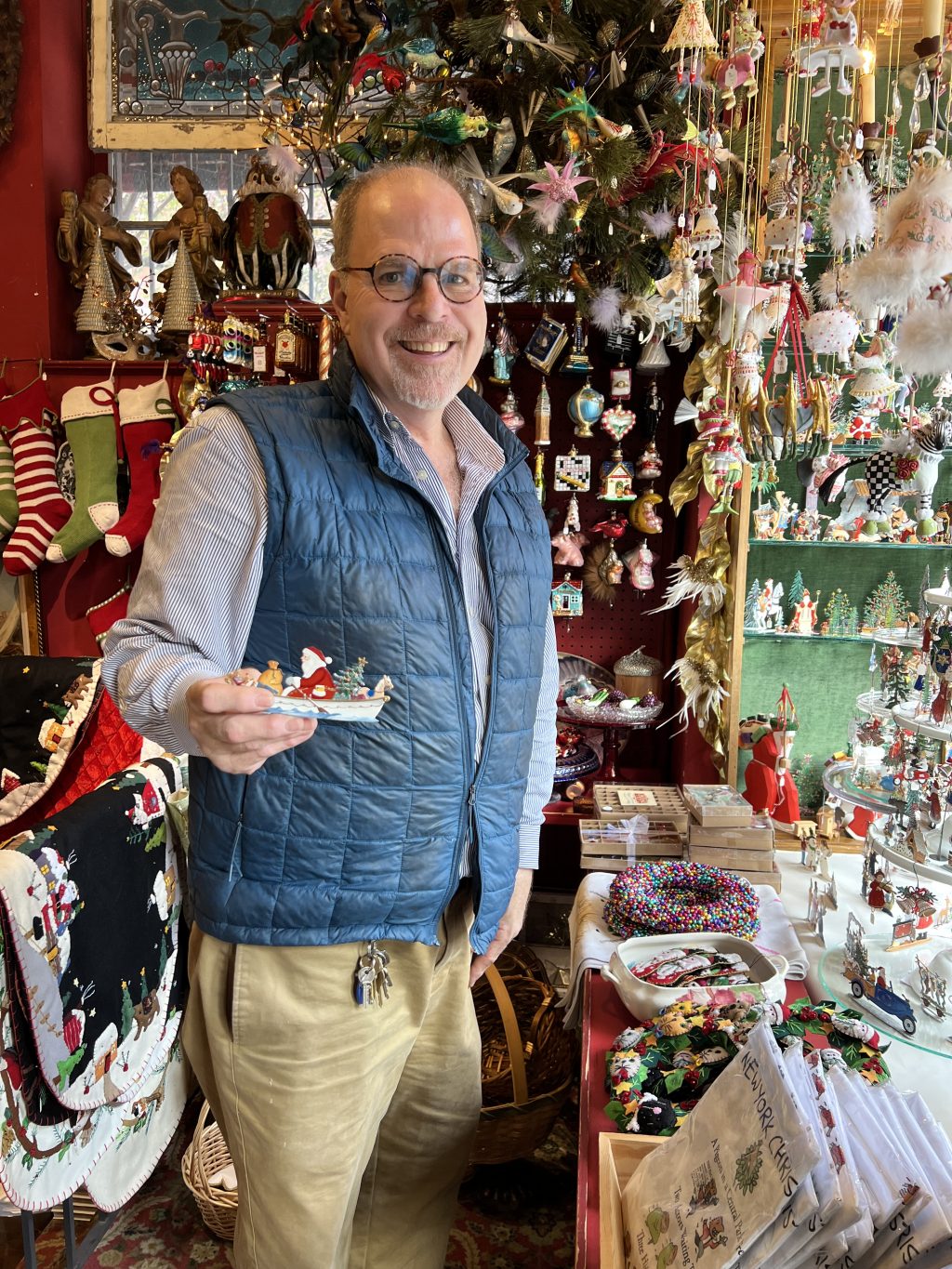 By Claudie Benjamin
Enter a magical world of objects and stories at More & More Antiques located at 378 Amsterdam Avenue. The complex combination of enticements comes naturally to the shop's owner Steve Mohr who is from a family of collectors. He has loved antiques since childhood.
Perhaps, it was his grandmother Alice more than anyone else who inspired this passion. "She had a very interesting life, collected antiques, and liked to talk about them," says Steve.
The shop has evolved in response to customers' interests and aesthetic trends over the years since opening in 1987. Significantly, Steve purchases only what he likes across a broad range of interests. He says he's personally drawn to objects that are a bit weird. Impossible to capture in detail but the shop was originally filled with antiques most of which were conversation pieces. Now, More & More also boasts an extraordinary collection of meticulously detailed hand-painted pewter Christmas ornaments. Each could be part of a story: Santa delivers gifts by canoe, astride a bicycle and delicate figures of winged angels involved in daily routines like walking the dog are among these tree decorations. Dozens are displayed in one of the storefront windows. Others hang from the ceiling by string. Steve has a ladder ready and he is happy to climb to reach for just the object a customer knows will satisfy their desire.
Steve left his native Northern Illinois and settled on the Upper West Side in 1980. Set on being an antiques dealer, he sold at fairs and flea markets before owning a shop in Greenwich, Connecticut. A few years later he moved on to Manhattan's Amsterdam Avenue, concentrating his efforts there. Originally, Steve sold only antiques but broadened his selections to include less expensive items that would draw more customers.
The variety of beautiful tempting objects at various price points is overwhelming. On a weekday morning more than a month before Christmas, the shop was crowded with customers looking for just the right thing. One woman was searching for a silver drink tray. "Sterling or plated?" Steve asked. "Plated." Steve directed an assistant to retrieve a lovely silver-plated tray. Another woman, shopping quickly while her adult daughter waited in the car, purchased a lovely magenta and lavender shawl for an older friend who loves pink and is very selective. And a couple visiting from Vancouver seemed very pleased with the shopping bag full of ornaments wrapped in tissue and boxed that they carried away with them.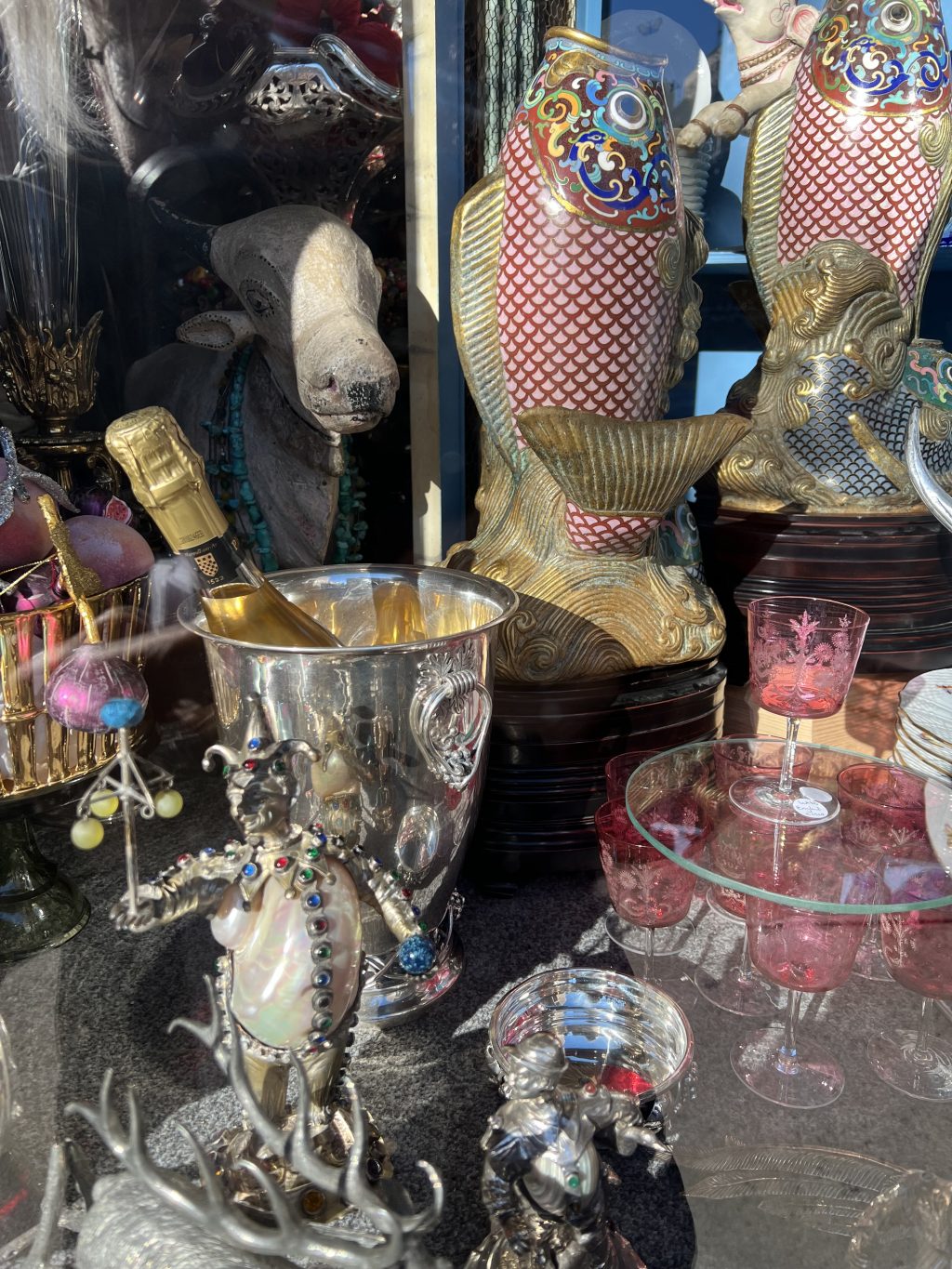 Not every day is as breathless, but the appeal of the store is that it feels like a thrilling discovery—a true treasure trove along the comparative utilitarian Amsterdam Avenue. With gentrification, the location is less surprising than it was in the 1980s when Steve says, "people told me no woman would shop on Amsterdam."
Many may think of the business as "Steve's Christmas Shop" the owner says but there are still plenty of interesting antiques. Take for example two 1820 English candelabras made of gilt and anodized bronze depicting neo-classical figures "There were originally four representing the continents. I have the ones representing America and Europe." There's an intriguing stone-studded silver, mother-of-pearl statuette of a court jester and also in this window, you'll find two large colorful 19th Century, cloisonné, open-mouthed Chinese fish-shaped vases ready for flamboyant floral arrangements. And, by their side are huge blown glass vessels, one blue, another clear—just calling for long-stemmed blooms. A lyrical religious, hand-carved wooden figure that was once housed in a chapel calls for its next home.
One-of-a-kind birthday and holiday cards and old-fashioned ribbon candy, books, and jars of special whipped, raw, or cinnamon honey with elegant serving bowls are all part of this shop's enchantment.
Did Steve ever acquire a collectible he found just too hard to let it go? Of course. The most recent: Two 19th century majolica garden stools with Egyptian-inspired decoration.
Steve says he's very appreciative of all the support he's received from Upper West Siders over the years. One regular recently stopped by before the store opened to take a cell shot of an antique placed in the window. It seemed he was planning to be back soon and was sure Steve would be on-site at 11:00am. "He'll be here. He's a good guy," the man said.